Hornets Sting the Hawks Leading to 16th Straight Win
Sean Newman Jr.. may have found himself a new nickname, "Mr. This Ain't New, Man." The Hornets freshman guard was on top of his game Wednesday night. He helped the Hornets in every way possible to secure their 16th straight win, 100-78.
Newman Jr. scored 19 points to lead the way for the Hornets on Wednesday night. He was perfect from the free throw line going four for four and making his lone three-point attempt. He also had six assists and five rebounds.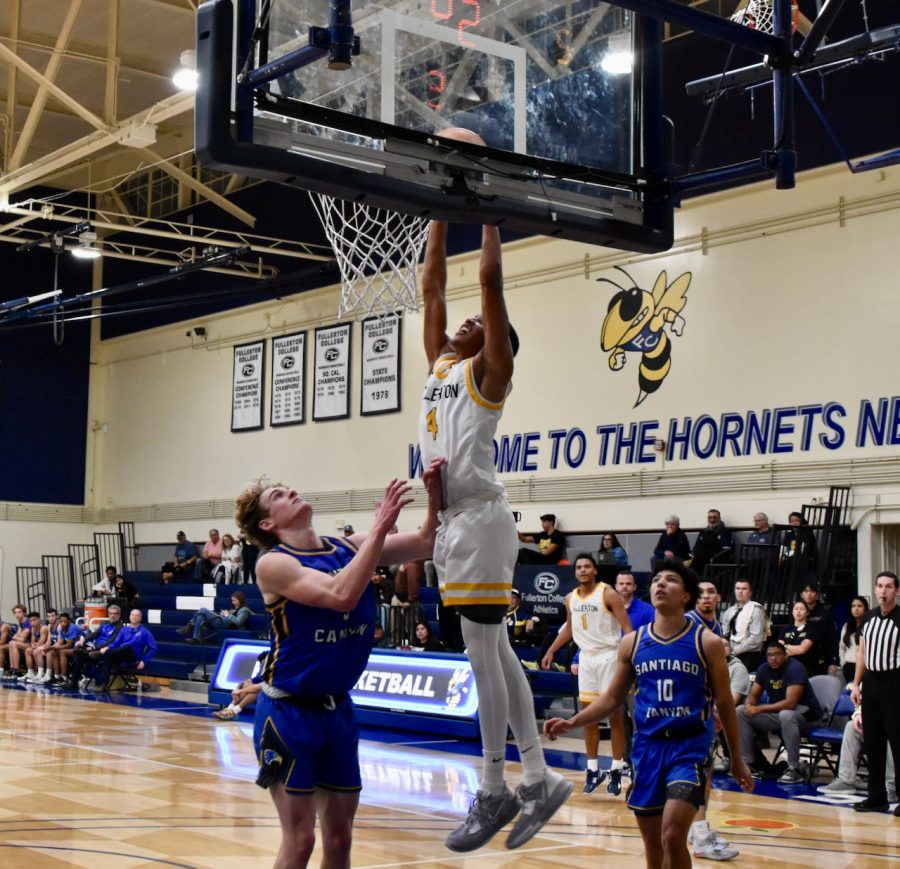 When asked what was clicking for him tonight, Newman Jr. gave credit to his speed. "I just wanted to use my speed to my advantage to get by the defenders and create opportunities for myself and my teammates."
It was a great first half for the Hornets, which saw them lead 50-34 by the end of it. The dominance would continue into the second half on both ends. The Hornets contained the Hawks defensively, holding them to shoot 44% from the field and 32% from three-point land, both falling below the Hawks season averages.
When asked what was the turning point for the team, Coach Perry Webster was honest. "I just think that we were really hard to guard for them. As the game was going on, you [could] kind of just tell it was hard for them to match up to us," he said. "We just have too many talented guys. We can play better than we played tonight. I'm not too happy about our performance. I thought we were a little lazy at times. We can definitely fix some things and we need to moving forward."
There was a big sequence for the Hornets towards the midway mark of the second half where star of the night Newman Jr. threw a sky-high lob to 6'8 freshman forward Mike Ofoegbu, who was able to get away from his defender and throw it down. The Hornets got a quick stop on the defensive end. Then shortly after, Newman Jr. blew by his defender and had a rim shaking dunk of his own. It definitely had the crowd ecstatic.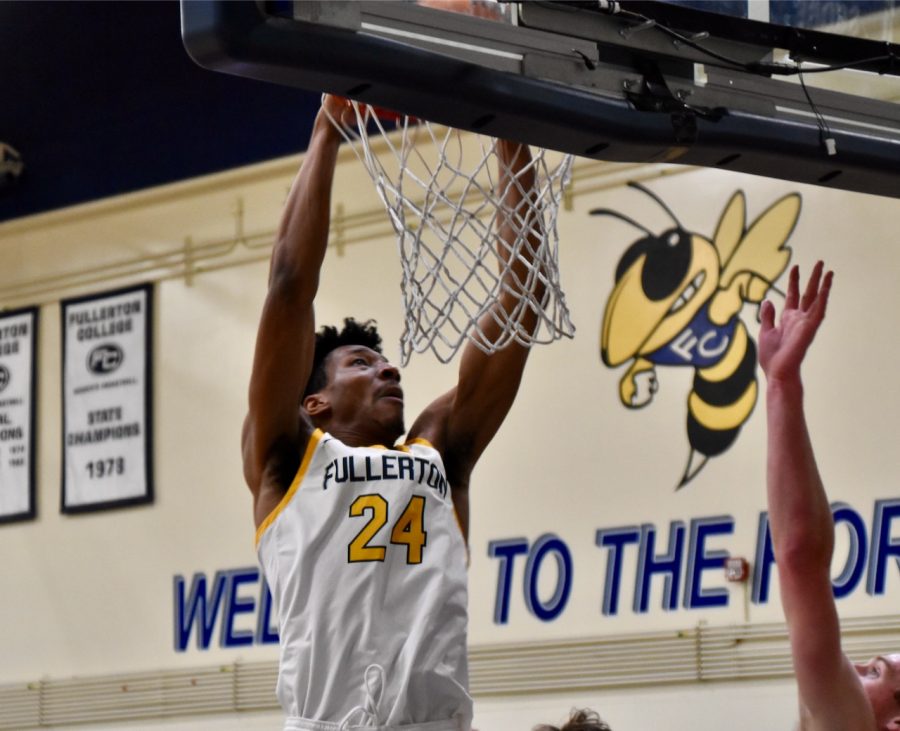 The offense was rolling Wednesday night. They would in fact have to play superb defense against the Hawks who have a high-powered offense of their own, led by Sophomore guard Aaron Wadman who averaged 21.9 points per game.
The Hornets were able to contain Wadman in the second half, holding him to 8 points after he had scored 16 in the first half. The Hornets were also able to cause Wadman to foul out late in the second half.
Webster was persistent in going after Wadman once he was in foul trouble. "We just tried to put more bodies in front of him. One thing we tried to do is really go at him on the other end and he ended up getting in foul trouble and he couldn't stay in the game so that was part of the plan for us."
Fullerton led in almost every category. Second chance points were a small problem for the Hornets as they were outscored 18-6 in that department. Though this has been an issue for the squad in the past, it did not lead to any game breaking runs for the Hawks on this night. Turnovers were a major concern for the Hawks however, as they had 17 compared to the Hornets 8.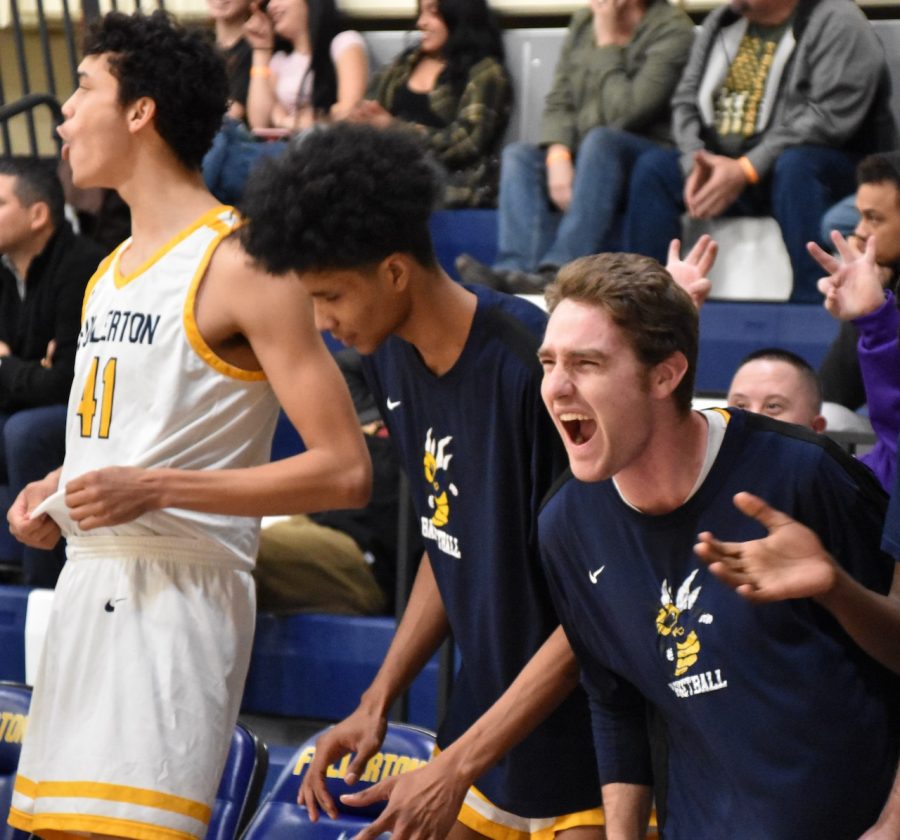 Sophomore guard Shaquil Bender contributed 14 points, Freshman forward Jeremiah Davis added 13 points, and Freshman guard Godfrey Little brought 12 points all with the three ball, which earned them some praise from their head coach. The Hornets had 6 total scorers in double digits.
Wadman led all scorers with 24 points. Freshman guard Zach Ibbetson added 17 points for the Santiago Canyon in the loss.
The Hornets (23-1) next game will be against the Orange Coast Pirates (14-9) at 6 p.m. on Friday Feb. 3rd at home.