Opera Students Showcase their Talents
Fullerton College's music's department first production of the year, an opera workshop performance titled "Love, Interrupted" delighted audiences during its two-night run, Friday Jan., 27 and Sat., Jan. 28.

Director and conductor of the show, Aram Barsamian introduced the show, explaining how the "Love, Interrupted" theme was depicted in each of the scenes.
The first scene was from the 1910 French opera "Don Quichotte," by Jules Massenet. The opera was based on the novel Don Quixote, by Miguel de Cervantes, but "adapted for French sensibilities," said Barsamian. As such, whereas in the original novel, Dulcinea/Aldonza was a poor peasant woman, and in this version Dulcinée is a sophisticated courtesan.
The scene performed had Dulcinée lamenting a lack of satisfaction in her love-life, while many lovers compete for her favor. Emily Harrington, the actor who portrayed the lead was sublime, while the staging and acting of the competitive lovers was engaging and amusing. The finale of the scene had them dancing a rousing flamenco.
The second scene, from the 1830 Italian opera "Anna Bolena," by Gaetano Donizetti, depicted the last days in the life of the second wife and queen of King Henry VIII, Anne Boleyn, who was executed to enable Henry to marry his next wife, Jane Seymour, then a lady-in-waiting to the queen.
In the scene, the queen's courtiers comment how sad she is, while Giovanna/Jane Seymour expresses guilt-feelings for her own culpability. The soaring voice of Zoe Martinez (as Giovanna, on Friday, while Miranda Moreno had the role Saturday) and expressive facial acting was perfection, while Elizabeth Ford, as Queen Anna, was likewise in magnificent voice. Mahika Rao, in her first performance in an opera, was engaging in the "trousers" role (a theatrical role portrayed by the opposite gender) of Smeton, the musician page engaged by the queen to cheer up her sad courtiers.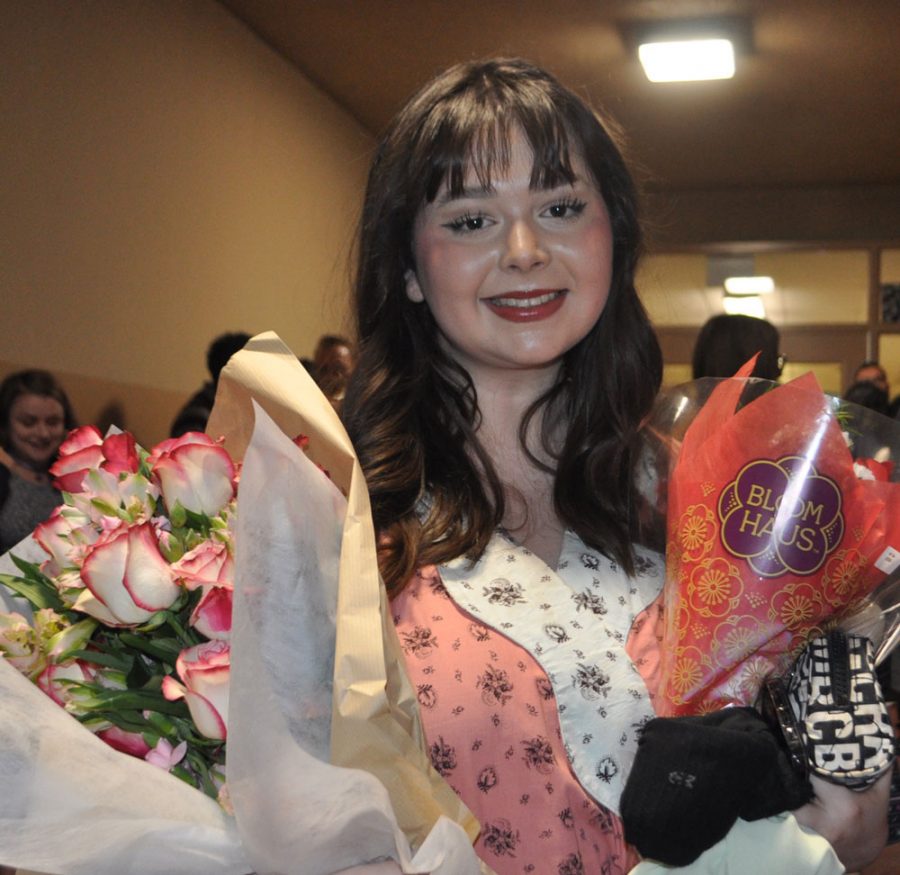 The third scene was from the 1885 British comic operetta "The Mikado," by W.S. Gilbert and Arthur Sullivan. Barsamian explained the operetta was not really about actual Japan, but a satire on Victorian England. By "veiling" it in Japanese imagery and costumes, they could get away with sharp political satire.
But for this production, Barsamian said "we're taking the veil off, making it very clear that this is about British society by costuming everyone in Victorian garb, and we'll just give a few Japanese touches to pretend we're in Japan." The singers used a "very high-class British accent."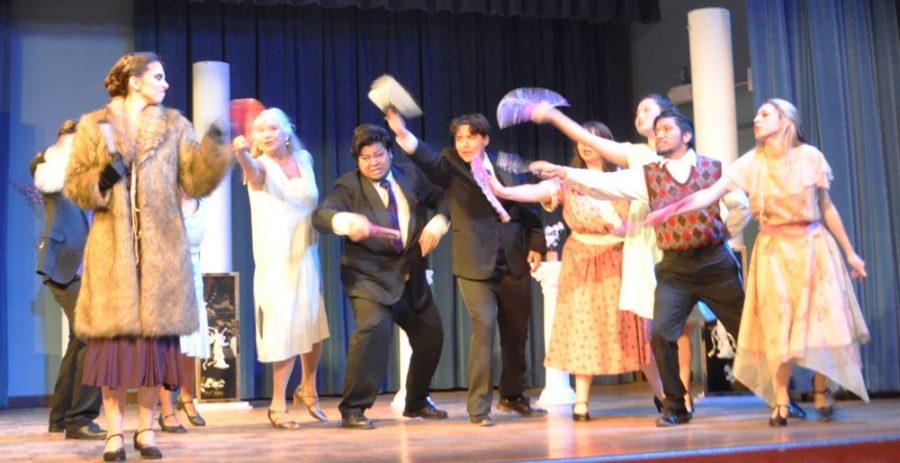 A command from the Mikado, ruler of the town of Titipu places Ko-Ko into a dilemma: if no executions take place within a month, the town will suffer disgrace and his life will be in jeopardy. He had been condemned for the crime of flirting (a commentary on Victorian society's strict attitudes on sex), but installed as the Lord High Executioner as a tactic to eliminate executions, since he could not execute himself.
But his luck holds out when the lovelorn Nanki-Poo wants to die, because his true love, Yum-Yum is engaged to Ko-Ko. A bargain is struck– Nanki-Poo can marry Yum-Yum, then be executed a month later. But his jilted ex, Katisha — clad in a fur-coat that Cruella DeVille would envy– interrupts the wedding festivities, but vows revenge when she is thwarted from revealing Nanki-Poo as the Mikado's son.
Emily Harrington, enjoyed the scene-eating role of Katisha even over Dulcinée, which she'd played in the first scene of the night. The Mikado was the favorite of many of the cast, who enjoyed playing comedy. Mahika Rao (Pitti-Sing) praised it as fun to play, while Juan Serrano (Pish-Tush) "liked the fact that it involved a considerable amount of work and for it to have paid off really does make me happy."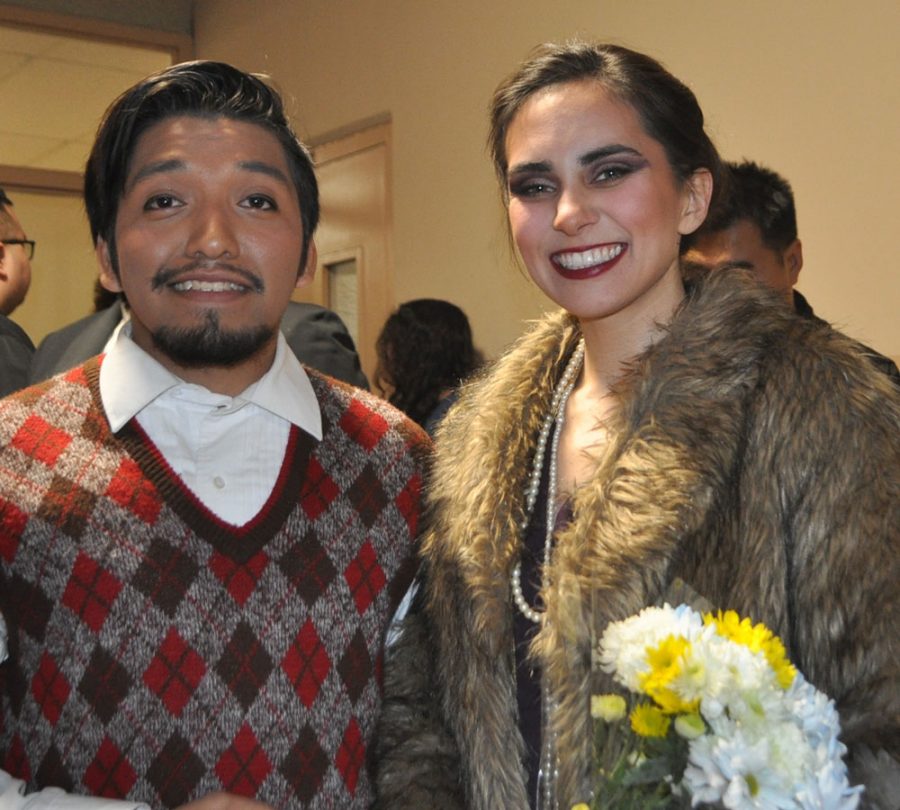 Likewise, Carter Topel as Ko-Ko was over-the-top hilarious in the comic role played by such luminaries as Eric Idle and Groucho Marx. His body language and overly-trilling dialogue was hilarious, and this was his favorite role of the night, too.
Topel's body of work includes performances in last summer's opera "Lucrezia Borgia" and "Don Pasquale," classical voice competitions and the Applied Voice competition. In this night's show, Topel had a part as Rodriquez in "Don Quichotte" and Chorus in "Anna Bolena" but his comedy timing and delivery as Ko-Ko, The Lord High Executioner in "The Mikado" was stellar. He said "Ko-Ko would have to be my favorite role. Performing in satires is a lot more fun.
While dramatic roles really help me grow and stretch my abilities as a performer, it's nice to relax and give everyone a nice laugh with my fellow co-stars."
The theme of "love" is merely coincidental with the upcoming Valentines' Day holiday, because the Opera Workshop has performed every January, for these past several years. Rehearsing during the Winter Intersession (this year, from Jan. 3 to 21) or during the Summer allows the opera company ample space and time, instead of conflicting with other classes during the Fall or Spring semesters.
Opera and other non-amplified singing needs to be performed in the 1100 Building Recital Hall because of the need for correct acoustics, explained Barsamian. "The Campus Theater is not designed for acoustic singing. It works well for brass instruments and instrumental concerts, but their acoustics are not designed for vocals to project very well."
He noted that during the COVID lockdown, they had tried rehearsing in there, but "the sound got soaked-up and audience doesn't get to hear the beauty and richness in their voices." The Wilshire auditorium, often used for smaller-scale performances is good enough for acoustics, but the dressing room space isn't adequate for larger productions.

This Spring's opera class might supply the cast for this Summer's Opera Program. Barsamian said he will decide upon the show theme and opera, after he hears all the auditions, to see who wants to participate.