Hornets get hit early and late by Vaqueros at home
Failing to get back on a winning streak, the Hornets (8-4) could not contain the visiting Vaqueros (6-3), which led to a decisive 9-4 loss for the home team in a Friday Feb. 17, 2023, afternoon game.
Fullerton's starting pitcher, sophomore RHP Freddy Castaneda, took the loss going three innings, giving up seven hits, three earned runs and punching out three. Glendale's starter, sophomore lefty Boon Fay, was credited with his second win of the season, only giving up two hits, one run and two walks while striking out eight Hornets in his five innings of work.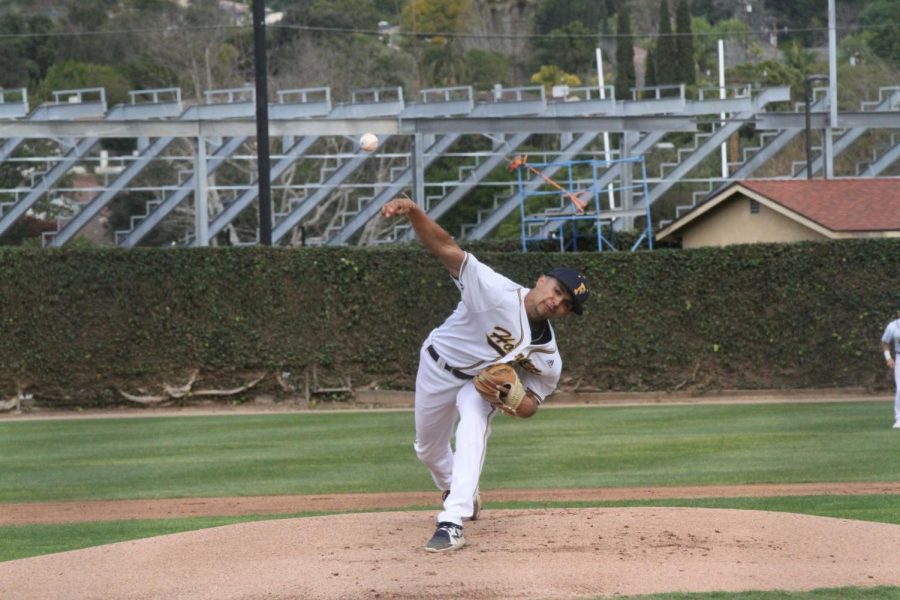 "He is a good pitcher; he is a bounce back from [University of] Nevada. He throws a lot of strikes," said Hornets Skipper Chad Baum about Fay.
The Vaqueros took the early lead in the first inning when sophomore infielder Brandon Hernandez scored a run on an infield single hit by freshman outfielder Jackson Benattar, putting Glendale up 1-0.
Keeping their bats hot in the second inning, Glendale's sophomore outfielder Brandon Nguyen singled to right field, allowing sophomore infielder Ricky Perez and sophomore infielder Nick Sutherlin to score, taking their lead up to 3-0.
In that bottom half of the inning, the Hornets began to respond as sophomore catcher Elie Kligman scored their first run from second base off a single from sophomore third baseman Kaipo Haole, getting Fullerton closer by a score of 3-1.
"It didn't go our way," said Kligman on how the game developed after his run. "The other team played pretty well."
The third inning saw the Vaqueros load the bases with 0 outs. Between an error, 2 passed balls, and 2 sac flies, freshman catcher Gabe Juarez, Benattar and sophomore right fielder Adrian Gonzalez all scored to clear the bases, stretching the lead to 6-1.
Despite the efficiency of the pitching game by the Vaqueros, Manager Alex Kocol called for two mound visits to meet with his pitcher and other infielders.
"I think we just took a couple trips, just to give him a break," said Kocol about the time outs while Fay was pitching." They kind of had him a couple times in a situation and he managed to pitch his way out of it."
The score remained unchanged until the sixth inning, when the Vaqueros scored another 3 runs on 2 extra base hits. Juarez and Bennatar crossed the plate on a triple by Gonzales. Sutherlin in the very next at-bat doubled to center field, easily scoring Gonzalez and creating a huge Hornets deficit of 9-1.
The Hornets pushed across 2 runs in the 7th inning, when freshman shortstop Landon Runge scored on a single from freshman second baseman Ethan Gibbs. Then, freshman centerfielder Rudy Gonzales scored on a pinch hit single from sophomore left fielder Nick Ochoa.
Sophomore catcher Justin Redfern scored on a balk in the 9th, which closed the scoring at 9-4, in favor of the Vaqueros.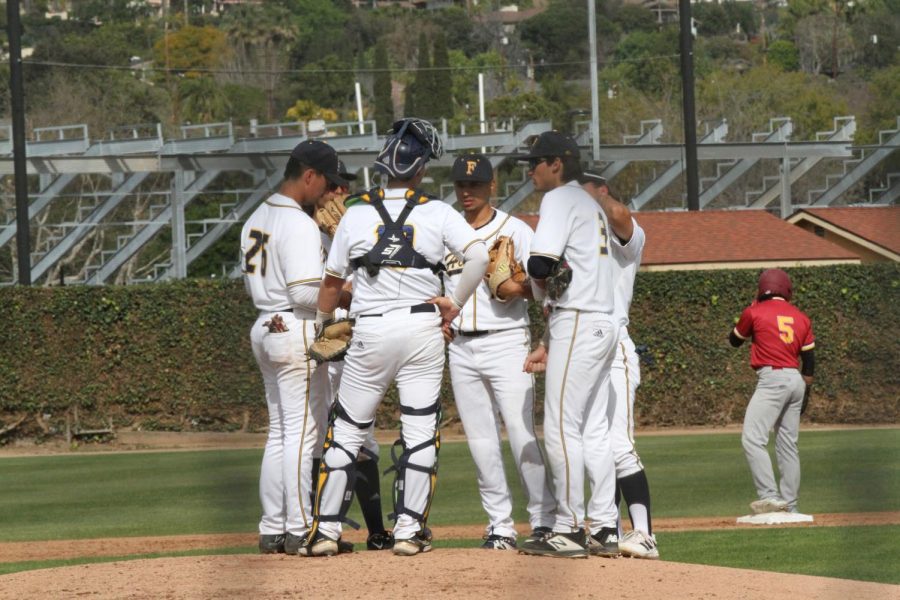 "We are making sure that we are ready to go when it comes to conference play in a couple weeks, " said Baum. When speaking on his plan for next game, the manager said, "There would be new guys in the lineup."
The Hornets next game is against the Moorpark Raiders (4-7) Saturday, Feb.18 at home.