Allison Adams' Groundbreaking Girls embodies female empowerment
The Muckenthaler Cultural Center hosted Allison Adams' "Groundbreaking Girls" exhibition for its opening day on Thursday Feb. 16, 2023. There were three rooms in the gallery, each with a different theme: Historical Women, Dynamic Women, and Artist and Performers.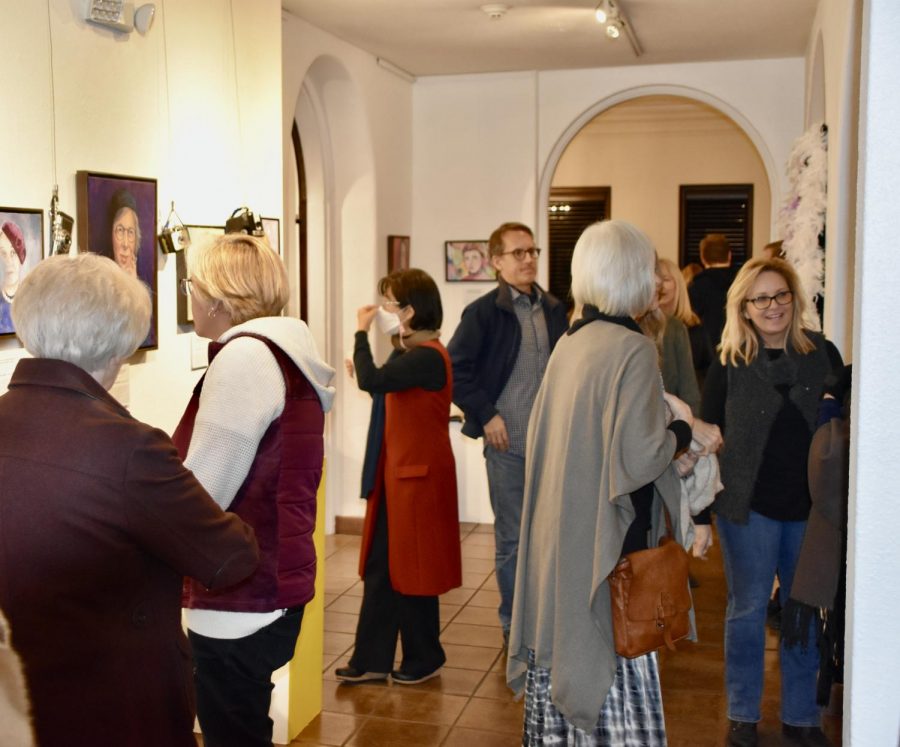 Sitting on nine acres of land in Fullerton, California, "Groundbreaking Girls" is set in a picturesque mansion with 1920's Spanish Colonial architecture. Upon entering through the front door, guests immediately see the orange wall with black lettering indicating that you are about to learn some women's history.
For Adams, each of the 71 pieces on display celebrate the diversity of the women she looks up to. "They weren't all just young. Some did their best work as they got older," said Adams. The woman from the portrait in question was French American artist, Louise Bourgeois, known for her large-scale sculptures and installation art.
"I like this painting because it's actually difficult to paint women as they get older," explained Adams on the complexity of capturing Bourgeois' life-like portrait. "You want to make sure that you can still show their beauty and not get too caught up in the wrinkles."
Each portrait on display has information about its subject's contribution to humanity, alongside a quote that she is most famous for. "Life is a hard battle anyway. If we laugh and sing a little as we fight the good fight of freedom, it makes it all go easier. I will not allow my life's light to be determined by the darkness around me," was one of the quotes on display. It was said by Sojourner Truth, a slave abolitionist and women's rights activist.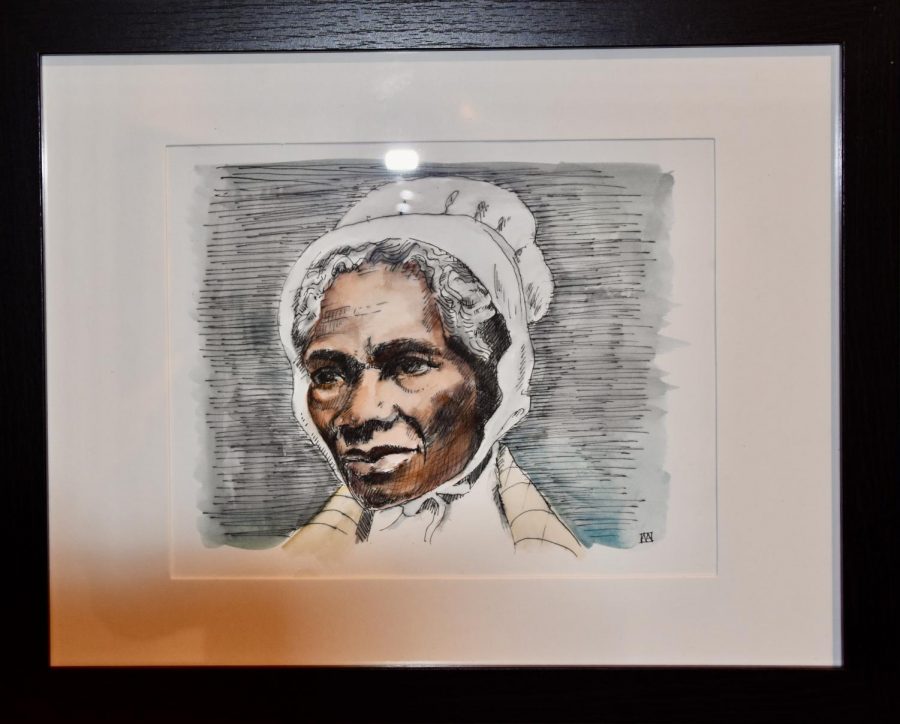 Adams' portrait of Truth, located in the Historical Women room, captures her during her older years. A wrap-around white bonnet stands out against Truth's brown face. Black lines around the outside of her face indicate years of hard living as the aged abolitionist looks out in the distance. Grey hairs appear through the front of her bonnet that exemplifies her in her golden years.
For an art gallery curator, it's not what you know but who you know. "Allison is a woman that never took no for an answer," said Lisa Berman, The Muckenthaler's private consultant curator for Adams' exhibition, "I met her in San Diego and asked her to do something together." Although it took them four years to create this exhibition, these two empowering women finally get to see their hard work on display.
Berman says that the exhibition is in conjunction with Black History Month and Women's History Month. "On display are portraits of all kinds women," she said. "Women who are activists, women who are scientists. Women who have changed history and inspired us. Who certainly inspire Allison."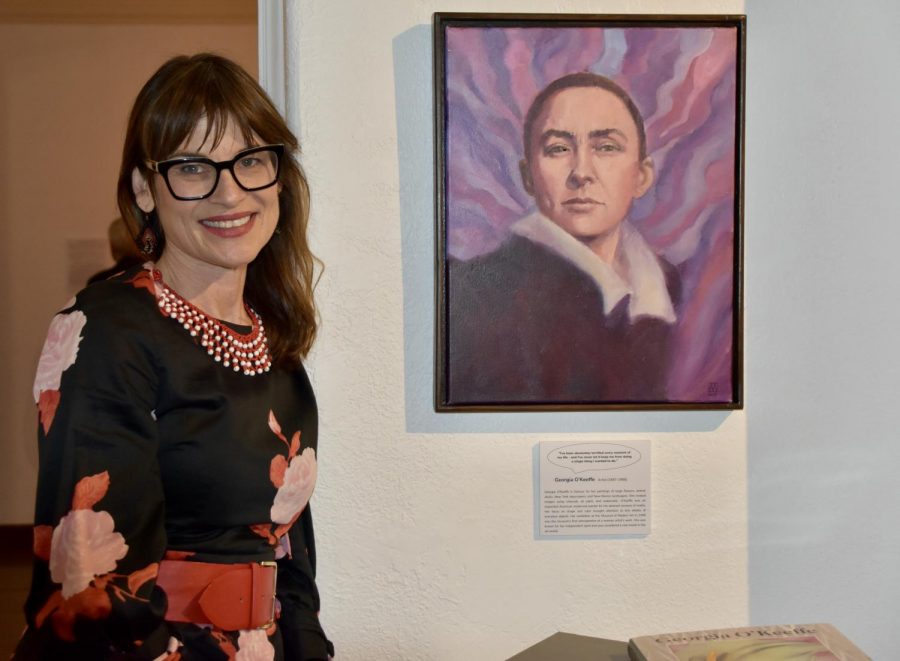 Adams uses art as a healing mechanism that helped her overcome family tragedy. Her Georgia O' Keeffe portrait, in the Historical Women room, is one of her favorites. "She has been a big role model for me because she was an artist," said Adams. "She was a very prolific painter. O'Keeffe was one of the first famous female artists. Her independent spirit is what I like the most."
A lot of Adams' portraits are side views while some look straight at you. "I think that Allison really shows through her portraits that the past is still present," said Lindsey Garrett, retired photographer and astrologer. "Her artwork is like a torch she passes on to others so that we can carry on the work we all started."
The relationships between Adams and her subjects go beyond a canvas and colors. She is able to capture the feminine features on their faces and shows attention to detail in all her portraits. In the music room where Artists and Performers are displayed, Dolly Parton is hung right next to Barbara Streisand. Parton has a sparkle in her eye that accentuates her lavish blonde hair across a blue backdrop.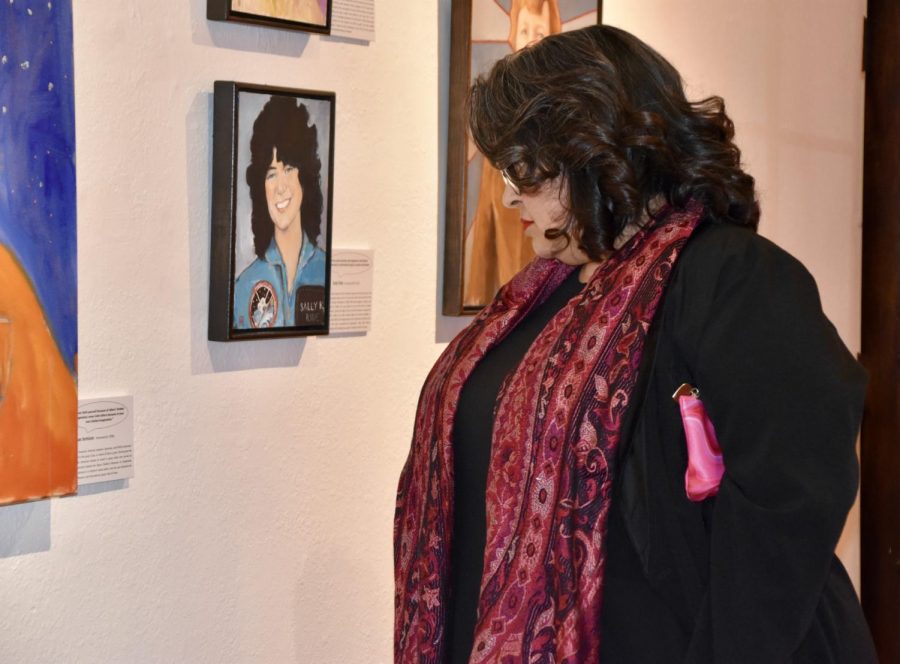 All of the pieces were hung on the walls of the art gallery with accent colors to give off specific emotions while appreciating them. Unfortunately, not all portraits had frames, which was a shame because frames serve their purpose well. Cleopatra and Marilyn Monroe could have looked even better with a frame around its canvas.
The exhibition is a reminder that women can do it all and it's evident with every portrait on display. All artwork in the exhibition is for sale. "The best way to applaud to an artist is to acquire their art work," said Berman. Groundbreaking Girls is showing from 10 a.m. to 5 p.m. Monday through Friday, in the main gallery at The Muck through March 31. The price of admission is $5 which includes access to all current exhibitions playing.