Hornets Basketball Dominates OEC Awards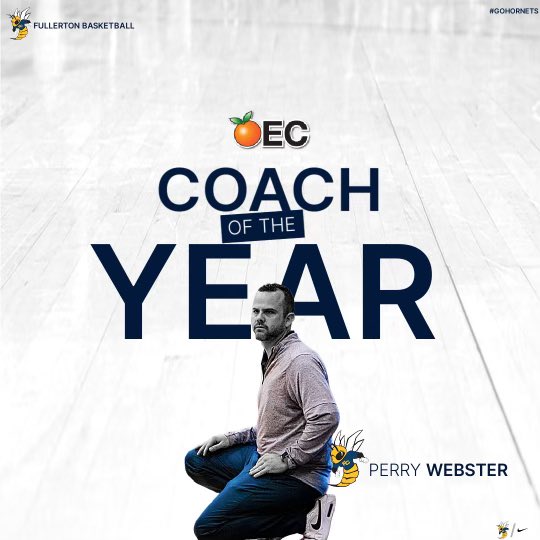 It was a great day for Hornets' basketball as they swept the OEC awards on Sunday Feb. 19, 2023. Their 27-1 overall record and a 16-0 conference record heading into the playoffs really shows their greatness.
Head Coach Perry Webster, a graduate of California State University, Fullerton where he was the Titan's team captain, was named OEC Coach of the Year for an outstanding 4th time. Webster is entering his 7th year at the helm of the Hornets. He previously won the award in 2017, 2019, and 2022. Webster has an overall record of 172-37 which equates to a .822 winning percentage. Under Webster the Hornets have had two State Championship appearances (2017 and 2019) winning it all in 2019.
Hornets' freshman guard Sean Newman Jr. from Culver City High School took home the OEC Player Of The year. He averaged 11.4 points, 5.6 assists, and 3.8 rebounds in conference play. Newman Jr was the guard who truly did it all for Fullerton, creating opportunities offensively and defensively with his elite quick speed.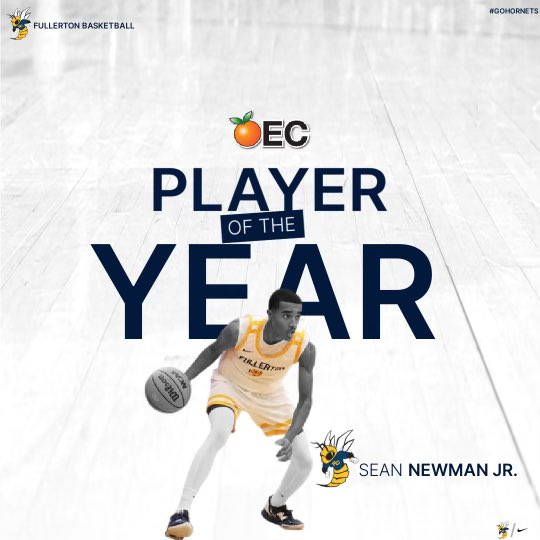 The awards did not stop there for the Hornets as there were more to come. For OEC All First Team, freshman guard RJ Banks, sophomore guard Kobe Newton, and sophomore guard Javon Jones were selected from Fullerton.
Hornets sophomore guard Shaquil Bender, a transfer from Mt. Sac by way of LA Prep, was awarded OEC Offensive Player of the Year. Bender averaged 13.5 points, while shooting an impressive 51.5% from the field, and 48.5% from three-point range during conference play.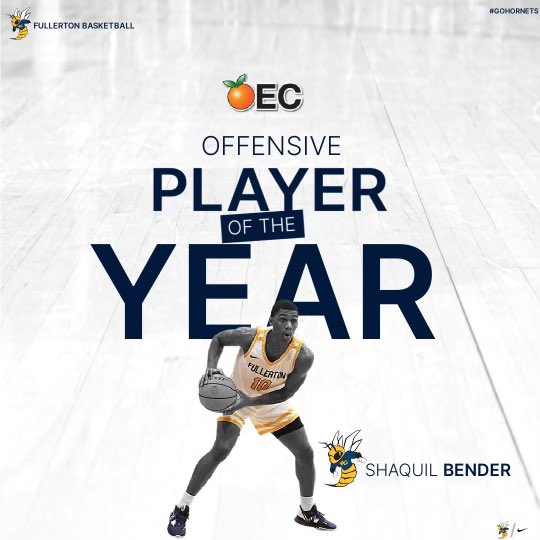 Banks, who previously attended Bakersfield High School,averaged 8.9 points, 3.5 assists, while also shooting 48.1 percent from the field in conference play.
Newton, who comes from Portland, Oregon, where he attended Westview High School, averaged 13.4 points, 3.6 rebounds, and a pair of assists during conference action.
Jones went to Pasadena High School before becoming a Hornet. He averaged 9.1 points, while shooting 51.5% from the field and an outstanding 91.3% from the charity stripe.
To finish off the players of the year awards, Hornets freshman forward Jeremiah Davis was the choice for OEC Defensive Player of the Year. Davis averaged 12.4 points, 3.9 rebounds, and 1.7 steals in conference play. Davis was always a menace for opposing teams causing havoc on the defensive side.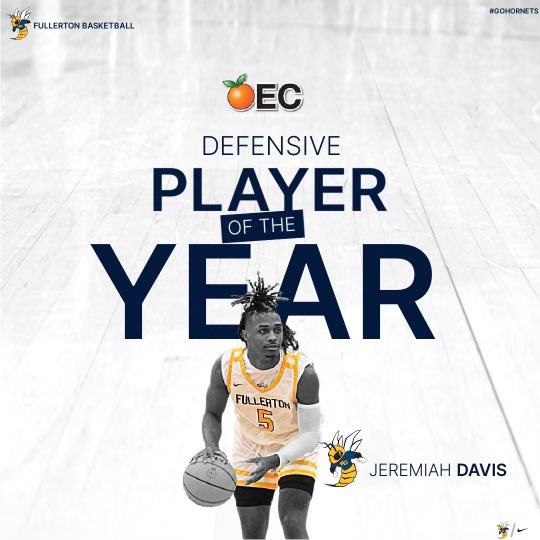 Capping off the award-filled day for the Hornets was freshman centers Sammy Howlin and Mike Ofoegbu who were awarded OEC Second Team spots. Howlin, originally from La Habra High School, averaged 5.2 points, 5.5 rebounds, and a block a game in conference play. Ofoegbu, a transfer from San Jose State by way of Golden State Prep, averaged 7.4 points, 4.8 rebounds, while shooting a brilliant 80% from the field during league play.
The two centers always held their own. Matching equal minutes, Howlin was the big keeping opponents from scoring. While Ofoegbu was the big who brought energy for the offense catching lobs nearly every game and igniting the crowd.
Fullerton heads into the playoffs as the top seed for the second year in a row with one end goal and that is a state championship. The Hornets earned a first round bye and will play at the Hornets Nest against either Allan Hancock College (18-10) or West LA College (18-10) on Saturday Feb. 25th.