New project by the Health Care Center aims to reach more students with struggling mental health
The Fullerton College Health Care Center hosted its second weekly social event in room 1246 which was created to attract students and offer help with life struggles and mental issues, on Wednesday March 15, at noon.
The event called "Radical Care Wednesdays" features FC therapists and Health Care Center staff present, willing to talk about new ideas for future workshops, socialize, and assist with anyone in need of help. Free food and drinks are also provided during the event.
Peer Behavioral Health educator Angel Valencia, believes students attending the event can benefit from Radical Care Wednesdays with a sense of belonging and with the tools to help battle their every day struggles. "We are going through things like life. A lot of us are transitioning from high school to college or going into the work force and going back to college and some of the things with family issues can be struggling."
Radical Care Wednesdays was also created to let students give their opinion and discuss what other projects might be beneficial for the Fullerton College community in regards to mental health.
"The more people that attend this kind of event, the more ideas that we will get on how to help our student body," said licensed therapist at the Health Center Yulia Levleva. "At any given moment we need to be ready to respond to the specific concerns that they have."
Director of Behavioral Health Services Dana Timmermans, says the idea was presented to him at a Zoom meeting he attended on how to approach students coming back to school from quarantine in the summer of 2020. The Zoom meeting was directed to K-12 educators and coordinators.
"I told them [Fullerton College Coordinators] two weeks ago that I wanted to do this," said Timmermans. "I talked about the idea some time back, but I said, 'Let's try it this time,' and they said, 'Yeah'. It's the perfect thing we should be doing."
Timmermans expressed that he expects more students and therapists at the event in future editions, but is satisfied with the progress it is having.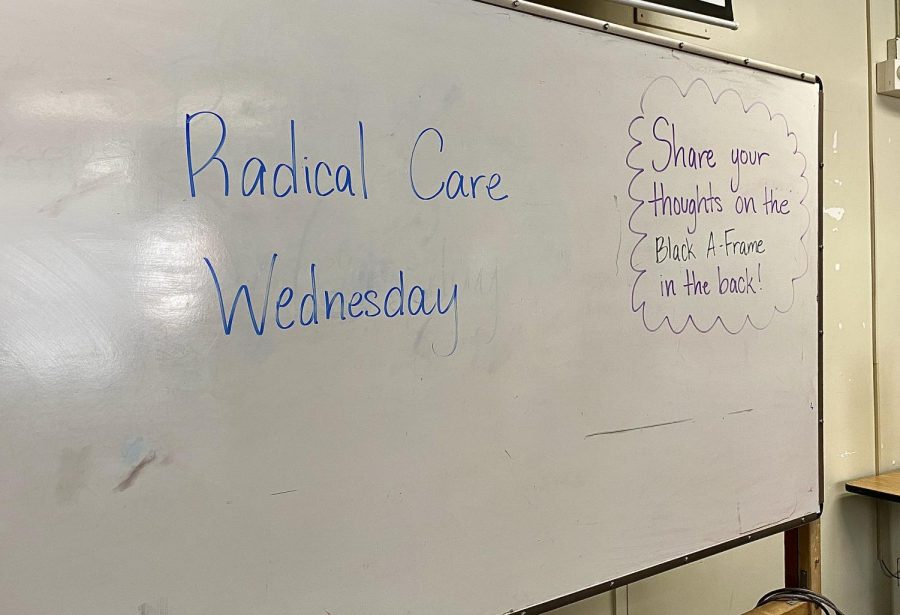 "We just had a group of folks who came in, it's kind of exciting. It's going to take a while to build up, but we are getting students talking to each other and that was the objective," said Timmermans.
"Based off of our first Radical Care Wednesday last week, we had a better turn out," said Health Services Outreach assistant Ashley Mariano. "It was nice to see more students come in, learn about the resources and learn that we are here for them on a behavioral standpoint."
Students who attended said that the idea is interesting and are willing to tell their peers on campus. "I did find the concept interesting and unique. It's not something I had heard of before, especially at institutions and schools," said sophomore Engineering major, Justin Khoe.
The event will take place every Wednesday in the Faculty Lounge, room 1246, formerly the student check-in center.