Hornets walk the plank for 6th straight loss
After jumping ahead by three runs early, the Hornets eventually fell apart, losing by a final score of 8-5 to the Pirates at home on Friday afternoon. This loss marks their 6th in a row, extending their worst losing streak of the season and now giving them a sub .500 record.
The Hornets opened with freshman RHP Deven Beasley, who was serviceable, pitching five innings, allowing just two runs on eight hits with two walks. Sophomore RHP Freddy Castaneda came on in relief, giving up four runs and four hits in only one and a third innings of work, labeling him the losing pitcher.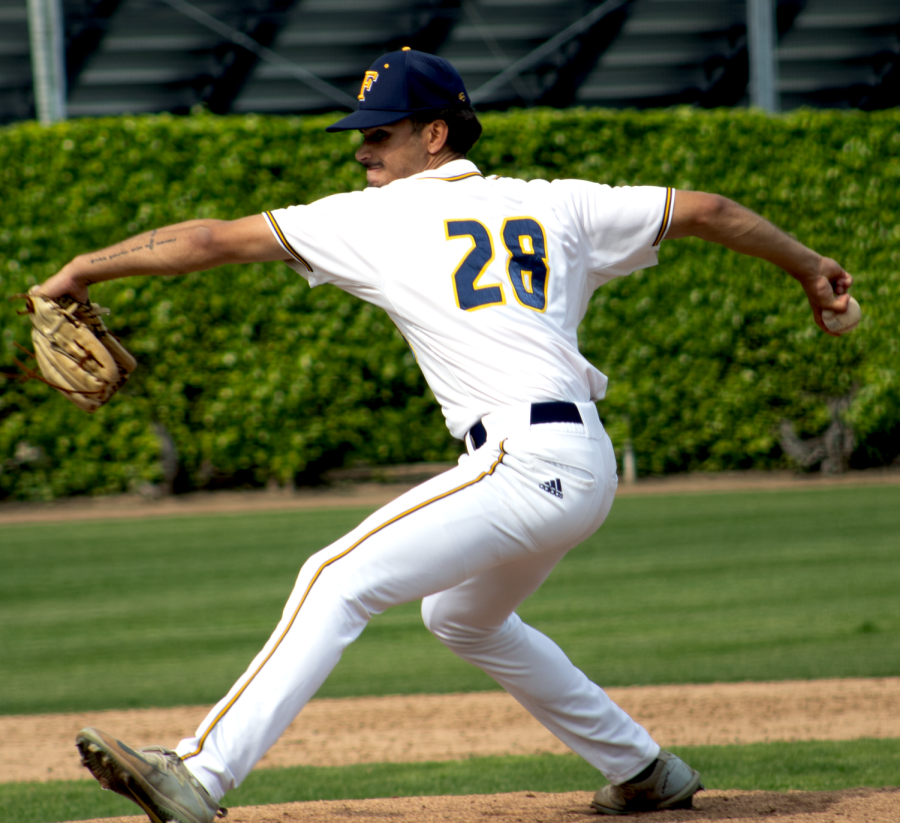 The Pirates started freshman RHP Sawyer Spivey, who went three innings allowing four runs on four hits, walking three and striking out three. The winning pitcher for Orange Coast was freshman RHP Lyndon Glidewell, who slammed the door on the Hornets. He only allowed one run on two hits, striking out nine with no walks during his final six innings on the mound.
The Pirates showed up early in the first inning as sophomore second baseman Alec Gomez singled to right field. A pair of ground outs let Gomez get to third, setting up sophomore right fielder Evan Scalley at the dish. He executed a two out base knock to right, putting Orange Coast up 1-0 before Fullerton could bat.
"You know, leadoff hitter at one," said Gomez about his impact on the game, "We had a couple of good [hitters] at bat, so just trying to be a good leadoff guy for the team."
Fullerton began pushing back in the bottom of the second inning with a walk issued to sophomore third baseman Kaipo Haole which was followed with a single to right by sophomore catcher Haku Dudoit. They both advanced on a SAC bunt from sophomore shortstop Jimmy Blumberg. Another walk for sophomore second baseman Jared Benash filled the bases with Hornets.
With the bases loaded, freshman first baseman Tank Espalin boomed a double to centerfield which put the Hornets up 3-1 after two. "I was excited, you know. We were down one nothing, so it felt good to put us in the lead," said Espalin." Unfortunately, we couldn't come out with the victory."
The Hornets stretched their lead in the home half of the third as sophomore right fielder Isaiah Marquez singled. He advanced to second on a grounded out hit by Haole, then Dudoit smashed a base hit to left field which allowed the home team to go up 4-1.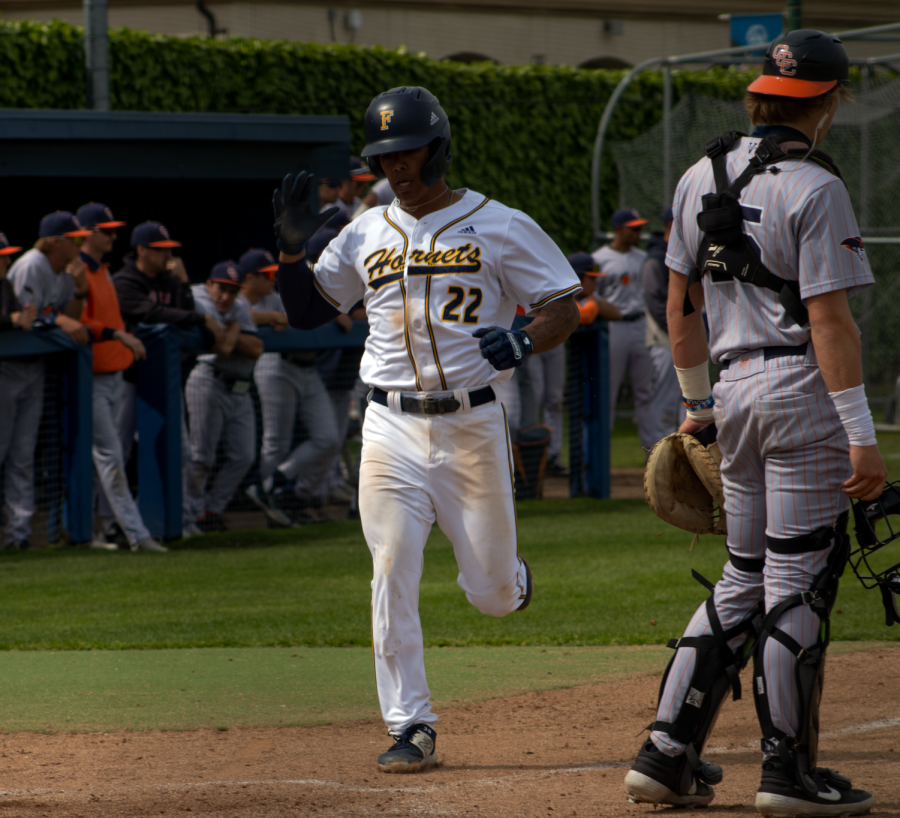 Now three runs down in the top of the fourth inning, Orange Coast responded with a single from freshman catcher J.T. Crabbe, followed by another hit from sophomore left fielder Jake Taylor. Gomez smacked a double to left, scoring Crabbe from second and bringing the score to 4-2.
Fullerton fighting to get back in the win column, scratched across their last run in the sixth inning. Things started with Dudoit getting hit by Glidewell. He then took second on a wild pitch. Benash singled it to left, pushing Dudoit to third. Dudoit then scored thanks to a SAC fly to right field from Espalin.
The Pirates, down three again, massively responded in the seventh inning. Freshman designated hitter Sebastian Moore reached on an error, which was followed by a single from sophomore center fielder Zach Dickason. With Moore and Dickason both in scoring position following a ground out from Scalley, freshman shortstop Koby Williams smashed a single to right, plating the two Pirates.
After Williams stole second base, he was then knocked in by first baseman Zach Leite. Leite kept the pressure on, stealing second himself, setting up another RBI single for freshman third baseman Ethan Brand to seal the comeback.
Fullerton's Head Coach Chad Baum called for a mound visit and switched Castaneda to sophomore RHP Ryan Chavez. He was able to get Crabbe to ground into an inning ending double play, but the damage had already been done as the score was now 6-5 in favor of OCC.
The Pirates added on some insurance in top of the ninth. With Dickason already on first, Scalley bombed an impressive home run to right field, sealing the game at 8-5, stretching the Hornets losing streak to six.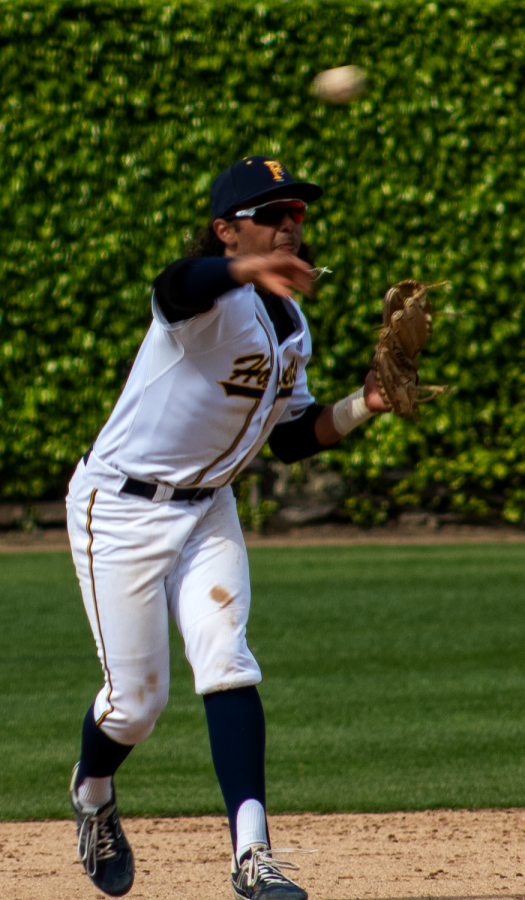 "We are going to work really hard next week to get a lot of reps in to clean this up because it's turned out very badly, and we got to get back to the fundamentals," expressed Baum.
With a whole week to prepare, the Hornets next game will be at home against the Golden West Rustlers on Tuesday, Apr. 11 at 2 p.m.