The Fashion showcase brings new innovation to the designs
From algae printing to recycled fabrics, this year's fashion show was all about innovation. After a three-year absence from the public, the Fashion department is back to showcase their students' creativity and inspiration through fashion.
The third annual fashion showcase presented the advancements of technology in fashion.  The students were assigned to make garments using unique, non traditional methods. The fashion show was held on campus May 4 in the 2400 building courtyard.
Renee Young, a professor in the Fashion department, explained that the purpose of this year's theme was to expose the students to the future of technology in fashion while also being sustainable.
"Most of the pieces are recycled, that was the idea," said Young.
Sherry Eversaul, an instructor in the Fashion department, explained one of the different techniques used in some of the designs. "There are several parts to the technology, there is a screen printing technique that helps reduce the amount of water and dye that are going into the river in which you use a heat press system."
"You have 3D printing and they can take older items and create something that is recycled," said Young while showing off a student's final product made from multiple fabrics which had not been used in years.
There were many designs in the showcase. One design that stood out was made from an emergency blanket and turned into a fashionable dress that could be used during the cold season.
Even though there were a lot of trendy, youthful designs, there were also pieces that took you back in time with a twist of modernity.
"I am really excited, I am really happy, I worked really hard for this," said Jennifer Muresan, a student and designer in this year's fashion show, who recently won a scholarship in her field. "I really like vintage, very Victorian girly (style)," she said. Her piece was combined with a long black column dress which she had made prior to the showcase.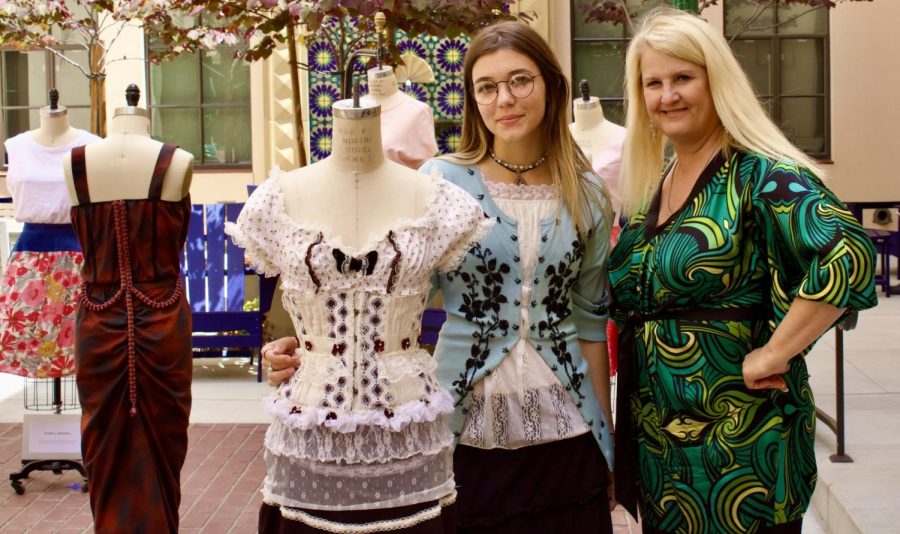 "I am very proud, I put literal blood sweat and tears into my design," said Muresan. She matched the dress with white blouse and a handmade corset all made from recycled material. The dress takes you back to the mid-1800s, giving the vibe of the way British royalty would dress during a ball.
Michael Martinez is a self-inspired designer in his second year at Fullerton College. He gets his creativity from his own clothes which is a mixture of vintage and present day fashion. From sketching to designing the final product Martinez gives his praise to the department here at Fullerton College for teaching him what he knows.
"It is my passion to make clothes," said Martinez. "My dream is to make something more couture."
Martinez displayed a blue midi dress with floral print that had a shoulder accent that provided an under-the-breast belt, a perfect dress for anyone who likes to make a statement during the spring season.
The students' creativity was present throughout the whole quad, gaining the attention of bypassing students who showed periodically. For anyone who missed the showcase there is still a chance to see the student work by visiting the Fashion Show's digital event website.