Ethnic studies department set to celebrate 50 years at Fullerton College
The ethnic studies department is celebrating its 50 years at Fullerton College. This upcoming anniversary event is meant to create a learning experience for attendees and give power to communities that have been underrepresented in the past.
The first day of this event consists of an RSVP dinner that will highlight and give scholarships to students. These will be given to the students who are representative of the legacy built by the ethnic studies department and are impacting their communities and Fullerton College in a positive manner.
The department has reached their full capacity for dinner attendees. However, they urge anyone who might not make it to forgo their spot so that others wanting to attend can.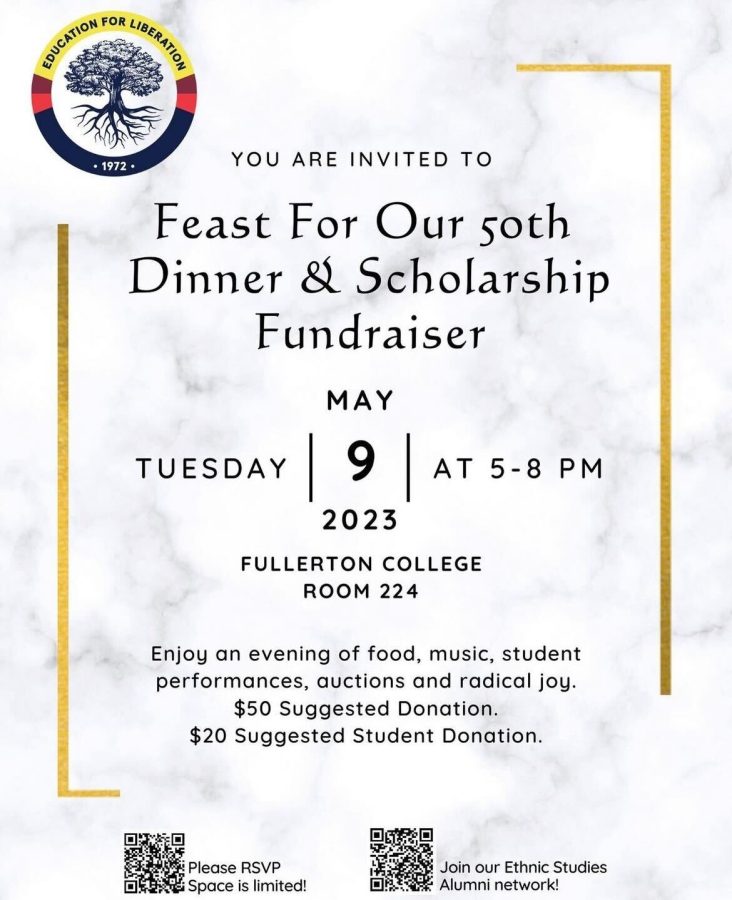 The department is also accepting donations from faculty and students. They are suggesting  for faculty to donate $50 and students to donate $20. All donations will go into funding these endowed scholarships, established through the Friends of Fullerton College Foundation, given to select students.
The second day, taking place on Wednesday May 10, is a free community celebration opened to the public, taking place from 12-8 p.m.
"We are having workshops and activities, a vendor marketplace, musical performances, a DJ, dancing and guest speakers throughout the day. We even have a taco truck coming," said ethnic studies adjunct faculty member Rosie Kar.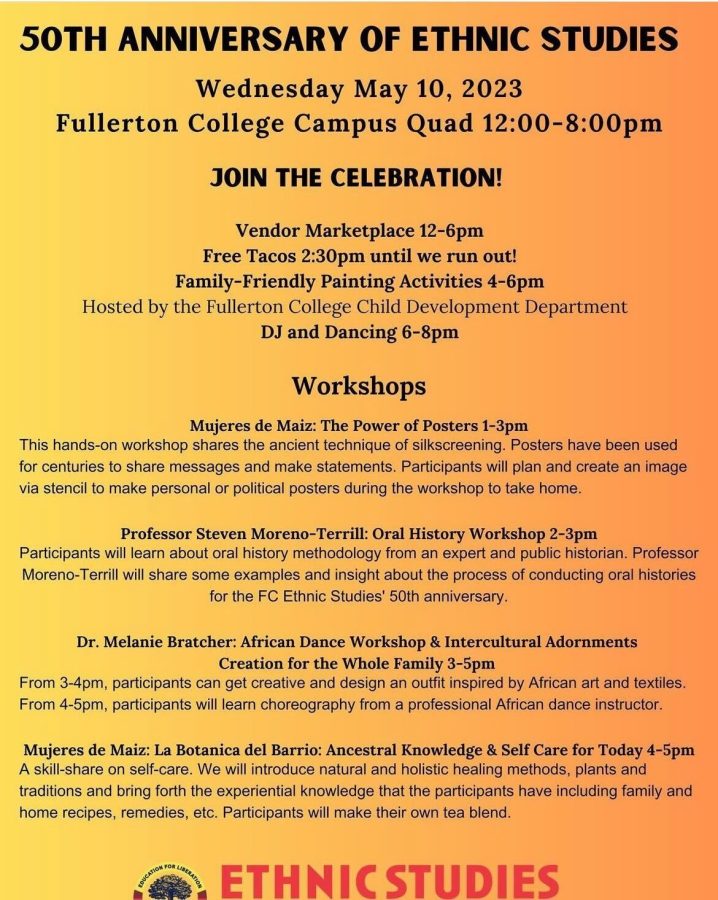 There will be four workshops being provided throughout the event. Women's activist organization Mujeres De Maiz will be providing attendees with two of the four workshops: The Power of Posters starting at 1 p.m. and Ancestral Knowledge & Self Care starting at 4 p.m.
Mujeres De Maiz: The Power of Posters will be a workshop that focuses on the ancient technique of silkscreening. People attending the workshop will have the opportunity to create a poster of their own, whether it be personal or one that makes a statement. This workshop takes place from 1-3 p.m.
Adjunct faculty professor Steven Moreno-Terill will be providing an oral history workshop that will teach others about the methodologies behind what it takes to conduct an oral history lesson for the ethnic studies department's 50th anniversary.
Melanie Bratcher will be conducting a two hour workshop. The first hour will be focused on letting participants create African art and textile-inspired outfits. The final hour will consist of learning a choreographed African dance using her skills as a professional African dance instructor.
La Botanica del Barrio: Ancestral Knowledge & Self Care for Today will run from 4-5 p.m. This will be a workshop with the intent of introducing holistic healing methods and traditions to the people attending it. Attendees will be encouraged to provide their own home remedies, recipes, and more passed down to them. They will even get to make their own tea blends.
"This event is not traditional or kind of exclusionary academic work. This event is very much about community," said Kar. "This is about tradition, it's about family, and it's about power and finding the beauty in our communities that have been historically underrepresented."
For more information on the event, please visit Fullerton College's ethnic studies 50th anniversary page, their instagram, or contact them at [email protected].
***This article has been corrected. It previously stated that the fundraiser was to raise money for the department; in fact, the dinner will raise money for student scholarships. It has also been updated for additional context and clarity.***