Offense goes cold, Hornets eliminated by the Falcons
Game 2:
Shock. The looks on the faces of the Hornets infield as they watched the softball clear the fence in right center field. It was an unfamiliar sight, but star pitcher freshman Allyson Fuentes was out-dueled as the Hornets lost Game Two at the Cerritos College Super Regional 4-1 Saturday afternoon.
That home run was smacked by sophomore third baseman Brooklyn Bedolla in the bottom of the fourth inning, breaking a 1-1 tie.
This was an answer to freshman center fielder Alyssa Garcia's moonshot home run, which opened the scoring in the top of the second inning. She sent the pitch flying out to dead center. Unfortunately for the Hornets, this would be their only run in this game, though they had plenty of chances.
In the same inning, following Garcia's home run, Fullerton freshman catcher Serina Vue was hit by a pitch, then advanced to second on sophomore third baseman Alendy Aguilar's SAC bunt. Sophomore left fielder Alyssa Caulford roped a single to center, and advanced to second base on the throw back in, setting up a chance to deliver the knockout blow early.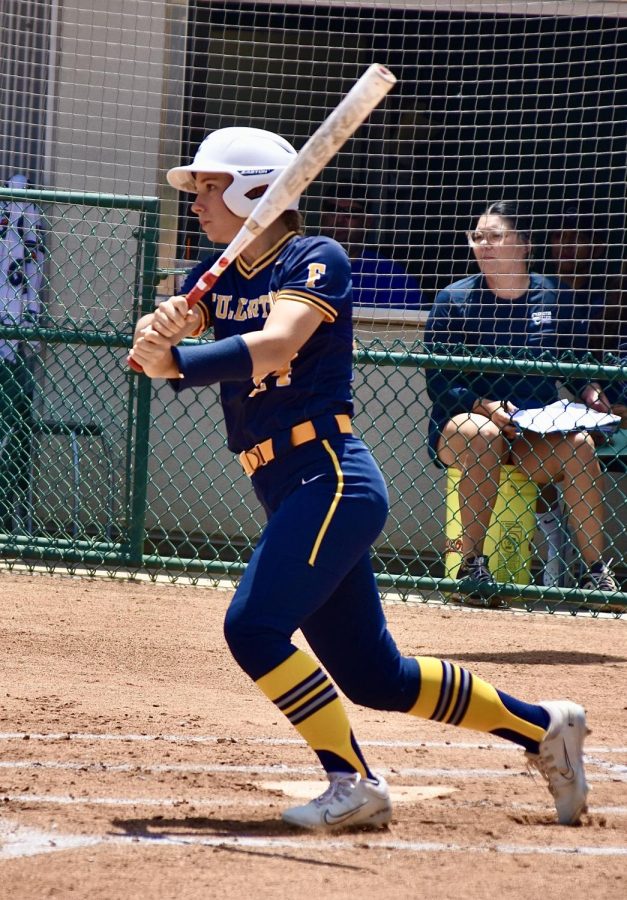 After a miscue on a swinging bunt from freshman shortstop Cassidy Hornung, the bases were loaded with one out with the top of the order coming up. Seeing the Falcon infield argue after the miscue made it feel like they were on the verge of imploding.
The Hornets could not capitalize on the opportunity, as freshman right fielder Coco Siono fouled out to the catcher and freshman second baseman Jordan Elias flew out to left field to end the threat.
Sophomore RHP Samantha Islas bounced back from her outing in Game One. She still was not particularly sharp, but she made the adjustments and did just enough to keep the Hornets from scoring. She pitched all seven innings, gave up four hits, three walks, one run, hit a batter and struck out two.
Fuentes on the other hand, did not seem to be her normal self. She took the loss, as she went six innings, gave up seven hits, two earned runs, walked one and struck out five Falcons.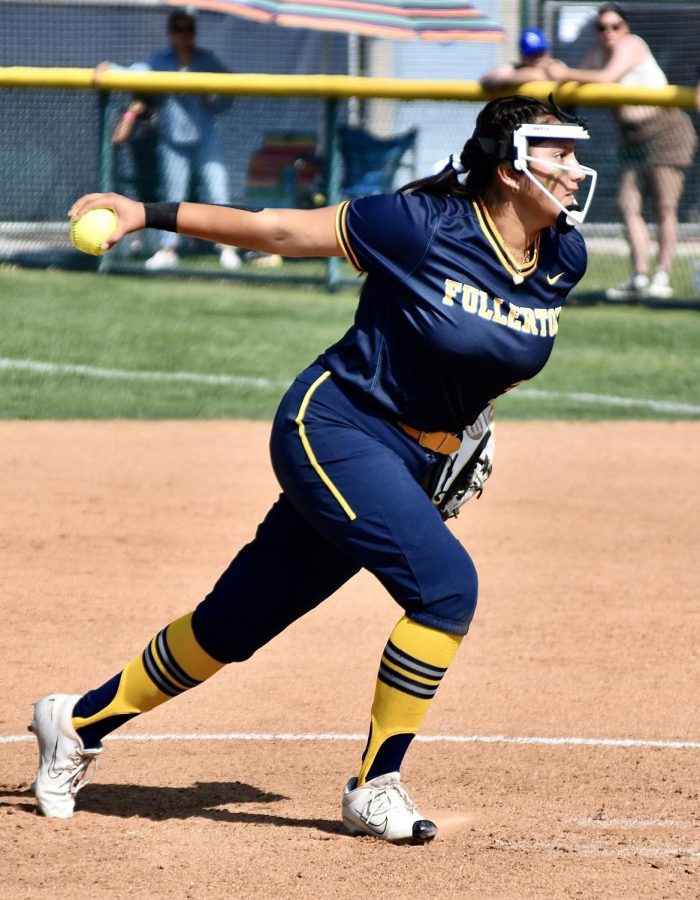 It seemed that Fuentes was constantly pitching in and out of jams, which eventually caught up to her. One could point to potential fatigue, as the OEC Pitcher of the Year logged 198.2 innings this season, as the second most on this team was from freshman RHP Dallas Garcia at 83 innings.
However, Co-Head Coach Marian "Speedy" Mendoza believed Cerritos made some good adjustments from Friday's game. "They came out swinging the bat a little better. Yesterday they were hesitant… they set the tone."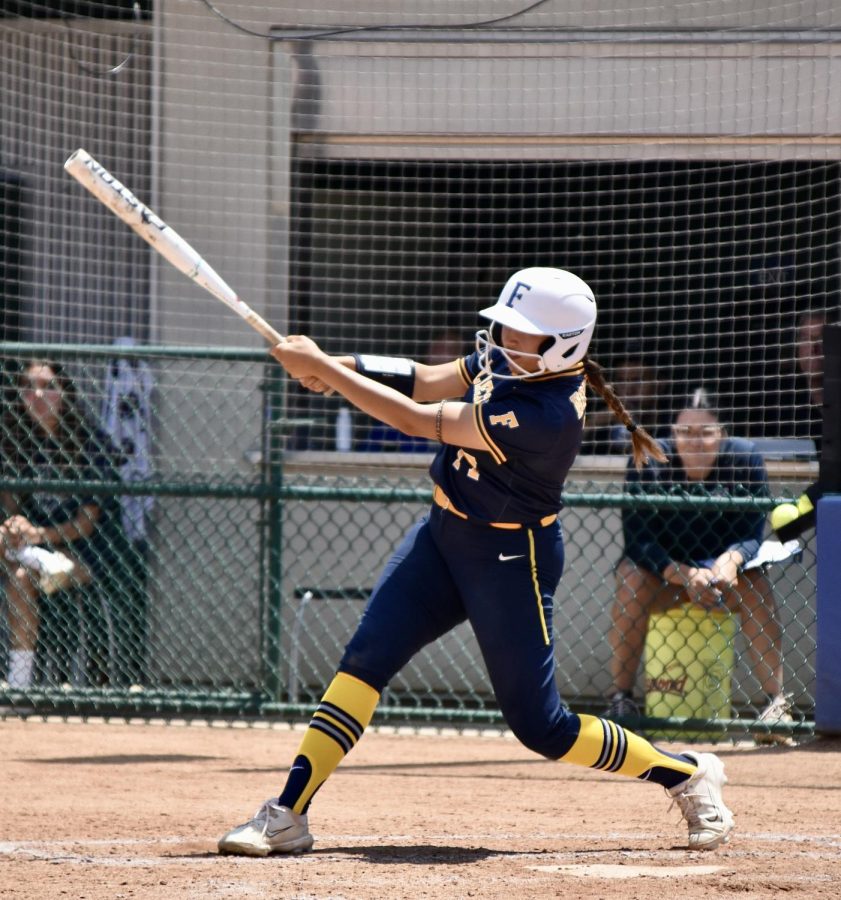 The Falcons responded in the home half of the third, when sophomore center fielder Alyssa Capps reached on an error from Aguilar, who lost the pop up in the bright sun. She would steal second, then score on a double that Garcia tried to track at the center field wall, hit by freshman right fielder Jazmine Macias, tying the game at 1-1.
After Bedolla homered in the third, she came back up to lead off the bottom of the sixth inning. She reached on another error from Aguilar, then stole second. Following a rocket hit back to Fuentes by sophomore shortstop Miranda Diaz put her on first base, the Falcons added on their insurance runs.
Fullerton High School product freshman catcher Jimena Velazquez drove in a run via a single to right field. Sophomore DH Maddy Guillen hit a hot shot at Elias, who made a great stab and tapped second base for the force out, but another run scored on the play, bringing the score to 4-1 in favor of Cerritos.
After leaving nine runners on base in the game, the Hornets were unable to get anyone on in the top of the seventh inning, taking the loss. There was not much time to sulk, as the deciding game was set to be played 40 minutes after Game Two ended.
The message was short and concise from Mendoza to her team to prepare for a winner take all Game Three. "Hey, it's going to be the team that's most aggressive [that will win]… we can't make mistakes."
Game 3:
Game Three saw an unfamiliar face in the circle. Freshman RHP Dallas Garcia was the starter for what was a must win game. And maybe she wasn't ready for this moment in life. But softball is not an individual sport either, the Hornets allowed three hits, one run, and an error in the first inning of a do or die game.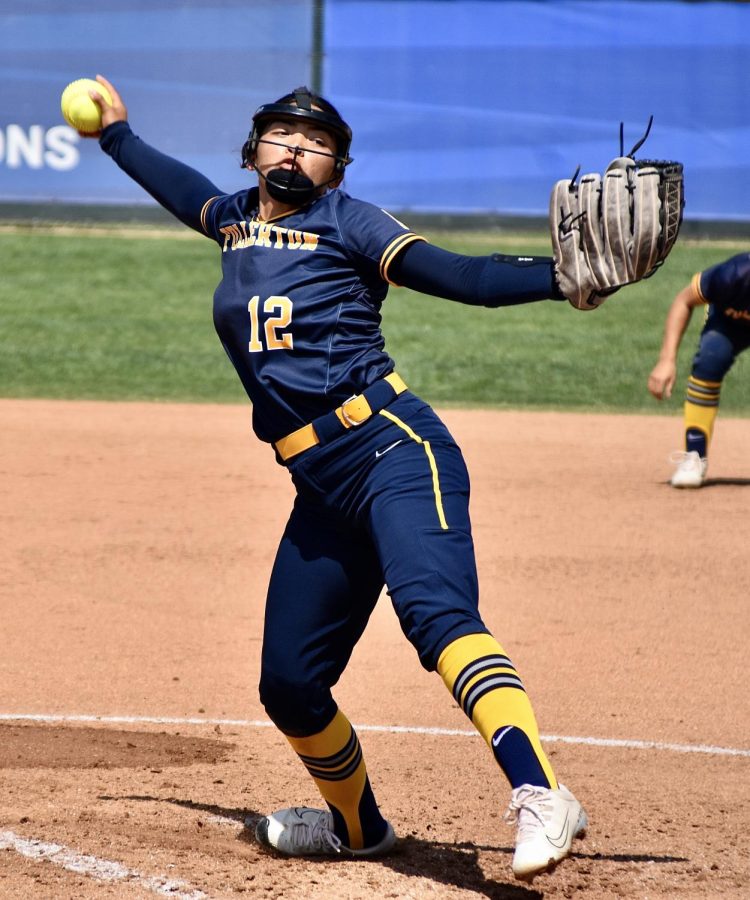 "Our defense made a mistake, and they got a hit," said Mendoza. "So that's how they [Falcons] scored the first two runs."
The third inning was when the decision to take Garcia out and bring in OEC Pitcher of the Year, Allyson Fuentes, back into the game. "We felt very confident in Dallas coming in and resting Ally [Allyson] a little bit instead of just bringing her right in to throw," said Mendoza.
The coaches brought Fuentes into a tough situation with one out and the bases loaded. Fuentes did not seem fazed, she's been here before. She chipped away at the Falcons pitch by pitch, allowing a run on a sacrifice fly-out by sophomore third baseman Brooklyn Bedolla, which scored freshman right fielder Jasmine Macias. Sophomore shortstop Miranda Diaz felt the wrath of Fuentes as she grounded out to second base for the third out.
The last inning for the Hornets showed that the Falcons wanted to win more than them. The Hornets did not give up, as they battled on defense, but maybe the hot sun and the fact that they had battled in Game Two that day took its toll.
Falcons sophomore second baseman Alyssa Sotelo, bunted her way to first and made her way to second after a sacrifice groundout by Macias. Sophomore first baseman Richere Leduc got an RBI as she doubled to center field allowing Sotelo to score, taking the Falcons' lead 4-2.
Fuentes got acquainted with the unfamiliar once again as Bedolla homered to center field. This time, the look of defeat was evident throughout the faces of the Hornets.
"A lot of feelings are going through us all. We are taking the loss hard," said Fuentes. "A lot of things are going through my head."
Things weren't all bad for the Hornets during Game Three.
A momentum shift in the fourth inning looked like Fullerton would take the lead. A rally that began with freshman catcher Serina Vue as she singled to get on base, would eventually grow into signs of hope that Fullerton could win the game.
Alendy Aguilar, the Hornets' sophomore third baseman who came in clutch during Game One and Two of the first round against College of the Canyons, was walked for good reason. It seemed like the coaches at Cerritos knew not to pitch to her during these situations.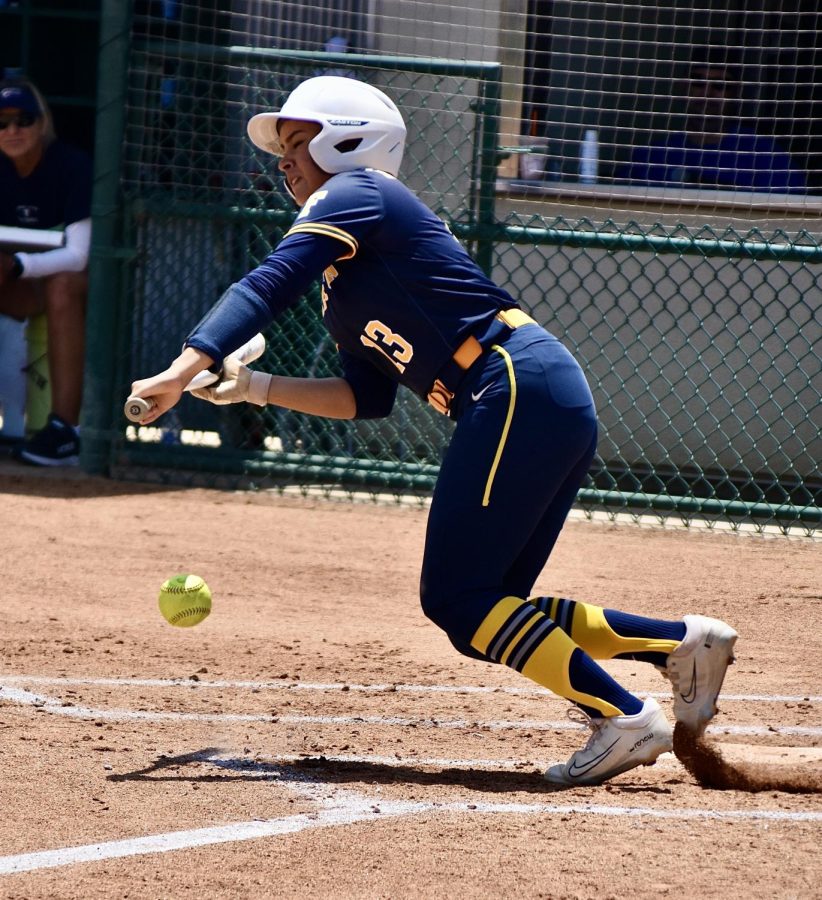 With two players on first and second, in comes Hornets' pitcher Fuentes in an unfamiliar area, the batter's box. She executed a perfect sacrifice bunt allowing all runners to advance to second and third base.
A powerhouse herself, freshman shortstop Cassidy Hornung's at-bat did not disappoint. Hornung RBI singled to left field allowing pinch runner freshman Haley Perez to make the score 3-2 Falcons, exciting the pro-Fullerton crowd in attendance.
"I know that my hitting has been really strong lately and I had a lot of confidence going in," said Hornung with so many emotions due to their season ending. "I believed in myself, and I knew that even if I was down two strikes, that I can hit that outside pitch, and I did. I let my hands take it that way and I drove it to left field."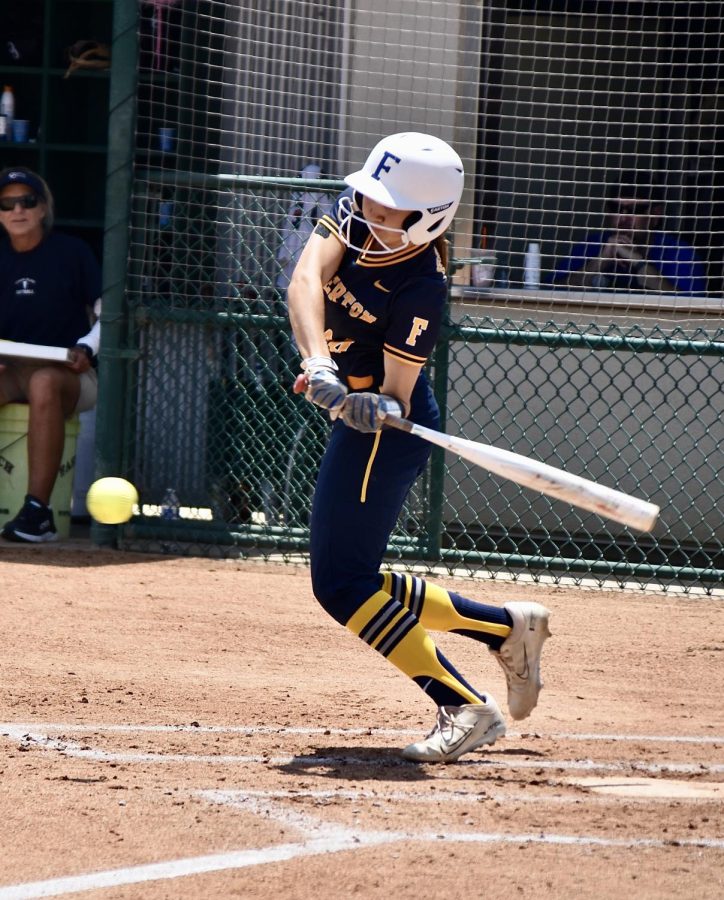 Continuing her momentum, Hornung stole second during freshman outfielder Coco Siono's at-bat. "I knew we weren't out of it. We still had a chance," Hornung said. "Throughout the whole season, we've always been the underdogs, and we've always came back the last inning."
Unfortunately, that rally died out when Siono lined out to center field and second base freshman Jordan Elias flied out to infield.
During the summer off season, Fuentes will be working on her pitching and her base running, "I believe that if I work on my change and my rise pitches, that I will be set for the rest of the season. As well as running and upping my velocity."
Fuentes ended her season with 127 strike outs with an earned run average of 1.83. She threw 198 2/3 innings in 27 game starts.
The Hornets' end their 2022-23 softball season with an overall record of 29-15-1 (.656), conference record of 16-5 (.762) placing them second in the OEC.