Students of Distinction: two women win the top two awards
The 66th annual Fullerton College Students of Distinction awards were held on Friday, May 5. Julianne Le and Paloma Foster have both been named "Distinguished Student of the Year," receiving an additional $500 scholarship for each.
Julianne Le, in the Academic Achievement category, was in tears as she accepted the honor. "I really appreciate everything I've been learning here and I appreciate my family for giving me the room I have for this opportunity. I know it's not easy working so much and providing for us. I know we're a team. It's really not just me up here," she said.
Le is an English tutor, whose essay "Transforming Horizons" placed in the Fullerton College Banned Books Essay Contest, along with getting published in VROC and API Equality-LA's Transforming Horizons Project. She was on the staff of The Hornet as an editor last fall and has contributed to the Cal Humanities Emerging Journalists.
She stated on her LinkedIn page that she focused "on social inequities in my journalism and creative writing as I attempt to highlight underrepresented narratives." "My dad is a disabled vet, that's why I am involved with the Veteran's Resource Center here. They take care of military-connected students and veterans," Le said.
Le will transfer to UCLA for English and Asian American studies. "I'm really excited about that, and I really want to get into a publication or literary journal that focuses on Asian literature, in Los Angeles," she told The Hornet.
Immediately after Le's speech, a video of a pre-recorded acceptance speech by Paloma Foster appeared on-screen, as she was announced as the second student of the year. "I never thought this was where I would end, and I never thought I would become so involved on campus. I came here with the intention of just getting my A.A. and just leaving," said Foster, thanking professors and the NOCCD trustees and all her friends. "I met so many people who helped me get this far, I didn't get here by myself."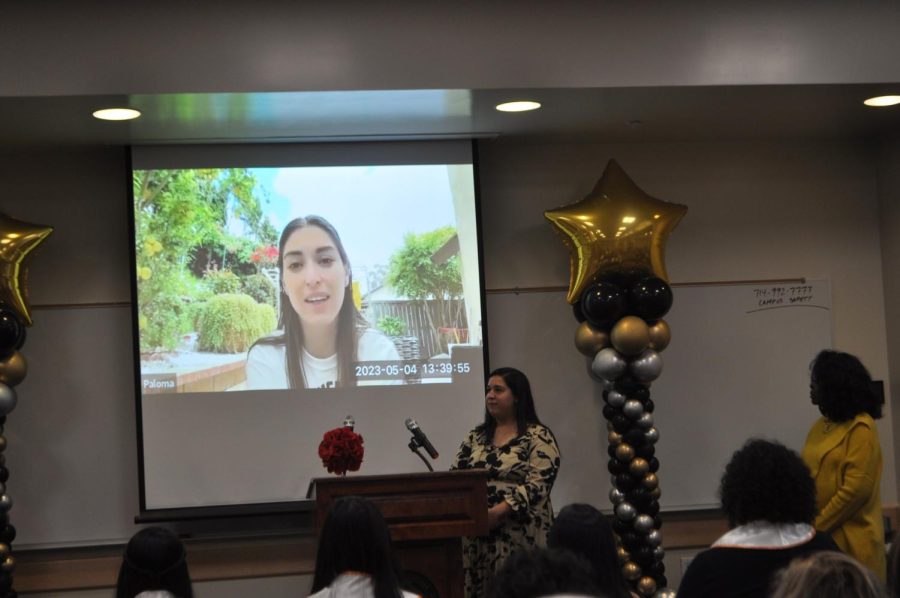 Foster was not in attendance because she was on a tour to U.C. Berkeley, as explained by awards host Stephanie Rodriguez. Foster, in the Service Achievement category, served as Student Trustee 2022-23, representing Fullerton College students at the NOCCCD board meetings and away trips in Sacramento.
Foster has also been outspoken about a cause dear to her heart – that of formerly incarcerated students. Earlier in the night, Foster had been introduced by Political Science teacher Jodi Balma, who said Foster "was a former foster youth, who was in drug rehab just two years ago. The transformation that Paloma has achieved is remarkable. With each step forward, she breaks down barriers, widens the door to opportunity, so that others can follow in her path," Balma said Foster's future plans include advocacy for foster youth and juvenile justice reform.
Balma had introduced other service category members: Jackson Henry's parents encouraged community service at an early age. "One thing I find impressive is that he always makes it seem as if I'm doing him a favor when he volunteers. He has the heart of a servant leader who improves everything he gets involved with. He encourages others to be their best self," said Balma.
Fiza Valiulla was cheered on by her mother and family members as she was honored. Valiulla worked in the Honors program office, as executive producer on "A Slice of Orange," and served as A.S. Vice President of Public Relations.
Competitive Achievement winner Kobe Newton said to The Hornet, "Coming back for my sophomore year, the goal was very clear and that was to win the State Championship." He praised his teammates and cited their culture of togetherness as a vital element of their success. "It helped us in games we could have lost. We stayed one group and it was a very beautiful thing to be a part of and definitely one of the greatest memories of my life, and I'll never forget it," he said.
Natalie (Lee) Johnston, in the Competitive Achievement category, was not in attendance, because she was in The Wolves theater production that night, in the role of "Number 25," the soccer team captain who acts as a de facto coach.
The Personal Achievement category included Jessica Tieva, who served 11 years in the Army, with seven years in active service in South Korea and North Carolina. She has been stationed in Garden Grove the past four years, where she has balanced her duties with schoolwork.
Other students in this category included Luis De La Parra, who said his dream is to be a researcher in psychology. "I feel blessed. I overcame all sorts of hard circumstances; I was homeless for a while and lost."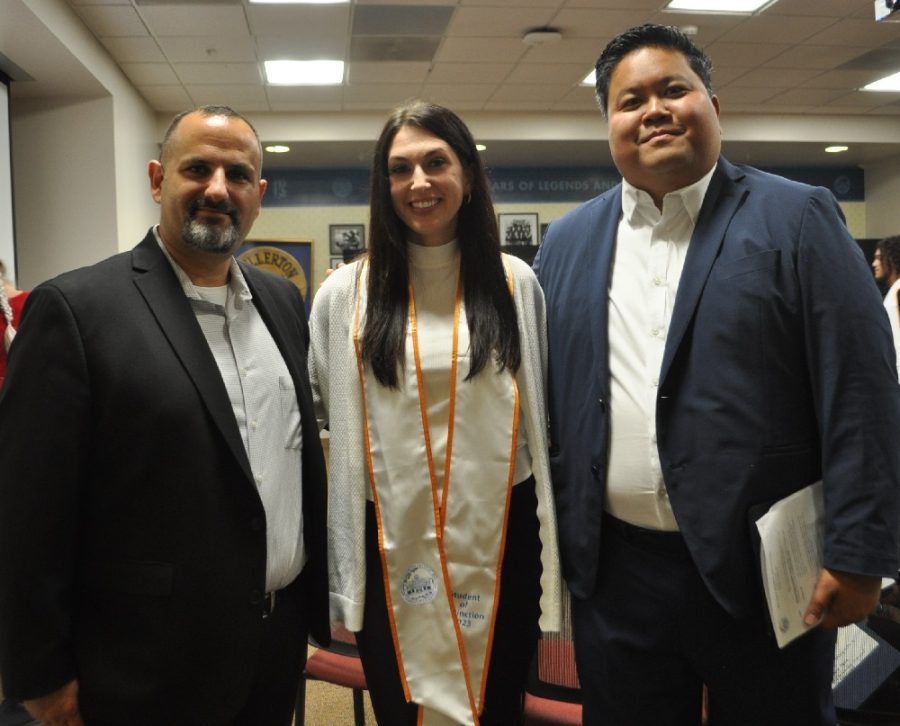 This year's ceremony started off with a reading of the Land Acknowledgement by Associated Students President Chloe Serrano. Then President Olivo congratulated the students on their many achievements. "In the four months since I became president, I feel the pride people have for attending Fullerton College. I just love this college. I hope you feel the love we have for you tonight as we honor you and recognize you for all of your achievements."
Director of Student Life and Leadership Naomi Abesamis introduced Joseph Carrithers, who has served as co-emcee of the Students of Distinction ceremonies for the past 20 years. Abesamis announced this was the last ceremony Carrithers would co-emcee, then presented him with a lei and invited the students to pose for a picture with him.
Carrithers is also stepping down as Faculty Advisor to the Associated Students, which he announced at the A.S. committee meeting on May 2. Abesamis praised him for his tutelage not only to students but to her, as well, and his patience on long road trips with the students to events.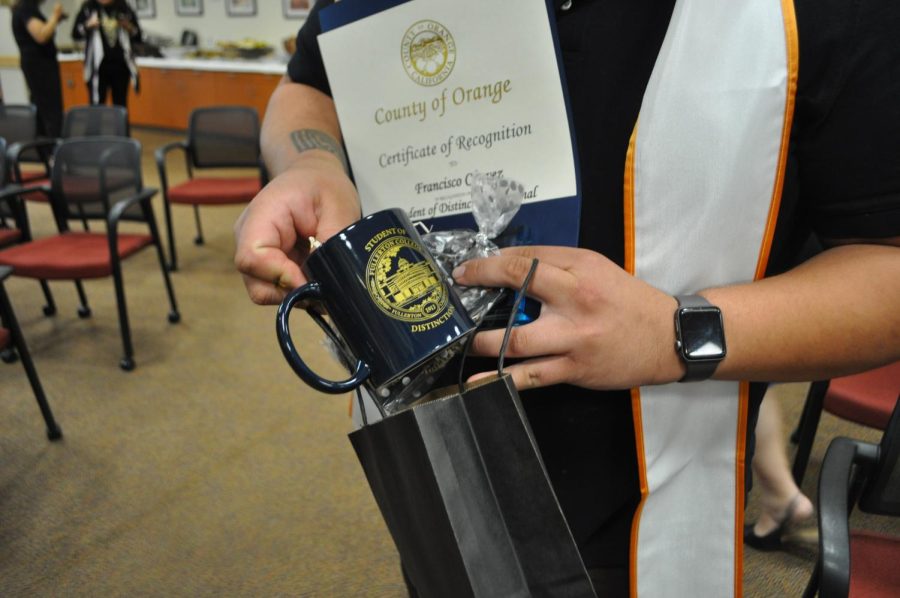 In previous years, the Students of Achievement were gifted with royal blue stoles for commencement, but this has changed for this year to white with gold lettering. The winners also received crystal blue trophies and gift bags with a cup and gift card.
Transferring students will also receive gold medals on blue ribbons at the Transfer ceremony on Wednesday, May 17 from 4–5:30 p.m. in the Fullerton College Campus Theatre.
The commencement is on Saturday, May 20 at 9 a.m. One of the Students of Distinction will be the student commencement speaker, as yet to be determined.
***In the original article, The Hornet misspoke and stated Le and Foster winning was the first time both recipients of "Distinguished Student of the Year" were female, when in fact that feat occurred in 2020 at a virtual ceremony for Kayla Duchesneau and Brianne Healey Gutierrez.***