The NOCCCD Board of Trustees ruled against a proposed policy that puts a ban on many flags during what is usually a bi-monthly meeting on Tuesday, July 25 at the Anaheim campus building, after several attendees voiced their concerns that the potential policy could be an attack on the LGBTQ+ community.
Resolution 23/24-02, filed by Trustee Ryan Bent, would allow only government, state, army and district branded flags to be flown and displayed on district facilities, alleging it would show more political neutrality from the institution.
"As a district, part of our inclusivity efforts should focus on fostering a more neutral environment," said Bent.
Many public speakers brought up that the resolution seemed to be intentionally introduced right after pride month and during summer break when students and professors would not be around. Multiple faculty members reiterated how unfair it was for this to be brought up now as they are not under contract during this time of year.
"This issue is not time sensitive. There is no reason why it should be taken up now, during the summer," said Fullerton College English instructor Bridget Kominek.
"This resolution appears on the agenda without shared governance voices during the summer when we are not here," added Fullerton College Political Science professor Jodi Balma.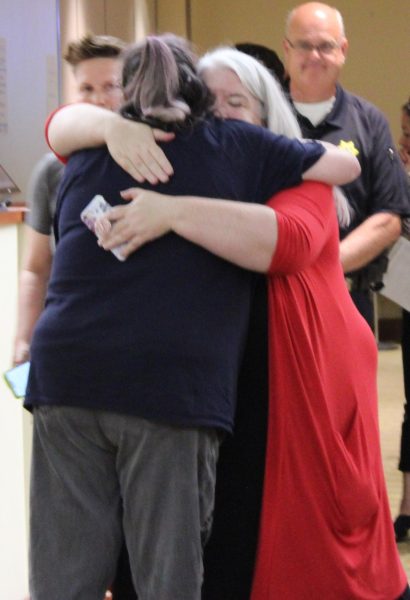 Bent received some personal backlash from some of the speakers as well. "This resolution proposed by trustee Bent is deeply disappointing and sends a hurtful message to our LGBTQ+ students, staff, faculty and community," said Fullerton College IT Services Coordinator Azin Biatani.
After over 40 community members spoke their opinions to the board, with the majority being against the resolution, Bent made a motion for the board to formally discuss the resolution after all testimony was heard.
However, it failed to get a second vote from any of the other five board members present, which meant the anti-flag policy as written could not proceed.
Even though the resolution did not proceed, some members of the board were unhappy that Fullerton College President Cynthia Olivo did not seek permission from the board to fly the Pride flag in June.
Olivo displayed a Pride flag at an event partnered with the LGBTQIA2S+ Resource Program in the library on June 27, to show support of Pride month.
"There is not a law, but that is a matter that should be decided by the Board of Trustees with the district," said Board of Trustees President Ed Lopez.
Balma supported Olivo's decision, claiming at the meeting that no board policy is needed to ensure the best for the students.
"I wanted to remind all of us that the absence of a board policy does not stop our colleges from doing our best to meet our students' needs," said Balma.
Bent explained that his intention with the resolution is for all students to feel welcome, explaining that popular interest group flags make some feel welcome, but others can then feel unrepresented. "When some interest flags are represented and flown while others are not, it sends a message to many that they are less valued than another group," said Bent.
Despite his position on campus flags, Lopez did not support the resolution. He expressed that he believes certain flags express inclusivity rather than exclusivity. "Some groups have been mistreated or marginalized in society, which I think makes it important to convey that they are acknowledged," said Lopez.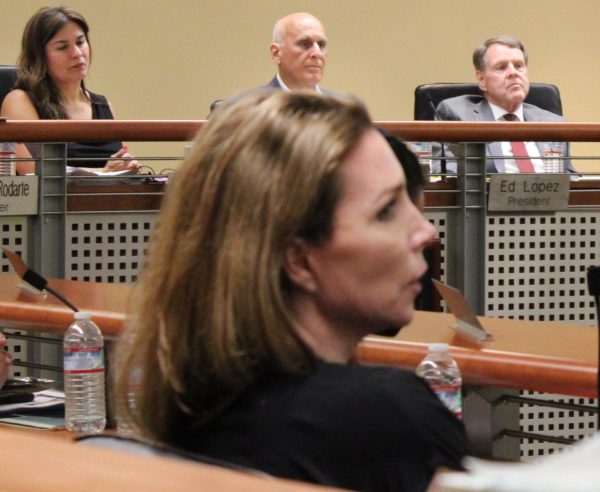 Lopez said that the Board of Trustees is working on a policy that will specify which flags will be allowed to be displayed. The thought is to find a way to filter those that are considered inclusive to the general public away from those flags that can represent hate groups.
"We need a board policy that establishes a process by which, each year, the Board of Trustees can choose, each year, which flags can be flown," said Lopez. "We are now beginning the process of developing such a policy."
The next NOCCCD board meeting is scheduled for Aug. 22, where the discussion over how this new policy is going to be shaped will take place, as explained by Lopez.