Students and Faculty members had different reactions due to many classes being filled up as Fullerton College sees a 4% increase in class enrollment from this time last fall semester, as of Friday Sept. 8.
According to Fullerton College President Cynthia Olivo, there was a 1% increase of students enrolled in the school at this time compared to last fall. About 6,700 of those 18,258 students enrolled as full time students, which is also an increase of 5% on full time enrollment.
Olivo explained that more students enrolling to the school, and more classes taken per student on average, is what is causing the significant increase in class enrollment overall.
This increase plays a huge part on class availability for students. Communications specialist at campus communications Melissa Serrato explained that classes are being filled faster because students are registering for a lot more. "It's also important to note that we are also seeing an increase in the number of seats taken," Serrato said.
Art History Professor Kristin Mihaylovich was ecstatic about this increase as it has positively affected the Fine Arts Division with a 13% percent increase in enrollment since Covid-19. "I would say that I am so happy to see an increase in enrollment. Art history classes are full, and we have returned to our pre-covid numbers," Mihaylovich said.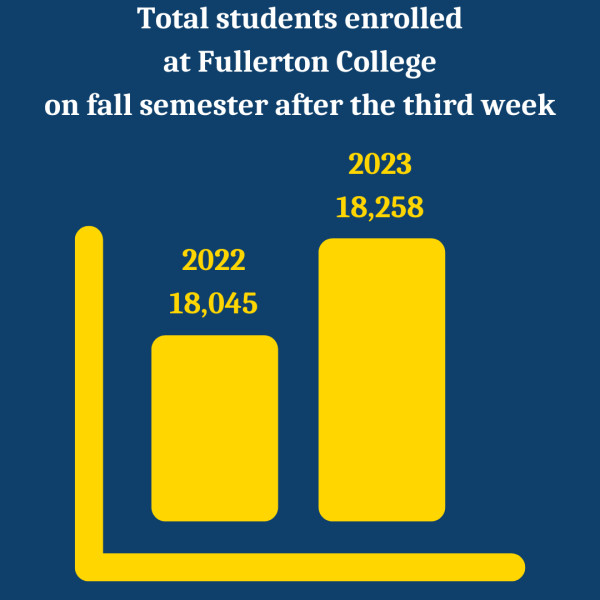 Some students however, said the increase in enrollment impacted them negatively as it has been a challenge to register for certain classes they need as seats fill up quickly.
Sociology major Norma Ugalde said she had a hard time finding availability on classes needed to complete her graduation requirements this semester. "When I registered for school not all of my classes were available at FJC or in the evenings," Ugalde said. She also explained being forced to take two courses at Cypress College because the availability left for those classes at Fullerton did not accommodate her schedule .
Business major Jazmin Romero said she is lucky to have enrolled early to her general education courses as they were close to full capacity. "As far as general education courses, they are packed to the brim," said Romero. "Thank the Lord I had an early day to submit my CRNs, because if not I probably would have been wait-listed."
With the window still open to enroll for late start courses, these numbers are still subject to change in the following weeks of this semester.