Every Sunday at 6 p.m. across from The Continental Room in Downtown Fullerton, there is an outdoor open mic show called Ground Zero hosted and performed by writer and stand up comedian Kris "Zero" Rimpson.
"Ground Zero, as a whole, has been going on for about three years, and this location has been going every Sunday for like six months," said Rimpson.
Rimpson began Ground Zero as a way to reach his goal of becoming a professional comic and entertainer. He credits the drive to come out every Sunday towards his yearning to make his dream a reality.
"Part of it is making myself do it… there is at least one mic I have to hit every week because it's the one I run. So it puts a fire under my own butt… you have no excuse to not do it," stated Rimpson.
The show opens with him performing stand-up comedy. Operating with only a mic, speaker, cooler to collect tips, and a whiteboard, Rimpson is the embodiment of a determined visionary. You get what you see, and what you see is a man doing stand-up, singing, and rapping for hours to anyone walking by and willing to listen.
"You only work in five minute chunks," said Rimpson on the struggles comics have when they are trying to build their platform. "Ground Zero gives them a place to work on those longer sets and to see how to link all their stuff together."
Rimpson is not alone in his pursuit to entertain, as fellow performer Plagueman Wanderer is also a constant of the show. He is an enigma who sings original songs and performs comedic bits along the way. While on his "mission from colony PPAM to busk for surface gold", Plagueman stops by Downtown Fullerton to make an appearance.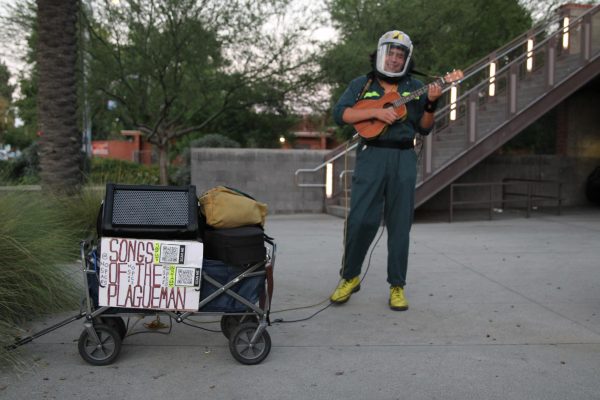 As the location of Ground Zero is wedged between the SOCO District and the train station, the event grabs a collection of viewers ranging from bar-goers to train riders.
"It's cool to see people have the confidence and trying to get their start, you gotta admire it," said attendee Natalie Escuardo about Ground Zero.
Another attendee, Warren Santos, chimed in saying, "If I had to say it in a sentence, it's very… Fullerton."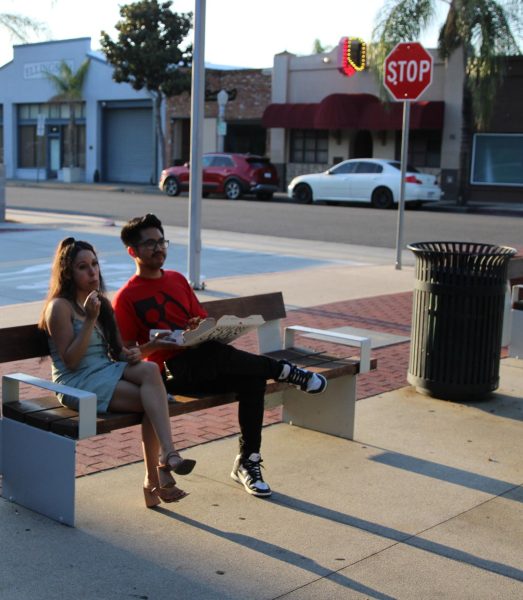 After Plagueman Wanderer wraps up, Rimpson encourages anyone with a desire to grab the mic and start. Taking his invitation, several bystanders walking by jumped in on the fun and sang music of their own.
The plan for Ground Zero is to build its platform organically. Channeling his inner "Field of Dreams,"  Rimpson said, "If I could just fill those benches that will be good for me… comedians kind of work like flies with sugar where the audience is the sugar. If you build it, they will come."
Rimpson not only does Ground Zero, but he also performs at many establishments around California. His next show is on October 5th at Bootlegger's Brewery in downtown Fullerton.