Fullerton College student organizations, sports teams, and faculty members can now request and receive government travel funds to formerly banned states, starting on Wednesday, Sept. 13, as California State Governor Gavin Newsom signs a new bill overturning a seven-year-old travel ban.
The Bill, SB 447, automatically repeals AB 1887, which is a travel ban passed in 2016 that prohibits government-funded travel to states with anti-LGBTQ+ laws, such as Texas, Florida, Georgia and 23 others.
This overturn was proposed by Senate President pro Tempore Toni G. Atkins, with the intention of connecting California to those states and supporting their LGBTQ+ communities with a new program called The BRIDGE project. The Bill was passed by the California Legislature on Tuesday, left off to be signed by Newsom on Wednesday.
SB 447 contained an urgency clause. Instead of taking effect at the start of 2024, the bill became effective immediately when signed by Newsom. "The BRIDGE Project is a chance to counter that with kindness and empathy, and I'm grateful to Governor Newsom for swiftly signing this bill into law," said Atkins.
The purpose of the original ban was to show opposition to those states' anti-LGBTQ+ laws, such as the North Carolina HB 2, a ban on transgender people from using the public restroom that matched their gender identity. California intended to press for LGBTQ+ rights on these states by having the travel ban in effect.
However, public organizations all through the state were impacted by this bill, as they could not be funded for needed travel to any of the 26 states in the list.
Dean of Fullerton College's Technology and Engineering Division Kenneth Starkman expressed that although the initial ban had a good intention, it affected students from public institutions in the state." Private school students in California may be able to attend a training session in a banned travel state, while California public school students could not," said Starkman.
California State Assemblywoman Sharon Quirk-Silva echoed support on the overturn of AB 1887, claiming that SB447 will benefit citizens of California and of the formerly banned states. "Researchers and professors in the UC and CSU systems will travel for scholarly purposes, collegiate sports teams can compete in tournaments and competitions, and state employees can bring successes of the Golden State to the rest of the country," said Silva.
"I am pleased to know there are legislators who recognize AB 1887 was not as effective as it was intended and that other means to bring human rights to the national forefront can be developed," said Starkman. "Let's hope there is a better solution soon."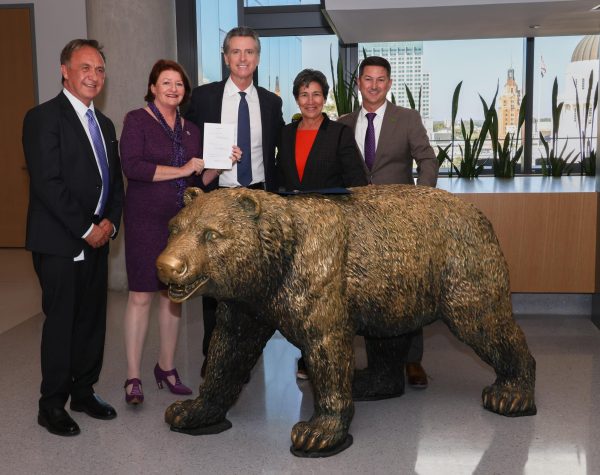 As the new bill is now signed by Newsom, public organizations and institutions such as Fullerton College, are now allowed to use government funds for traveling to conferences, competitions, meetings, and other affairs in formerly banned states.
*This story has been updated on Sept. 16, 2023 with an added quote from California State Assemblywoman Sharon Quirk-Silva, who represents the 65th District which includes Fullerton, Buena Park, La Palma and Cypress.