Fullerton College students with undocumented status planned and shared their personal goals at an event on their support hosted by the Grads-to-be programs on Wednesday, Sept. 15 in Room 526.
The event, called "Undocu Chats," invited undocumented students with the intention to provide a safe space for them to conversate and share any of their concerns or thoughts with others. Students were required to sign in with their Fullerton College student ID.
Wellness therapist with the Grads-to-be program Janet Polanco, provided all attendees with sheets of paper where they could write their personal goals, and set a step-by-step plan to achieve them.
The room was decorated with big posters for students to write their goals with markers. Free food was also provided by the hosts all throughout the duration of the event.
After attendees wrote their goals down on the sheets, Polanco, alongside Marketing and Events advocate for the Grads-to-be program Nicole Swayne, provided poster-size sheets of papers for the students to create an artistic design with their goals. Markers, paint and other utensils were on spot for them to use.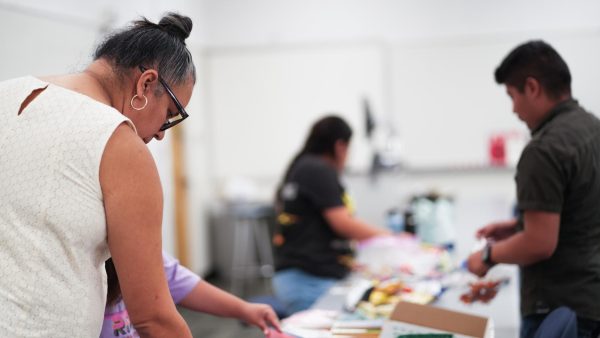 Polanco encouraged students to share their goals with the others in the room by presenting the posters they made. Students present expressed academic success, labor success and fixing their legal status as some of their most wanted things to achieve.
Undocu Chats have been an ongoing event since the spring 2021 semester. These started as zoom meetings that undocumented students could join to seek emotional support. "Undocu Chats started as a space to provide support for undocumented students, to come and discuss any stressors, anything that is impacting their functioning here at school," said Polanco.
After going back in-person in fall 2022, Polanco said they wanted to integrate activities in order to bring more students into Undocu Chats. "This is kind of our second year back, when we are doing things in person," said Polanco. "I embedded activities, kind of our therapeutic activities, to help increase their motivation and participation."
Swanye said that although they had more students in the first edition of the semester, she was still satisfied with how the event turned out. "I would feel like on our first event, or the kickoff event had a lot more students," said Swanye. "But I think it went pretty well."
The event concluded with Polanco presenting to the attendees the date and theme of their new "Undocu Chats" editions and other events such as Cadena Cultural Center's Dia de los Muertos celebration.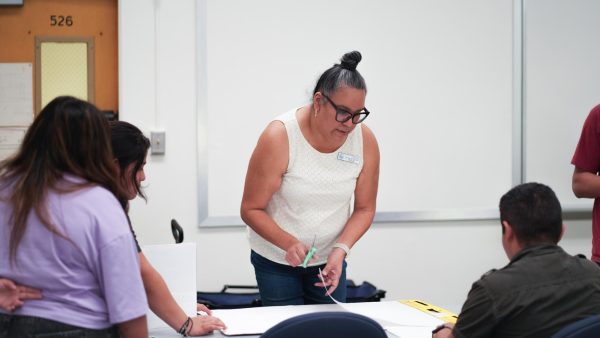 The new edition of "Undocu chats" is set to happen again on Wednesday, Sept. 27, in room 526, and will be focused on stress management, with attendees having the chance to build their own stress ball.