Fullerton College held its final celebration of Cruz Reynoso, showcasing an honorable plaque and the newly titled building 200, Cruz Reynoso Hall, in an inauguration ceremony in front of the structure on Wednesday, Sept. 14.
The event welcomed members of the NOCCCD Board of Trustees, Fullerton local politicians, Cruz Reynoso family members, faculty and students from Fullerton College.
The final ceremony began with the insertion of dancers who performed "Danza Azteca," which is a cultural Indigenous dance from the Aztecs, meant to honor the ancestors and their spirit. They all had colorful headwear, the women wearing decorative skirts and tunics while the men wore garnishing loincloths. They also played several instruments such as drums, sonajas, and an Aztec blow instrument called quiquiztli.
Charcoal and copal were burned in a black bowl. The drums thundered as the dancer stepped and dragged their feet in sync with each other. The dance continued until a quiquiztli was blown and the bowl of incense was raised in the air.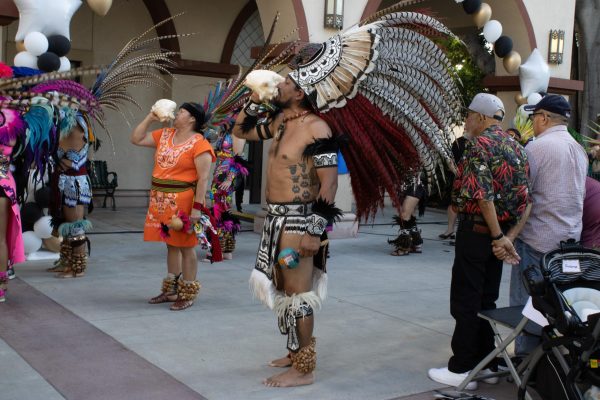 Fullerton College President Cynthia Olivo opened her first speech with an acknowledgment about the college location and its meaning. "Fullerton College is located on the unceded ancestral lands shared by the Gabrielino-Tongva Nation and the Juaneño Band of Mission Indians/Acjachemen Nation, who have been the traditional caretakers since time immemorial," said Olivo.
She later introduced NOCCCD Board of Trustees Chancellor Byron Breland who spoke about Cruz Reynoso. "The first Chicano Supreme Court Justice in California, he broke racial and ethnic barriers, opening doors of opportunity for countless others who followed," said Breland.
Olivo spoke again after Breland, sharing about the time she met Cruz Reynoso at a conference. "I was able to tell him how much he meant to me, and how important it was to see someone like him who I could relate to," said Olivo.
Cruz Reynoso's son, Len Reynoso, was invited to speak and shared a story of how his father as an eleven-year-old, wrote to the Federal Government stating that mail needs to start being delivered to Alta Vista, the part of La Habra neighborhood he lived in. Soon after, Alta Vista started receiving mail.
Len's brother, Rondall Reynoso followed to speak, and expressed the pride he has of his father's legacy. "When you talk to people about dad's legacy, about who dad was, there's two words that come up: integrity and humility. I think both of those are tied to the community he grew up in, but also the experience of coming through an institution like this [Fullerton College]," said Reynoso.
Other faculty members, a former Fullerton College student, and a representative of the Friends of Fullerton College Foundation spoke to the public as well.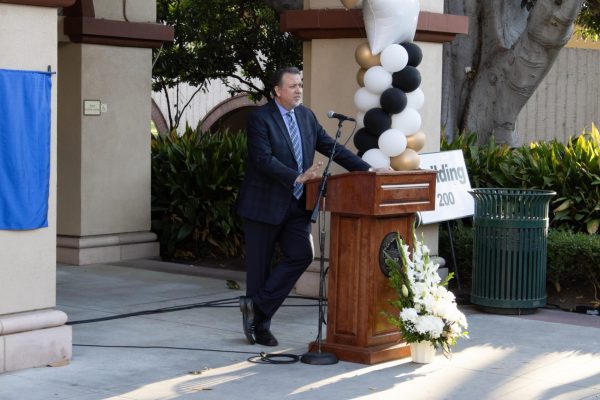 Olivo said that the building renaming process started about eighteen months ago. "It requires lengthy shared governance discussions that require the input and feedback of the different bodies here that make up our shared governance structure, including the district level, the district advisory council to the chancellor, and then it required a vote from the board of trustees," said Olivo.
Fullerton College partnered with the Friends of Fullerton College Foundation to produce a year-long celebration and fundraising campaign for Cruz Reynoso, all towards the goal of creating a Cruz Reynoso Scholarship and commemoration of his life.
"The scholarship will go on in eternity, the thing about an endowed scholarship is that 15k will go in the bank and never be touched. So, 100 years from now, they'll still be a Cruz Reynoso Scholarship," said Director of the Friends of Fullerton College Foundation Zoot Velasco.
The Cruz Reynoso Scholarship will fund "people who follow in his footsteps, where they come from meager means and show leadership qualities, they will get that scholarship to help them propel their way to the four-year school and beyond," said Velasco.
The celebration began last October in 2022 with the Cruz Reynoso kickoff celebration.
This year, on Aug. 31, Dr. Olivo organized a screening of the Cruz Reynoso documentary "Sowing the Seeds of Justice" in room 1440. With the help of the Cadena Cultural Center, Fullerton College students and professors learned of Reynoso's story.
"Students need to see themselves reflected in employees. We now will have a whole building represented. That representation really helps serve this for our students," said Dr. Connie Medina Yamashiro, Director of Student Development and Engagement. "So, they see the sign, they'll be a plaque of someone that might identify with their community. So that's really aspirational. That's what we want to do."
The speeches concluded with Olivo having Len and Rondall Reynoso unveil the Cruz Reynoso plaque. Afterwards, Olivo thanked several people for contributing to the celebration of the Cruz Reynoso Hall, including NOCCCD Board of Trustees, local politicians, and Fullerton College faculty members.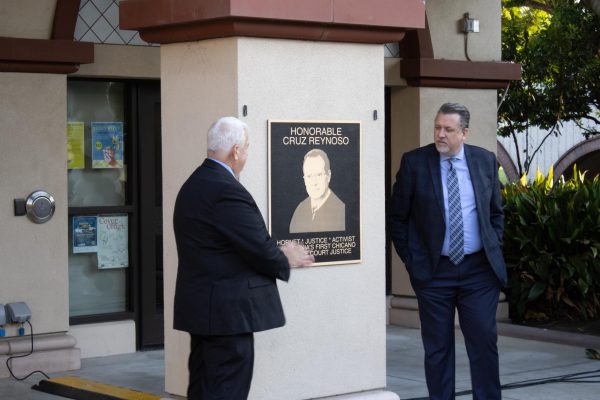 The ceremony ended with a mariachi band leading everyone to the backside of building 200. There, the newly titled Cruz Reynoso Hall was finally unveiled.