The local music scene in Fullerton is bringing it back to the '60s and reviving old vinyl grooves through music and light shows. The hosts encourage the public to bring their own records for the DJs to play which invigorates the sharing nature of music that is less seen nowadays.
"Fullerton has a rich history of music. It's the birthplace of Fender. This is my way to bring the music back and bring people together," said the host of vinyl and poetry night JC Pompey. "We have real people spinning vinyl here. Nothing digital."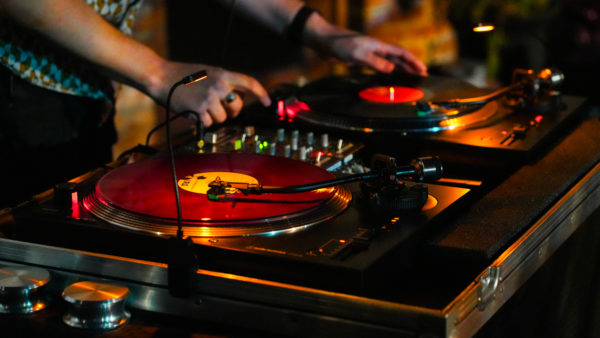 Owner of The Night Owl Joseph Rosati is always at these events interacting with customers. He creates an artistic space which allows locals and students to thrive in their artistic passions.
"It's an outlet for the community to do something creative. It's helping people do what people are meant to be doing. Sharing space, air, thoughts," said Rosati.
The Night Owl hosts a variety of events weekly like blues night, open mic night, and live showcases of bands.
One of the DJs, Garrett Bennett, was thinking about hitting a garage rock theme with his record selection for his set. He started performing 10 years ago for parties and weddings and his favorite genres to DJ are funk and disco.
"I try to keep everything upbeat so that people dance. This is one of the only places that still plays psych and garage in town. This scene needs to stay around because this is what Fullerton is based on," said Bennett.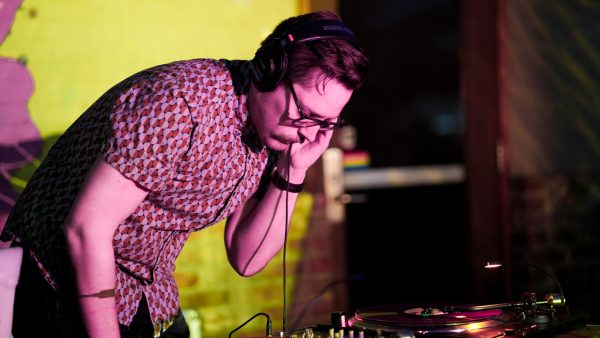 Onlooker Kayde Dandridge was photographing the light show on film. She explains that artistic expression is important and makes the long drive from her hometown to experience the unique events that The Night Owl hosts.
"You get it all right here. Everyone is welcome and there are so many artistic opportunities. It's not just music, it's comedy and art. Just being here is the creative genesis for a lot of people," said Dandridge.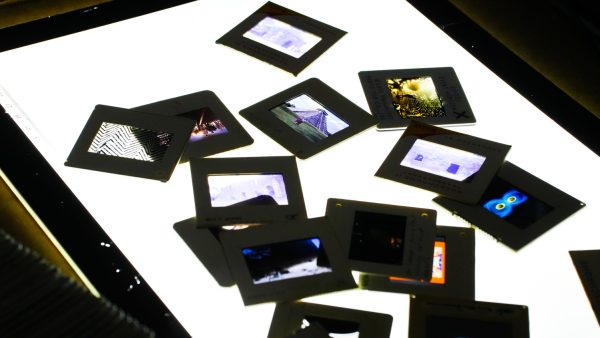 Liquid light projectionist Aidan Lutz works with Liquid Fidelity, a visual arts group that specializes in doing projections for events. He uses classic overhead projectors, glass, water, color dyes, and vintage slides to create a collage of visuals.
"It opens up minds like it did in the '60s and '70s. It brings the community together to enjoy an art form that goes back 70 years," said Lutz.
Night Owl regular Bruce Macphurson has been a resident of Fullerton since 1963 and has extensive music knowledge.
"I'm good friends with JC. For a young guy when he came across my Velvet Underground records, I told him 'You don't know who the Velvet Underground is!' He told me who they were. I said 'Guess what? Those records are yours.' It was kinda nice to pass it down to the next generation," said Macphurson.
"If you're interested in music and are looking for like minded people that like arts and conversation, this is the place to be," said Rosati.