Fullerton College hosted Golden West College on Wednesday night, as this was their first match inside The Hornets Nest all year. They took the loss, falling in three sets.
Though the sweep sounds disheartening, the Hornets (1-10, 0-2) battled in the first two sets, losing them both by just a combined five points.
"Today was one of their better all-around matches, so we stayed fairly consistent so that's a plus," said Fullerton head coach Rena Smith.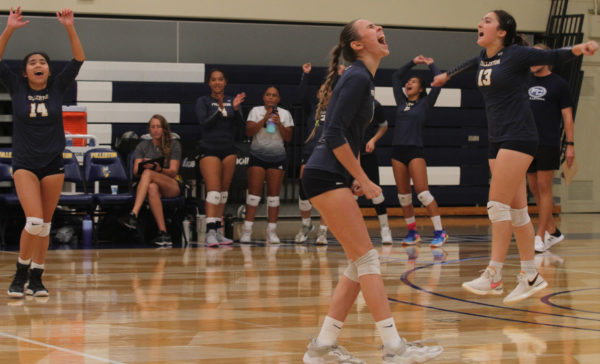 Despite the height, record, and experience differentials, Fullerton played the first two sets as equals.
Coming into the game, the Rustlers (6-1, 2-0) had a major height advantage, with seven athletes from GWC being over 5 '9 compared to FC only having one such player.
"Games one and two kind of showed that you don't have to be big and powerful to compete and be in the match. You really just have to play good volleyball, control the ball," said Golden West head coach Bill Lawler.
The second set was the highlight of the match, filled with momentous runs and strategic timeouts.
The score was 6-5 favoring Golden West when Fullerton freshman Koby Kaihara served four straight aces, propelling a run that ended in a 14-8 lead for Fullerton.
However, that would not deter the Rustlers led by freshman Ashlynd Larson, as their squad would go on to score five straight points themselves, resulting in a Hornets timeout.
With Fullerton up 15-14, freshman Emily Finnegan responded by delivering three consecutive aces,adding to the seesaw affair and forcing the Rustlers to take timeout of their own.
"I put everything in my serve just to make them as tough as I can. Serving is like the one part of volleyball that you do yourself… so it's very important, and getting three aces was a big accomplishment for this game," said Finnegan.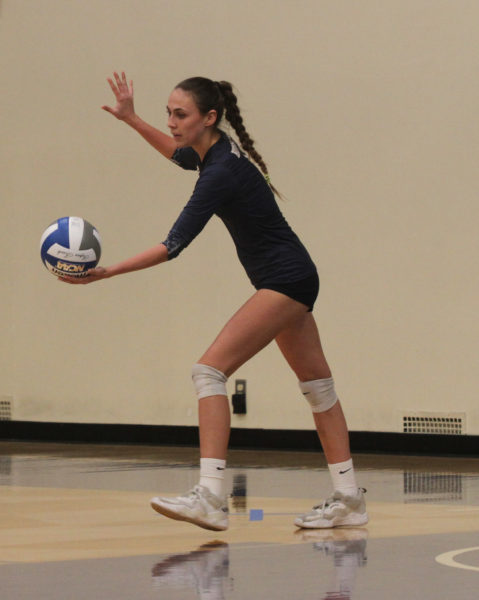 Down 19-14, Rustlers' outside hitters sophomores Peyton McBride and Sabrina Phinizy ignited a 6-2 run, causing Fullerton to call yet another timeout.
Fullerton returned the favor as Kaihara and Finnegan teamed up with a dig and a spike to tie things up at 24 all.
"They had some good swings. So, more about just reading their hand and the ball, where it goes to," said Kaihara.
Golden West decided they would put an end to the back and forth affair, as Phinizy came back with a spike and sophomores Hayden Murray and Leslie Cambray finished the set with a block, breaking Fullerton's hearts with a 26-24 win in set two.
The back and forth was on full display all night long between Fullerton's libero and defensive specialist freshman Joshlynn Lopez and the free swinging, powerful Phinizy, who came into the match comfortably leading the Rustlers in kills.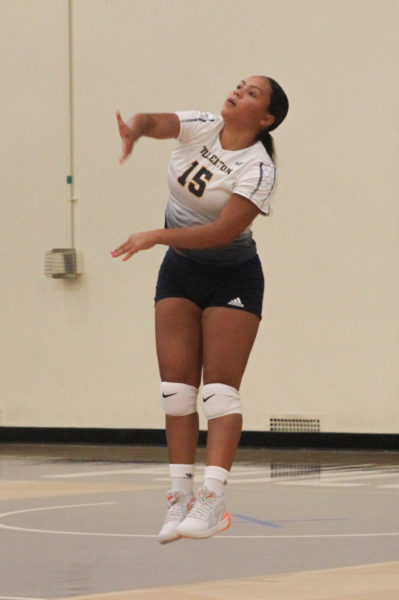 The first set was just as exciting as the Rustlers swung hard, but the Hornets countered with quickness and hustle.
"I can't coach tall, but we can coach desire and quickness, so usually with smaller players we can get more quick and so we work on the defensive passing a lot more," said Smith.
The set was tied at 18 when the Rustlers defensive length showed, as they went on a 4-1 run in crunch time, causing Smith to use a timeout.
The Hornets finished the set on a 3-3 run, but the surge was just a little too late, ending in the Rustlers winning set one 25-22.
The third and final set began with a quick 8-2 run by Golden West. Fullerton seemed to slow down with their energy and hustle, which had kept them in striking distance in prior sets.
Coach Smith used a timeout in response, but simply was never able to get her team back in it to avoid the home sweep. The Rustlers won the deciding set 25-13.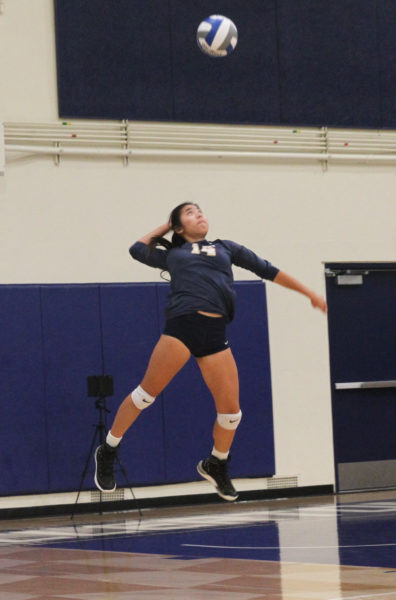 The Hornets look forward to getting back into the lab and are preparing to bounce back.
"Just going into practice, knowing that we can compete with the teams and knowing that we just have to do the small things in order to make us do better," said Kaihara.
The Hornets are back in action in the Hornets Nest against the Santa Ana College Dons (2-6, 0-1) Wednesday, Sept. 27 at 6 p.m.