The slogan "Women, life, freedom" is seen on tables and posters alike at the Mehregan Fall Festival on Saturday, reminding attendees that the fight for freedom of expression is inseparable from the meaning of the day's festivities.
The Orange County Iranian American Chamber of Commerce (OCIACC) partnered with the city of Irvine for the fall festival of Mehregan.
This year, the sentiments are even more important with women in Iran facing persecution over hijab protests. The government targets women and young girls not wearing the hijab, jailing or even killing those who do not comply with the strict dress code.
Commenced by the President of OCIACC Shani Moslehi, the organization works to uplift Iranian-American businesses. Mehregan, honoring Goddess Mehr, or Mithra, has signaled the shift into the fall season since 14th century BCE. It is a day for friendship, kindness, and love.
"It helps people to celebrate being together, to empower people, to energize people, to tell people that life goes on," said volunteer organizer Ellie Majei.
Rows and rows of colors marked with the ever-present green, red, and white of Iran's flag shone from every corner of the park. Booths ranging from bracelets and rings glistening in the sun, to non-profit groups, to real-estate agents, to hand-made rugs that look like works of art. Each has their own special slice of the community to offer.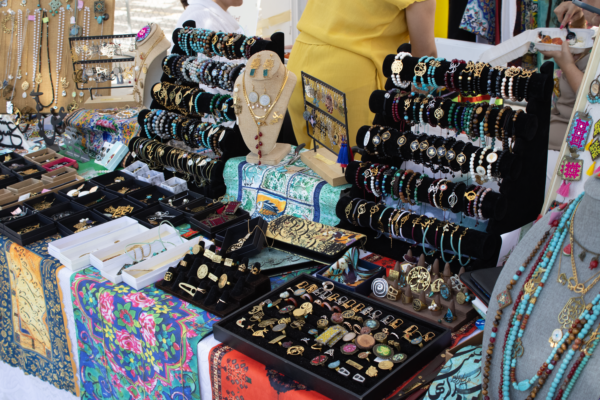 BeautyBreak Salon's booth for a new line of pure perfume sits along a wall, just one business under OCIACC who holds membership for support of their endeavors.
The Cooking Pavillion teaches crowds the traditional Persian rice dish, Tahchin. The food is crisp, and bursting with flavor. The smells of saffron, spices, and meat traveled through the air, drawing people away from the sun and under an awning to share their meals.
"Coming together… to remind them of the tradition we have is an important part of the holiday. Interconnection of the community and celebrating each aspect of themselves and their livelihoods sparks continued pride," said Majei
Festivities centered around the main stage. DJ Babak mixed songs along with daf drummers and powerful singers. Dancers smiled down as they twirled, and colorful Afghan garments all graced the stage in honor of the harvest.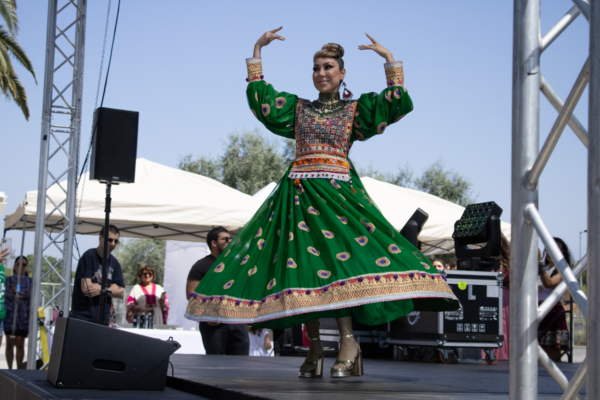 "As you see, the leaves turn yellow and they drop, so that dropping symbolizes what we shed in order for something new to come," said Hessam Motamedian, president of therapy4iran. His non-profit organization provides a Farsi speaking therapist with someone globally in need of mental health services. "So it is also a season of renewal, similar to spring, but in its own unique way."
"When we were growing up, we didn't have festivals like this," said Mayor of Irvine Farrah Khan. "For the next generations, this is where they can say 'Hey, this is who we are' and invite their friends to come experience the culture."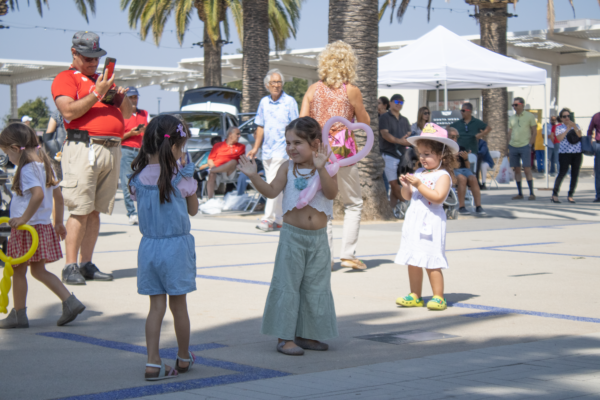 Each aspect of the community works together for the survival of culture. Present was the Orange County Transportation Authority (OCTA) with their own celebratory stickers and symbol of Mehregan.
To Ted Nguyen of OCTA, Orange County's blend of cultures is what makes the day and the county's mix so special.
"That's why our community is so beautiful and vibrant. It's because of that diversity," said Nguyen
To Khan, the importance of her role as an elected official is a responsibility not taken lightly, and directly reflects in the surrounding tents and smiling faces. "Provide a community with resources and you see them thrive," said Khan.