Through shifting line ups and an uncertain future in the face of the Covid-19 pandemic, Santa Ana based band .Xom is finding their voice through airy melodies and riffs soaked with pop punk flavors.
Forming in 2018, .Xom started as the project of guitarist, co-vocalist, and synthesist Ivan Oliva.
"Originally, I started this on my own," said Oliva. "Then I brought in Dakota and our first line up. In 2019, Gabriel and Anthony came in."
Oliva came up with the name for the project by mistake.
"I was in elementary school," explained Oliva. "I accidently typed in 'x' instead of 'c' when I was typing in a URL. I just thought it looked cool and kept it for the project."
The name, having come to Oliva at such a young age, makes the band's destiny seem to be written in the stars.
Drummer Anthony Scaglione started as a fan, a passive observer at the band's rehearsals.
"I would go get hammered with Dakota and be like, 'Dude your bass lines are so sick!'," Scaglione said. "When there was an opening, I was just like, I'm in."
Scaglione's desire to join the outfit surprised the members of .Xom.
"We were fans of his band," explained bassist and co-vocalist Dakota Metzger. "When he said 'Can I drum for you guys?' I was like, 'Really?' "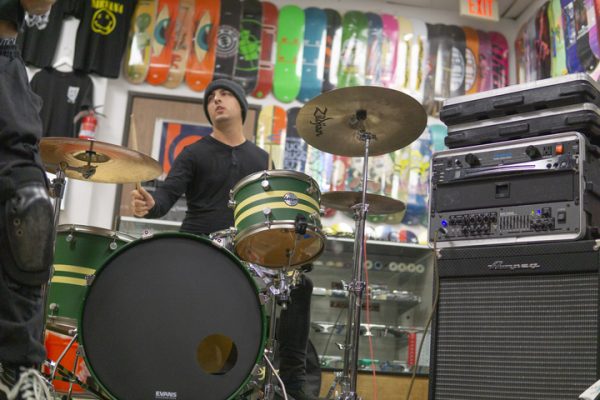 Scaglione and guitarist Gabriel Olea-Macias would come into the fold at the start of the COVID-19 Pandemic which saw all live music activity halted for the time being. This forced .Xom, and other bands alike, to be faced with an uncertain future as to when they would be able to get gigs again.
"We wasted a lot of time just trying to figure out what to do," said Oliva, remarking on the early days of the pandemic.
"Half the band is spread out across California," explained Olea-Macias. "So during times you can't interact with each other, it makes things a little difficult."
.Xom would not let these restrictions stop them from making their music. From 2018 to present day, the group has steadily been releasing singles, EPs, and even a full length album. At a time where bands fell into despair or disbanded entirely, .Xom refused to be another casualty.
This lull in live music would allow the newly-formed lineup to consider their future more critically.
"We sounded different before," Metzger stated. "Because we had a different lineup, different people, different influences. So we had to navigate through that and kind of figure out what we were gonna sound like."
.Xom
This careful consideration of which path to follow has greatly paid off for the group. The contrast between their first EP to their latest is stark. Oliva and Metzger have improved their vocal styles dramatically and their production steadily improves with each release. With the addition of Scaglione and Olea-Macias, .Xom has boosted their musicianship to a whole new level. As you trek your way through their noble music journey, you hear them gathering slowly into a cohesive sound.
.Xom exemplifies everything that is so loved about emo. It's unapologetically raw, vulnerable and visceral in how the musicians express themselves. They give the listener the perfect outlet for their own emotions. In this way, .Xom provides a sense of comfort in community, letting whomever may listen know that they are valid in how they feel. Most importantly, the band emphasizes that listeners are not alone.
In their latest release, Olea-Macias layers his driving guitar riffs over the band's rock-solid pocket. Reminiscent of Tom DeLonge's playing style, whom he cites as one of his influences.
"I'm very much a Tom DeLonge fan boy," said Olea-Macias, "With this band, I try to be more like Angels and Airwaves. Just kind of play into that original synthy sound that they were trying to go for. I wear it on my sleeve, I don't try to hide it."
Olea-Macias says mental health and activism have always been important to the band as well.
"A lot of what I like about this band is that we try to bring awareness to people who need help right now," explained Olea-Macias. "The theme of .Xom is not so much music, but trying to come together and lift people up."
Having emerged on the other side of the pandemic stronger than before, the members of .Xom spoke on new material in the works.
"We're actually working on a new album to capture the theme of growing up, a tribute to classic emo," said Oliva. "Like putting a mirror to yourself and saying, 'Are you ready to grow up and improve yourself?' You gotta ask yourself the hard questions."
.Xom has smashed through all roadblocks placed before them. With a stern determination to let their voice be heard, they have earned their rightful place in the Orange County music scene for generations to come.