Student and faculty leaders at Fullerton College received advice from RP Group Executive Director Darla Cooper from her research on different factors that influence African American transfer rates to four-year institutions and what actions should be taken via presentation on Monday, Sept. 25, in the conference room at Cruz Reynoso Hall.
Receiving academic counseling increases Hornet black students transferring chances by 110%.Other factors that can be identified and addressed by counselors such as having low income and being put on academic probation, lower their transfer chances by 40% and 80% as stated in Cooper's presentation, which was based on a research study conducted by the RP Group, tracking a six-year sample of Black students that were first-time enrolled at a California community college from 2011 to 2016.
At a previous event, Cooper said she had presented the impact of counseling information to Black students at Fullerton College. The responses she received was many students had expressed not feeling welcome or represented by General and Transfer Center counselors. "Students avoided General and Transfer Center Counseling, as they were not heard, seen, valued, or respected and did not see themselves reflected," wrote Cooper on her presentation slide.
Her study showed that 35% of African American community college students state-wide complete their respective units and requirements for transferring, but yet, if they complete 30 units in the first two years at college, the percentage increases to 66%. Factors such as what classes are passed and whether academic counseling is received, can affect these numbers, varying from school to school.
FC's Black students can increase their chances of transferring by 240% if they pass both transfer level English and Math in their first year at community college. Only passing Math increases their chances by 310%, while only passing English increases them by 50%, as Cooper discovered in her research.
Although Fullerton College shows better numbers than the entire state of California in the categories of passing Math and receiving academic counseling, the NOCCCD in general shows slightly better numbers in all categories than Fullerton College by itself.
"I thought, some of the statistics that I heard, some of the statistics that I saw were very impactful for me as a Hispanic student, as a student of color," said sophomore Kinesiology major Alek Ayon.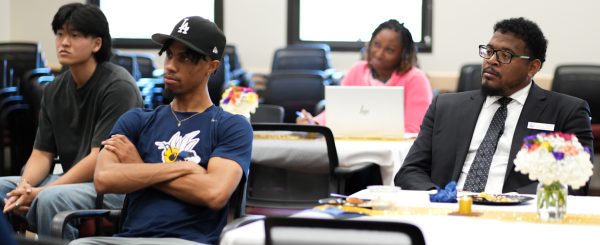 Black students who were enrolled in academic counseling support programs for special populations such as Umoja or EOPS indicated to actually feel supported by their program counselors. Cooper suggests it to be due to the standards held by those programs. "Mandatory, dedicated, and proactive counseling offered by Umoja allows the time and space for counselors who reflect students' backgrounds to build relationships with them where they feel heard, seen, and valued," said Cooper.
Cooper also suggested that the status of academic probation strongly disapproved by the students she presented the information to. "It feels like I am being punished. You are taking my rights away. You do not let me register early. I cannot get financial aid. I don't understand. You said you want to help me, but then you make me see a counselor, you make me go tutoring," said Cooper during her presentation. "That does not feel like you want me to succeed."
Cooper continues to state that receiving academic counseling is positively impactful for African American transfer rates at Fullerton College. Cooper suggested some changes, such as hiring Black faculty for African American students to feel represented and ensuring counselors and instructors to check with their students about their personal life. These types of things can improve the counseling experience and therefore the transfer rates.
Les-Sie' Crockrom, Administrative Assistant II from Fullerton College Student Life and Leadership said she supports the idea of hiring more African American Faculty as it will make Black students feel more welcome. "If students have someone they feel like they can connect with that looks like them, their successes will be higher, and I've seen the numbers go up," said Crockrom. "It's nice to see more African American students on campus."
Changing the structure and the name of academic probation is also something Cooper suggested as a way of helping more black students reach the possibility of transferring. "Some of the ones that we have seen in terms of alternatives to the term are warning, notice, review, things like that," said Cooper. "If you [Fullerton College student and faculty leaders] come up with it, that would be awesome. You could be leaders in the state."
Fullerton College President Cynthia Olivo said that she appointed this presentation at the school in order to receive advice from Cooper, whom she has worked with before, on how to increase equity, as it is her main goal during her presidency. "Our work together is so incredible because she has led the statewide research," said Olivo. "I am somebody that takes research and puts it into action."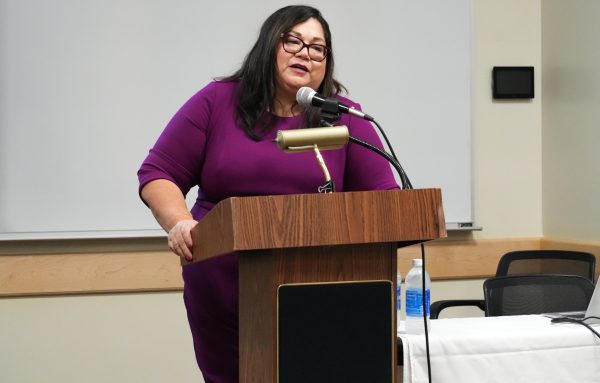 Olivo also said to have taken action during her nine months as the leader of Fullerton College with programs supporting Black students and equity in general. "We have, for example, a new grant that would focus on helping teachers adopt culturally responsive teaching in the classroom," said Olivo. "I have hired an advisor for the A2Mend program, I have hired a new athletics coordinator."
Marshall Johnson, Fullerton College's new A2Mend Special Projects Manager and Men's Basketball Assistant Coach said he is in support of African American male students' success in transferring through this program, which is intended to help solve issues Black male community college students may face. "I would say the biggest thing we want to focus on is helping students obtain degrees and transfer to four-year universities," said Johnson.
Ayon said that although wishing for more counselors at schools, as a student of color he has felt supported by Fullerton College on his academic success and transfer plans. "In my personal experience with all the counseling and all the utilities that had been provided for me by Fullerton [College], I feel that I have been helped," said Ayon. "I feel that I have been heard, I have been seen. All the counselors that I have gone through and all the help that I have utilized has definitely helped me in my success as a college student and how I want to transfer out of here."
Cooper's presentation was the first event of Olivo's Investiture Celebration week, with the second being a conversation on "Perspectives on Women Leadership" by California State Treasurer Fiona Ma, which is set to be held on Wednesday, Sept. 27 in room 1440, at 2 p.m.