California State Treasurer Fiona Ma used herself as an example of how "glass ceilings" can be broken, at a dialogue event on Wednesday, Sept. 27, in room 1440. Ma is the second of the Fullerton College President Cynthia Olivo's equity investiture celebration events this week. 
Ma, the first woman of color State Treasurer in the history of California, was elected in 2018, receiving the most votes ever for that position as stated by her biography in the California State Portal. Olivo invited her to the front of the room to share her life story and path to politics with the attendees at the event called "Perspectives on Women in Leadership." 
Daughter of Chinese immigrant parents, Ma grew up in New York, where she earned her bachelor's in accounting at Rochester Institute of Technology. There, she began her accounting career, ultimately lobbying for small businesses and earning the position of delegate to the White House Conference on Small Business. 
Eventually, she represented California's 19th Assembly District, becoming the first Asian American woman to serve as Speaker pro Tempore since 1850 in California. In that position, she authored 60 bills that were signed into law by two different governors. 
"I'm an ethnic studies major so representation is a huge thing, just visibility markers in general, when you see someone that looks like you, there's a sort of empowerment and you automatically think, oh, maybe I can do that," said Fullerton College Student Trustee Chloe Serrano.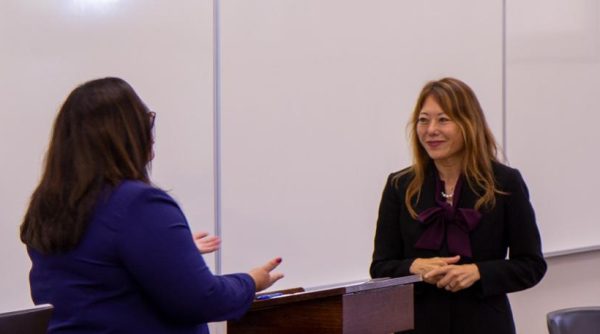 She also advised those pursuing a career in politics to volunteer in political campaigns to get involved with the public interests. "You are usually partnered up with someone, so you are not out there by yourself," said Ma. "You meet people, you talk to them, you ask them, you know, what they do. You ask them what they don't like, and they will probably invite you in." 
The NOCCCD Board of Trustees Chancellor Byron Breland expressed feeling guided by Ma's words on politics. "She gave great advice on how to become involved, even if it's just a volunteer for free, keep showing up and other doors will open up for you if you perform at your best and stay committed and passionate about what you're doing," said Breland. 
Alongside telling her story, she explained how to get involved with minimal experience in politics. "I tried to do everything… I got my SAG card. I did a lot of acting and modeling. I went and managed some bands. You know, I did all sorts of stuff," said Ma.
Although saying she had no clear path at the beginning of her career. Ma spoke of how she was not necessarily afraid, but rather searching for something she was passionate about to pursue in her life. 
As Ma stated, the path is not always clear. Ma is currently facing a trial in civil court. According to the AP News, a state superior court judge ruled on Sept. 14, 2023 that a sexual harassment lawsuit brought against Ma by a former employee can proceed to trial. 
The civil lawsuit was brought by former executive Director of the California Tax Credit Allocation Committee Judith Blackwell and was originally filed in July 2021. Blackwell's allegations against Ma include sexual harassment, wrongful termination, and racial discrimination, but Sacramento County Superior Court Judge Christopher Krueger dismissed the racial discrimination and wrongful termination charges, according to the San Francisco Chronicle. 
Ma denied the allegations and filed a motion to dismiss Blackwell's case. "This was a frivolous lawsuit brought by a prior former employee," Ma told The Hornet. "The only other [remaining] allegation is the personal allegation against me, and as I said from the beginning, I look forward to clearing my name in court."  
Despite these allegations, Ma announced in May her plans to run for Lieutenant Governor of California in 2026 via press release. 
In her speech, Ma talked about the challenges she faces in her career due to being a woman, claiming that women have to work harder than men and receive a smaller paycheck. She encouraged women in the audience to work as hard as needed. "You have to turn those barriers and challenges into opportunities," said Ma.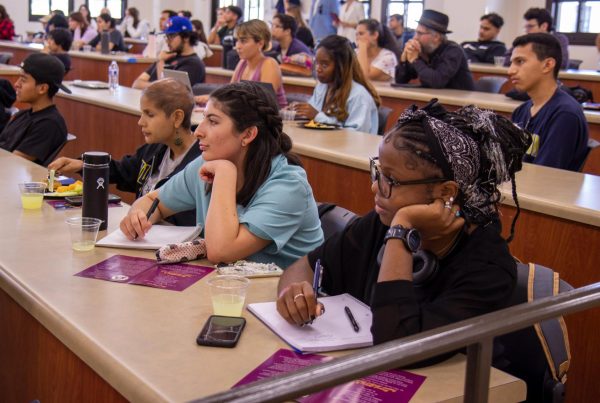 "I think representation is always important, if you can see it, you can be it," said political science professor Jodi Balma. "I think it's really important because I think you can imagine what your path can be when you start to see people like you in those roles, as a result of that. Stand on the shoulders of giants." 
Ma's presentation also intended to embrace mentorship. She said that becoming a leader does not happen overnight. It is a process that requires guidance and connection. 
Balma agreed with Ma's view on mentorship, stating that she has sought guidance in her position at FC. "Mentors are the most important thing to develop and it's an opportunity you have as a student, when you connect with a faculty member, when you connect with a professional staff or an administrator, just seek them out and talk about advice." 
The final celebration of Olivo's investiture as president of Fullerton College will be on Friday, Sept. 29 at 3 p.m., in the main quad on campus, featuring guest speakers Dolores Huerta and Gina Ann Garcia.