Bad coach? Too bad. Lame city? You must stick around. Feeling homesick? Leave, and sit out a year.
As a collegiate athlete, choosing a school is hard. There are a mixture of reasons a player chooses a school: the head and/or position coach, the city, the brand deals, the Name, Image, and Likeness (NIL) opportunities and more.
High school athletes are put under surmountable amounts of pressure to make a collegiate decision that will affect the next 40 years of their lives. This pressure comes from parents, various family members, high school coaches, and everyone who invested in that athlete's academic and athletic life.
"Everyone was in my ear when it came to commitment," says Texas A&M linebacker, Danny Lockhart, "I had my coaches, parents, family and trainers all weighing in on where I should go."
While coaches are able to break contracts and move schools at a moments notice, like Deion Sanders leaving Jackson State for Colorado as of recent, college athletes are confined to stricter sanctions when wanting to move schools.
"Instead of being able to leave a school at any time, players now have to enter the portal within set dates," says ESPN Staff Writer, Tom VanHaaren. "The first window opens the day after the championship teams are selected, which will be Dec. 5, and closes 45 days later on Jan. 18, 2023. There is also a 15-day spring period from May 1-15."
The NCAA Council met during the first week of October, and decided to tighten the transfer portal window from 60 days to 45 days, starting in the 2023-2024 academic calendar.
"In FBS and FCS football, the new 30-day window will begin the Monday after FBS conference championship games," says VanHaaren, "For men's and women's basketball, a 45-day window opens the Monday after Selection Sunday."
This new window heightens the tempo in which a football or basketball collegiate athlete wants to leave their original team. That is not the issue however, the issue is pressure.
As the new transfer window shortens the period, it also moves the period into the college football season. This means that during week 10 of the college season, potential transfer athletes will now be contacted from prospective coaches, trainers, NIL contractors, and more during crunch time of the college football season.
So, tightening the window, again, does not put the athletes first. When players are nearing conference championships, finals, senior days, and bowl games, the last thing they need to be concerned about is whether they're going to a different school or not.
"Transferring was as simple as walking in compliance and telling them I was entering the transfer portal," says Texas A&M Linebacker Danny Lockhart, who started his career at the University of Southern California, before transferring to Ole Miss, and eventually settling at Texas A&M. "I left USC because my coaching staff got fired, and I left Ole Miss because there was a better opportunity for me at A&M, all my coaches from Ole Miss are here."
The reality is, that most college and basketball athletes are given embellished stories before they step foot on campus. Coaches have very little oversight when it comes to how they present their programs, staff and facilities.
"When I went to the Air Force Academy, they had game rooms, XBOXs, and all types of other things that would naturally grab a high schoolers attention. But when you step on campus, as a cadet, those disappear," said Illinois kicker, Fabrizio Pinton, who spent his first year of eligibility at the Air Force Academy. "But this happens all over, Bama, Georgia, I guarantee they make promises they can't keep to players all the time."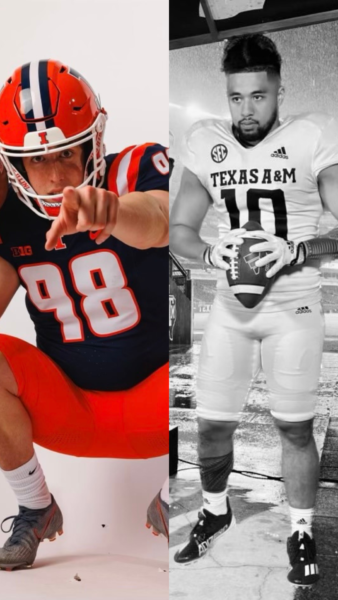 So, if coaches and college athletic programs are able to embellish the flashiness of their facilities and NIL opportunities, why shouldn't a player be able to leave and seek collegiate-athletic opportunities that are fitting for them?
It's because the NCAA values the longevity of coaches over the longevity of players. Instead of recognizing that colleges are the oyster and the players are the pearl inside, the NCAA directly exhibits its coaches as the backbone of the NCAA.
However, the muscle is not the coaches, it's the players. College institutions earn hundreds of millions of dollars through the success of their athletic programs. But if there are no players, then there are no coaches and there are no programs.
The NCAA would reveal value to the players by allowing them to move around as freely as they so choose. Players obviously shouldn't be leaving in the middle of the season, but those extra two weeks athletes previously had to transfer is a small, but necessary olive branch. That branch the NCAA gave collegiate athletes, has now been burned to a crisp.
"Players should have the leisure that coaches have," said Pinton. "If they can break contracts and make millions off of our success and work, why can't we optimize a reality that benefits us? Why are our circumstances not put first?"