In a season full of struggles, the Hornets were handed yet another tough loss on the road, this time by the hands of the Chargers, 8-1.
Right out of the gate, Cypress was on a mission, scoring their first goal of the game at the 2-minute mark by freshman forward Itzel Ramirez.
"We usually play well against Cypress and especially as an away game," said head coach Pam Lewin. "So, I was thinking that it was going to be a competitive game."
The Chargers were far from done scoring, adding another goal at the 10-minute mark by freshman forward Megan Alcantara. The shot was just outside the box, putting the Chargers up 2-0.
Cypress scored their third goal of the game at the 29-minute mark, this time coming from freshman forward Amber Mielke. The Chargers had a game plan coming out and executed it well.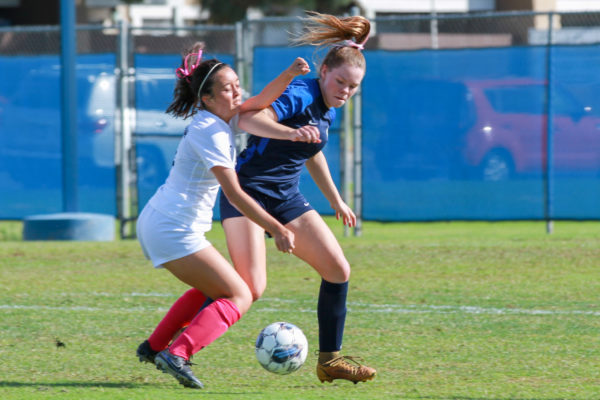 Three goals in 30 minutes put the Hornets in a steep hole that they had to fight out of once again.
Cypress defender Kayla Perez suffered an injury after receiving a hard tackle from a Hornets defender shortly before the end of the first half. Perez exited from the game and did not return.
The Hornets seemingly came out with vengeance starting with a strong offensive attack after halftime, but it slowly got put down with the Chargers scoring five more goals in 15 minutes.
Ramirez added two more goals to the scoreboard at the 54-minute mark and 57-minute mark. These two goals by Ramirez gave her a hat-trick for the game.
Sophomore forward Abigail Morales continues the Chargers scoring frenzy by scoring two goals of her own during this 15-minute stretch. Morales scored at the 58-minute mark and the 65-minute mark.
Two minutes later, Chargers sophomore midfielder Alyssa Skarr joined in on the flurry of goals, netting the eighth and final goal for her squad, making it 8-0.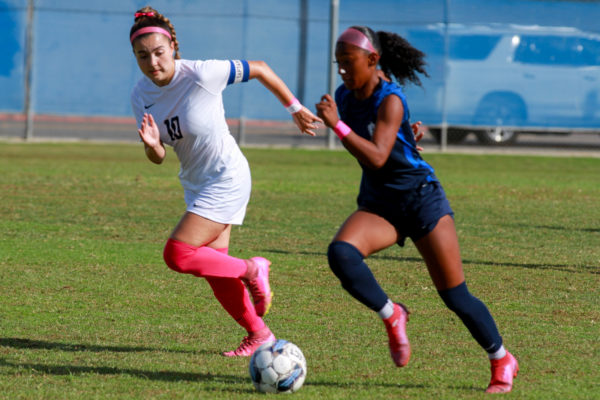 Fullerton received a yellow card towards the end of the second half, showing they were not willing to just lay down and give up.
"I think that if you're defending well, you're going to get some yellow cards in this game," said Lewin.
Fullerton finally managed to get their lone bright spot of the game with the help of freshman forward Jocelyn Ruiz netting the Hornets first goal of the game at the 77-minute mark.
Hornets' freshman goalie Nyla Contreras played a tough game, catching multiple attempts by the Chargers. Contreras recorded a total of 10 saves. The goalie did as much as she could, as the Chargers had a whopping 23 shots on goal.
Fullerton College returns home to face the Rustlers of Golden West College (3-8-1, 1-5-0) at 3 p.m. on Tuesday, Oct 17.