Hornets' freshman goalie Nyla Contreas had a stellar performance at home, where she kept her squad afloat all game long.  The offense failed to capitalize however, ultimately leading to a 1-1 draw against the Rustlers on Tuesday afternoon.
Contreras recorded a total of 12 saves out of 13 opportunities against the Rustlers (3-8-2, 1-5-1). Despite the Hornets' subpar defensive effort, she has proven to be an excellent goalkeeper for the team.
"I get really nervous personally, so I just say affirmations to myself, and constantly look around the other players to see where their positioning is, so I won't let the ball go in," said Contreras.
Golden West's freshman forward Abby Kirby notched the first goal of the game at the 20-minute mark, setting the tone early.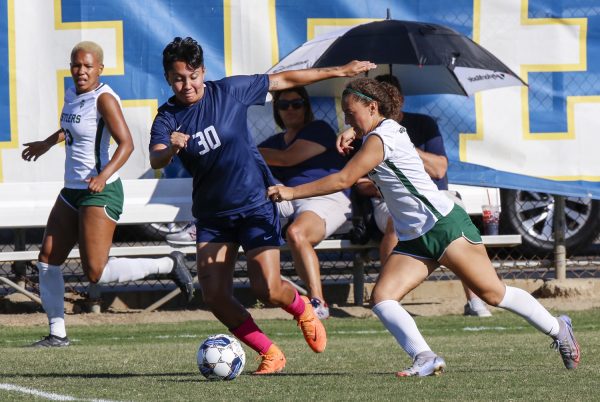 This has been an issue for the Hornets, allowing their opponents to score early and often, and the Hornets could not afford another slow start.
Rustlers' freshman midfielder Alexandra Torres received a yellow card at the 34-minute mark of the first half after a hard tackle attempt against the Hornets. This seemed to get a reaction out of Fullerton, and it is safe to say this woke up the offense.
Two minutes later, the Hornets were able to capitalize on a great offensive possession. Freshman forward Danielle Narmi responded back with a fierce strike just out of the reach of the Rustlers sophomore goalie Chloe Miller at the 36-minute mark to tie the game up in the first half.
The game headed into the half dead locked at one. The effort in the second half has been the biggest issue for the Hornets (2-9-1, 1-5-1) to date, so they needed great energy coming out to open the half to steal this one from the Rustlers.
The second half saw great defense from both sides, but evidently poor offense as there were key missed opportunities on both ends. The Hornets second half woes did not haunt them in this one as both teams ended the match in a 1-1 tie.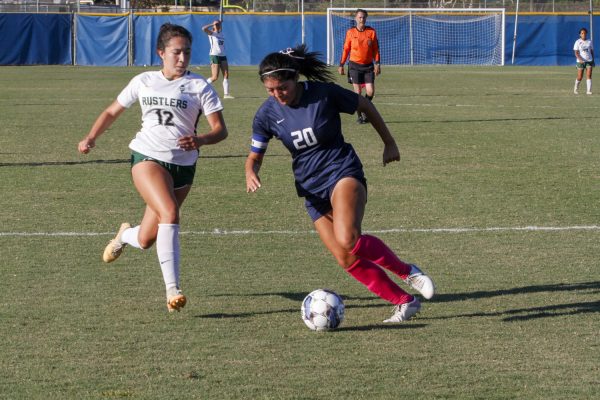 Fullerton College head coach Pam Lewin was amazed at how the team changed their routine in the second half by attacking more with the ball on offense.
"Thank goodness we decided to score goals. I just think we need to keep playing with the same kind of energy we had in the second half and hopefully continue to do good things to finish strong," said Lewin.
The Hornets sail their way down to face the Orange Coast Pirates (9-4-2, 4-2-1) at 3 p.m. on Friday, Oct. 20.