The California Faculty Union aims to pressure the CSU Board of Trustees with a strike authorization, with a vote that lasted from Oct. 21 to Oct. 27, amidst ongoing negotiations with salary and class sizes.
Chapter President of the CFA and criminal justice professor Gregory "Chris" Brown explained that the union, which has about 29,000 members, requested a salary increase of 12%. However, they received a lower counteroffer from the CSU.
"They came back with a 4% initial offer… and you and I both know that with the cost of living and inflation, even with a 5% raise, that would totally be like a pay cut," said Brown.
Brown also added that the payment increase would also affect adjunct faculty, as many form part of the union, which is the biggest faculty union in the CSU system.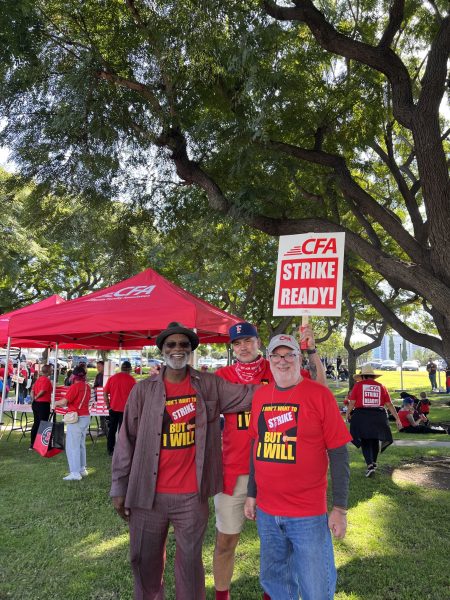 Part of the request is also to lower class sizes, as Brown said it would lower faculty's workload, which in turn can better their services with all students.
The strike authorization does not guarantee that a strike is set to happen, however it does authorize CFA to organize one, according to a statement released by the CFA.
"The CFA members have authorized their executive board to call a strike if that is considered necessary," said Brown. "I know the team is going to have strike activity coming up really soon."
A new proposal was presented to the Chancellor of the CSU Board of Trustees Mildred Garcia at a board meeting on Nov. 7, as around 1,000 faculty and staffers from the CSU rallied outside her office, as reported by The Orange County Register.
"The result of California Faculty Association's strike authorization vote is not unexpected. Similar authorizations were requested and approved by CFA members in prior CSU/CFA negotiations, and the strike authorization vote has now become a routine part of CFA's post-impasse negotiation strategy," according to a statement from the CSU Chancellor's office sent to The Hornet.
If the CFA accepts the CSU's 4% increase, the budget would expand by $133.8 million. If they want to satisfy the union's proposal for a 12% increase, then the budget would grow by $380 million, as reported by The OC Register.
The CSU Chancellor's office statement also said that they are willing to bargain for an agreement with the CFA as they have done with five other employee unions in recent weeks.
However, Brown said that the union does not want to negotiate.
"Everything in their power to work with us, is to give us what we are asking for," said Brown.
Despite the dispute over salary and class size, Brown said that faculty will still be committed to work with CSU students, each in their assigned role.
"All coaches, counselors, teachers, librarians, are the best. We do this because we love our students. And we know our teaching conditions and the students' learning conditions," said Brown.
According to a CSU statement, if the CFA goes on strike, the institutions will remain open with plans to avoid disruption.