The community college system enrolls more first generation students than any other institutions in America, according to professors Marissa R. Bamberger and Thomas J. Smith in "First-Generation College Students: Goals and Challenges of Community College." These groups of students tend to have lower grades and a lower rate of graduating when compared to other college students, due to lack of guidance and preparation by their parents.
According to FC's Director of Institutional Effectiveness Daniel Beruman, in 2022, 36.7% of Fullerton College students were first generation. The institution aims to embrace their challenges by offering various programs to these students. Many of the programs were presented at the first-generation support fair on Tuesday, Nov. 7, in the quad.
In the Cruz Reynoso Hall Conference room, The Puente Program also hosted their guest speaker, Coordinator and English professor at Santa Ana College Donato Martinez, for a speech.
Martinez shared his experience as a first-generation student and advised Fullerton College students that fall in that category.
"I myself was a first-generation college student as well. I understand the struggles, and I understand the questions and the confusion and the challenges of our population," said Martinez.
According to Martinez and The Umoja Program coordinator Mashonda Salasberry, the biggest struggles first-generation college students face are lack of financial support and a stable place to study.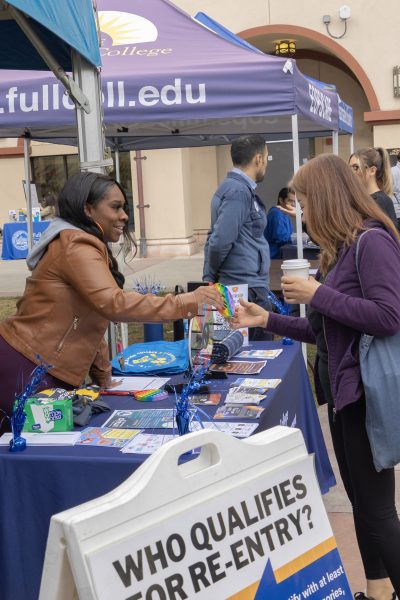 "One of the biggest problems is navigating the college system, navigating matriculation and trouble with their financial aid," said Salasberry.
The Sociological Quarterly published in an article that first-generation college students are majority woman, Hispanic or Black, and tend to come from low-income households. They also tend to suffer from underrepresentation in career fields that lead to a higher income and job security.
Despite those issues, Salasberry listed four programs in the student development and engagement department intended to represent students from different ethnicities and cultural backgrounds.
The Umoja program, The Cadena Cultural Center, The Grads to Be Program, and The LGBTQIA2S+ Resource Program, work to represent all students.
Apart from those, the first-generation support fair presented various programs that specifically work to support first-generation students.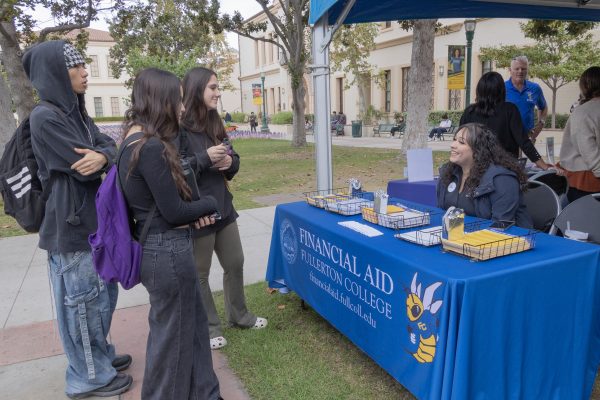 Each program offers aid and guidance on specific issues that each first-generation student might have. Some of those are the Disabilities Support Services Program, the Re-Entry Program and the EOPS program amongst others.
"We are offering to first-generation and to first-year students an opportunity to get connected with campus; to feel a sense of purpose and belonging," said First Year Experience program coordinator Kim Vandervort. "We are out here at this fair today to let the people know that the first-year program is here to support them."
Some of these programs have thousands of students who benefit from their services during their stay at Fullerton College.
"This semester we have about 1,400 students currently," said student service specialist from the disability support program Scott Thompson. "It's a high percentage of first-generation students."
Martinez said that college campuses are making a good effort in the success of diversity and equity programs. These programs help to close the gap between first-generation students, those coming from marginalized groups, and those coming from college graduate parents.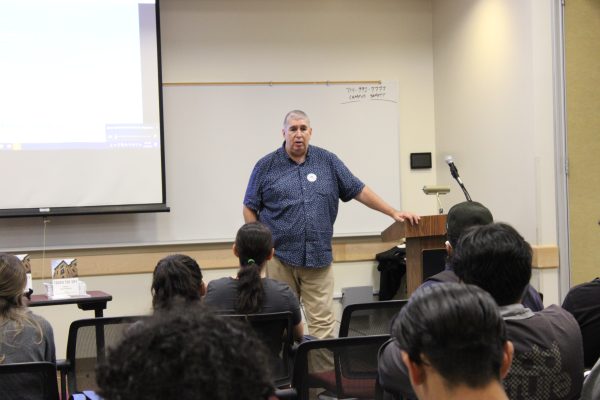 Some of the now available support helped Martinez succeed during his college experience.
"I definitely relied on that when I was a student here at Fullerton College. I had some great mentors, some great leaders and great professors that gave me some guidance as well," said Martinez.
Martinez said he himself intends to be an inspiration for many students. He wrote a poetry book called "Touched the Sky," which talks about the struggles Hispanic people from marginalized communities have to deal with and navigating the academic world.
"Most of the story is kind of like a celebration of culture, of who we are, of our language, of our identity," said Martinez.
Martinez said that the most important thing is to push students to pursue their education and serve as an example for future generations.
"Get that bachelor's, get that master's, get that doctorate. Once they get that master's, once they get that doctorate, they can then re-enter community colleges … so that they represent the students that they are serving," said Martinez.