In football, seasons are short, and that brings on a sense of urgency in each and every game. Now, add in a winner-take-all situation against your archrival who knocked you off last season, and you've created the ultimate "big game" scenario. Add in a little controversy in the fourth quarter, and you've concocted the recipe for an all-time game, which ended in Fullerton's favor 17-16 at Riverside City College on Saturday afternoon.
For the 70th time, rivals Fullerton and Riverside faced off, fighting for an automatic berth in the Southern California playoffs. However, this matchup runs much, much deeper than that.
"You go back '17, '18, [Fullerton] took us out a few times. We played [Fullerton] tough in '19 when we won the national championship," said Riverside assistant coach Eduardo Pacheco. "We're two or three of the best programs."
Last year, in the Southern California championship game, the Hornets lost to the Tigers 31-17.
Moving on to Saturday, at the 11:24 mark of the fourth quarter, Riverside kicker Gabe Panikowski nailed a 24-yard field goal that propelled the Tigers ahead 13-3.
Down two possessions and playing with a stagnant offense all afternoon, the Hornets' window to extract revenge and win was closing fast.
This all changed in the matter of one moment, when Hornets sophomore wide receiver Christian Steward caught a short pass over the middle from his quarterback Brandon Nunez.
The play looked dead as Steward collided with a pack of Tigers defenders. Somehow, Steward popped out of the scrum and ran for a 59-yard momentous touchdown.
There were several Riverside coaches, players and fans that said Steward was down by contact and should have been ruled as such.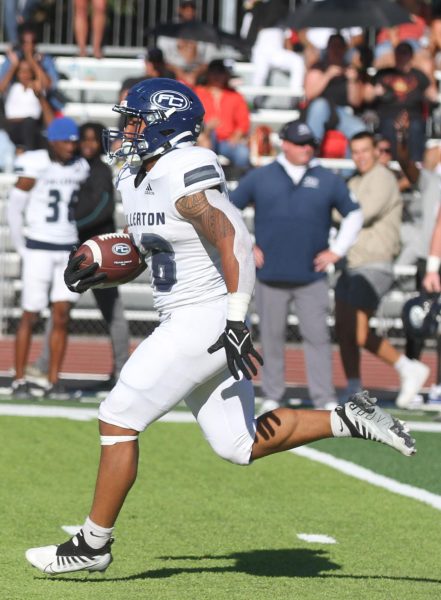 "He looked down to me, but again I'm going to watch the film," said Pacheco. "So that was a backbreaker for us mentally. But I think it was just a case of, you know, tackling the guy who rolled over his body. You see it in the NFL all the time, when a guy rolls over and he keeps his legs, so it's a hell of a play."
Fullerton head coach Garrett Campbell saw the same play and said, "He was getting tackled, rolled on top of their defender, never went to the ground and continued the play and kept running, their guys stopped."
That touchdown resurrected a once silent Fullerton crowd and jolted some belief into their team.
"I think from that moment our guys went from 'oh boy' to 'oh yeah,'" said Campbell. "We just caught momentum, and we started to believe a little bit more."
After the surprise score, the Tigers still led 13-10 with 10 minutes left. However, Riverside could only add a field goal, keeping the game at a one-score difference, 16-10.
Due to some costly penalties by Riverside, Fullerton (10-0, 7-0) was then set up for a third and goal on the Tigers' 8-yard line with under a minute to go.
Nunez received the snap and waited a second, as Steward darted past his defender and bolted straight to the end zone. Steward ran hard after the ball and, with extended hands, secured the game winning touchdown, giving Fullerton the lead and, ultimately, the victory.
"I knew the play call, we were practicing that the whole week," said Steward. "Brandon Nunez put a beautiful ball on me, I just had to go make a play."
Steward had a game high 128 receiving yards, accumulating for 42% of Fullerton's total offensive yards.
Nunez struggled in the first half but caught fire late, totaling 247 yards and two touchdowns. Most importantly, he rushed for 37 yards on the game winning drive.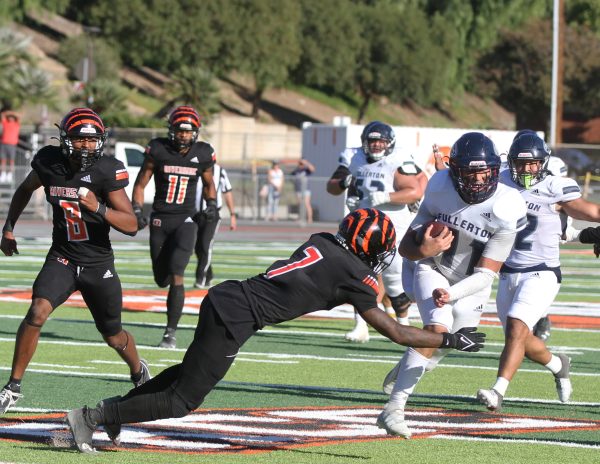 Riverside City (9-1, 6-1) running back Bryce Strong played exceptionally well. Strong ran for 116 yards with a 4.5 yards per carry average. Strong's rushing alone contributed for 33% of Riverside's total offensive yards.
Aside from Strong's performance on the ground, the Hornets' defense was equally stellar, allowing only one touchdown all game. They continued to step up and force Riverside to either punt or kick field goals in the red zone.
"Holding them to field goals instead of allowing them to score touchdowns, I think quite honestly, that was probably the biggest difference in this game," said Campbell.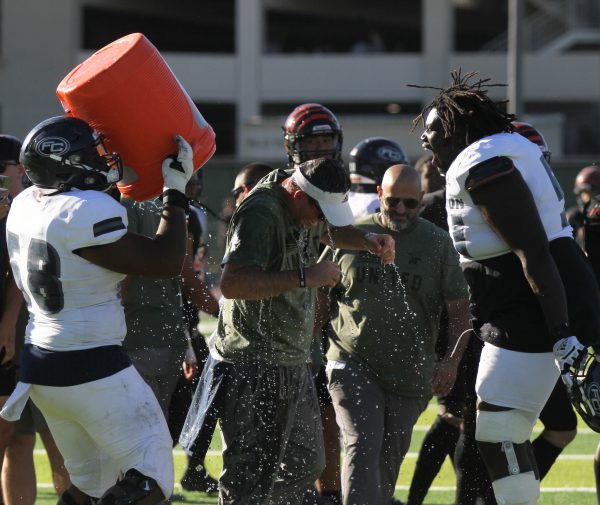 As the game went on, both sides became increasingly chippy. There were multiple incidents of shoving and trash-talking. The game felt very personal for both sidelines.
With this victory, the Hornets move on to the Southern California playoffs, where they await their first opponent.
"Now we know we can beat the best of the best. I don't feel like there's anybody in the state of California that we can't beat," said Fullerton sophomore offensive lineman Dylan Nichols.
Fullerton feels confident in their pursuit of a Southern California championship, a ring that evaded them last year by two touchdowns.