Fullerton College student Angie Sanchez, a business administration major, enlisted into the Navy on a six-year contract in September 2022, shortly after graduating from high school. Although still enlisted in a contract, she now only attends camps on the weekends.
"I didn't know if I wanted to be in the military or college, so I did both," said Sanchez.
The process of enlisting lasted about a year and a half before officially being sent to boot camp in Illinois. When she first joined boot camp, Sanchez said that it was challenging, but she then grew to love it. There, her navy group trained in battleships and fake ships, she said.
In the beginning, there were conflicts working beside peers, but later on, they came together and some are now long-term friends.
"At first there were lots of fights, especially at night with some girls not wanting to get along or clean after themselves," said Sanchez.
Despite the challenges she went through in the military, Sanchez said that now, every year on Veterans Day, she attends ceremonies commemorating veterans. Her most recent event on Saturday, Nov. 11, was at Disneyland, where she and other military personnel received thanks for their service to the U.S.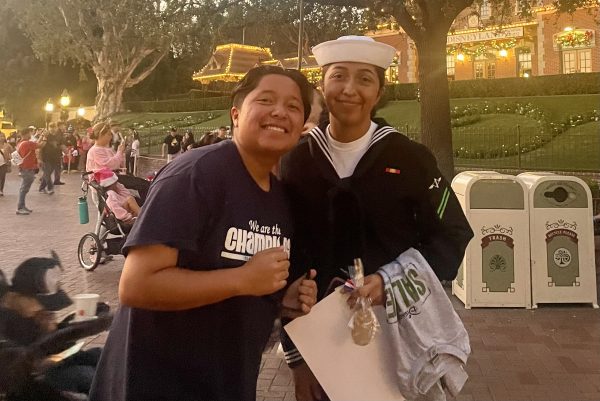 "I thought it was going to be terrible. I thought I was going to miss my family, but it made me more independent," said Sanchez.
Sanchez was raised in Whitter with her mom and younger sister. Growing up, her mom worked full time to provide for the house. Sanchez said that she helped raise her sister while attending school and at some point, as a teenager, worked at the same time.
In high school, she met her now husband, who is currently enlisted in the Marines. After he graduated, he joined the military while she was still in school.
Sanchez salutes her husband for her motivation to join the military. While in the Marines, he showed her the financial and service advantages military personnel receive in college and many other places.
"Him joining the military right after high school influenced me with him telling me all the perks he gets, and I wanted that for myself," said Sanchez.
At Fullerton College, Sanchez said that the Veterans Resource Center offers her guidance and support as military personnel in school. Some of the services provided at the Veterans Resource Center are scholarships, academic and special counseling.
Sanchez said that balancing work and school and having a life outside of that is very difficult, but not impossible for her. With the resources provided at Fullerton College, Sanchez said the most helpful aid she received was priority enrollment in classes.
Some of the things Sanchez enjoys are drawing and eating spaghetti. A pastime that she finds memorable was going to Universal Studios with her family, with her favorite ride being a toss-up between "The Mummy" and "Jurassic Park."
The Navy influenced her taste in music, with her favorite genre being country and her favorite artist being Jason Aldean.
"Every person in the military loves country music, so it has to be country," said Sanchez.
Her plan is to transfer in 2025 to Cal State San Marcos to finish up her bachelor's in administration and later become an officer in the Navy.