Wanting a change in the educational journey of a student has its limits. To study abroad and travel the world is one option many schools give for students. But is studying abroad worth it?
An IES Abroad Graduate Survey shows that students who went abroad find jobs related to their majors sooner after graduation and have better graduate and professional school acceptance rates than other students who did not study abroad.
The Study Abroad Program at Fullerton College offers many programs for students to choose from, ranging from studying abroad in Germany, Spain, or Japan, depending on the classes offered.
"A lot of students don't know that when you go abroad, you're actually developing soft skills that businesses like because you learn to be flexible. You learn to be creative; you learn to be adaptable," said Study Abroad Coordinator Angela Henderson. "Those are the skills that businesses really like. They also like the fact that the student has spent some time in a different culture."
The Study Abroad Program is open to all students who are over the age of 18, have completed English 100 with a "C" or better, and have completed 12 units in one semester, except for students in the Career and Technical Education Program. Students must also demonstrate academic success at the college level.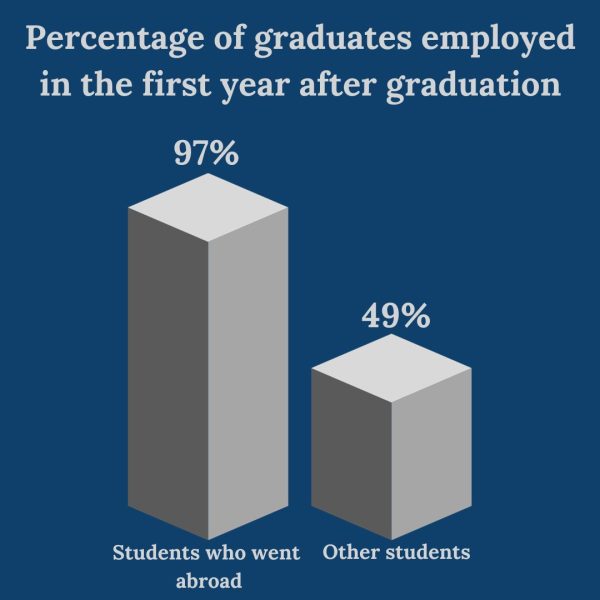 The program offers year-round opportunities for students to apply. Two different types of programs are offered through the school. Fall and Spring semester are similar in cost and length, spending three weeks on campus and going three months abroad to continue the class. Each semester, there is only one trip students can apply for and take.
The Fall and Spring programs cost more than the others, ranging around $10,000. Students taking the course can earn up to 12 transferable units. Summer trips are offered as well for a shorter time period. Summer programs spend one week on campus and five weeks abroad to continue studies, cost up to $5,000 for the program, and students can earn up to four units of transferable college credit.
Since summer study-abroad programs are shorter, the price is lower than the semester-long ones. Scholarships and grants can be put into these programs.
All trips include housing in a twin-bedded residence, a travel pass, and other programs related to the trip such as; guided tours, cultural excursions, and museums.
Although students are responsible for their financing for the trip, which includes housing, food, passes, and other needs, Henderson said that the Study Abroad Program can financially help anyone who applies.
The Study Abroad Program recommends students to create a budget to save for the trip. The Financial Aid Office offers help to students to plan out their trip and how to gather money from school grants and loans. Students' financial aid will usually cover the regular semester programs but not the summer program, since trips are shorter and cheaper.
Many fundraisers are held to support Study Abroad students. Fullerton College works with a program to give away two $500 scholarships to students. Fundraisers are personally held by the college to raise money and in the last two years, around $13,000 was given away to students.
Scholarships are also available for students to apply for. Fund for Education Abroad provides many scholarships for students who are underrepresented like students of color, community colleges and first-generation students in the U.S. study-abroad population. Donations for the fund can be made on their website to support students.
The Benjamin Gilman Scholarship is one of the largest study-abroad scholarships for students to apply for. Pell Grant recipients can apply for the scholarship and receive up to $5,000 for a semester program and $2,500 for a summer program.
"My role is to help students just get that vision to see that this is a possibility, that studying abroad is not just for a certain type of person, right? It's open to everyone," said Henderson.
This year is the first time the CTE Program is going to Munich. It is focused on the career and technical education program. Students will take the course first on the Fullerton campus and then spend 10 days in Germany.
"When you go outside of your area of familiarity, you learn so much more about how other people think and behave, cultural things," said CTE Program professor Brendon Kirby, one of the leading professors for the CTE Program going to Germany in Summer 2024. "It's a big world out there, and we miss a lot of it if we don't get out and see what's going on and ask questions."
Kirby said that this program differs from most study-abroad programs. While most gear towards language and cultural studies, the CTE program is geared toward mechanics. Students will be able to see first-hand car manufacturing in Munich.
The Study Abroad Program invites students to information sessions. They say those are a great way to learn more about the different programs offered for students. The last one was held on Tuesday, Nov. 14, in the library, which talked about a summer program that will go to London in 2024.
The Study Abroad Program applications are due the semester before the program begins. The next programs available are for Summer 2024 to three different locations; Germany, Japan, and England. Students are encouraged to visit the Study Abroad Office for more information.