The Anaheim Colonists easily handled the Orange Panthers in a 15-5 dismantling Tuesday afternoon at their state of the art aquatics facility.
Colonists senior Moises Alvarez, one of the team leaders, scored 4 impressive goals of his own en route to the team's dominating victory. Five other Colonists were also able to score as well. It is safe to say this team knows how to spread the ball around offensively.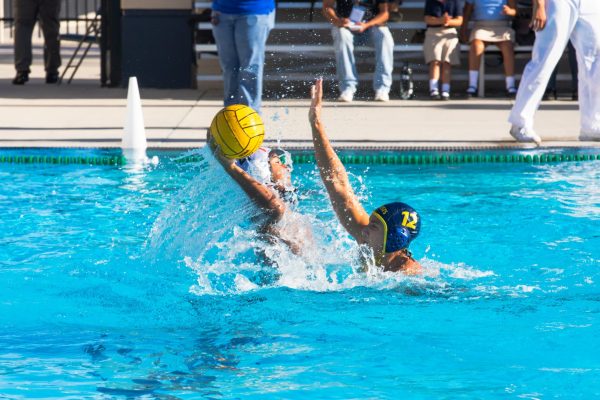 Around 20 years ago, Anaheim High School decided to shut down their aquatics programs entirely, halting aquatics indefinitely.
According to the Cumming-Group, the school shut down their previous pool in 2007 that was measured at 3,500 square ft while also destroying existing basement equipment.
After 20 years of fighting tooth and nail, the community along with a strong alumni association the two were able to fund enough money to build a lavish Art Deco themed arena for around 13 million dollars. That included measurements of a "38-meter x 23-meter shotcrete swimming pool, bleachers, and a new 2,600-sq.-ft. pool equipment building," according to the Cumming-Group.
The Aquatics Center at Anaheim High School was completed on Oct. 30, 2019. It was dedicated to the legendary coach Jon Urbanchek, who first coached at Garden Grove before coming to fame as a coach at Anaheim High, then the University of Michigan. His iconic career concluded with being involved with three Olympic teams in 2004, 2008 and 2012, coaching for Team USA.
"I'm just very grateful and fortunate to be able to play here. I was here as a freshman when the pool was brand new," senior Carl Morales said. "I'm just thankful to have an alumni association strong enough to make a brand new pool [happen] for us."
It was not smooth sailing for the aquatics programs once things got up and running, as head coach Denise Osorio knew she had an uphill battle as soon as she was hired.
Morales added how during his freshman year it just seemed "like madness playing the sport and not really knowing what to do." Now, he has seen improvement and his team is setting up plays and getting things done.
Osorio gave huge credit to her players for the improvements of the aquatics program that is continuing to rise each and every year since the pool opened.
"Since I took on this program when we first started right before COVID-19, I have been excited for the program to just continue to grow," Osorio said. "I see that we are one of the schools that continue to get kids to come out and join the aquatics program, when it was not like that before. You have kids going to football, baseball, and soccer but now we are having kids join swimming and water polo."
Each player and even coach Osario feel so much pride coming to the pool each and everyday while being able to perform in such a beautiful facility.
"It's a really nice stadium, we get to swim and practice in this pool everyday. I really do think all the other schools should be envious of how great our pool is," said sophomore Micah Flude.
Alvarez also added that when the team hits the road, he and his teammates sense the differences in other facilities. For example, other high school pools can be slimmer, causing the game to be just a bit tougher to play in due to the small vicinity of the pool.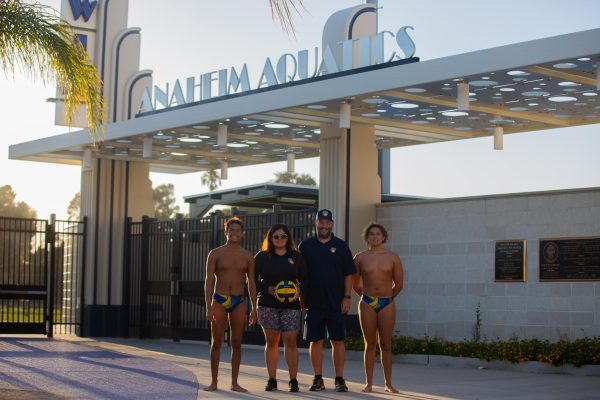 This team has been living up to high expectations for the year, and Osorio gives credit to her players for improving on their skills each and every day along with giving kudos to her coaching staff.
The water polo program is entering their fourth full season under Osorio's watch after starting back in 2019, with the team's record getting better each and every year.
"It's really great to see how far the team has come. It was a tough fight the first year, most of us did not know how to play the game of water polo," alumni Joshua Hilario said. "We had to learn the rules, but after seeing today's game, it makes me proud to see how far the program has come."
The program is off to its best start since the 1980's, where the school was known for having great aquatics. But how about the future? What's the vision for Osorio?
"I hope to see more kids continuing to play past high school and play in college. I see that for our kids I see them improving, getting faster times, and just enjoying the sport in general," Osorio said.
In a place rich with history, these Anaheim Colonists look to start a new legacy, splashing their way towards a CIF Title.