Chicome Itzcuintli Amatlapalli's art is inspired by his indigenous heritage and spirituality from a Meso-American context. Through his work, he shares the connection we can have through understanding and learning from ancestral roots. Students, the FC Art Department, and artists gathered together to hear Amatlapalli speak about his art at the Fullerton Art Museum.
Amatlapalli tells stories in a modern perspective while also painting them traditionally. During his presentation, he tells about his connections with tribes, his experiences as a "dancante", as well as goes in depth explaining the meaning and symbols of his art.
Animals like the opossum and the coyote are represented in art and in anthropological history as metaphors and explanations to occurrences and creations. The opossum in Meso-American folklore is a sneaky being that stole the first fire from the gods and gave humans the gift of daylight.
Amatlapalli later in the presentation brought out his personal Tonalamatl calendar that extended from one side of the room to the other. He explains that these stories are current and still being told in tribes today. The stories in these paintings within the Tonalamatl are native stories that have been told for more than 10,000 years. They describe this piece as an encapsulation of his life's work and isn't finished.
"I've been painting it for 15 years and I'm not going to be done until I die," said Amatlapalli.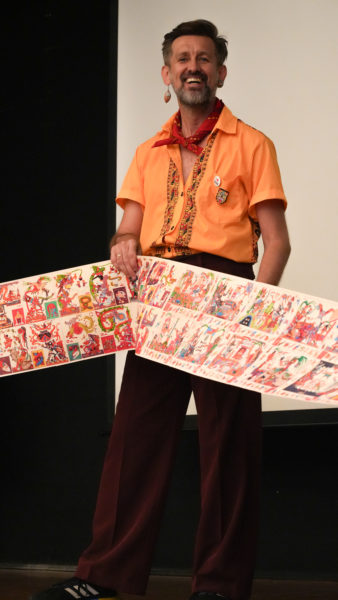 His work also involves decolonization and re-connection. Amatlapalli explains that Europeans erased visual art and explains how they were replaced by saints visually, but not in meaning. He also contrasts current time with the past as well as reflects cultural identity to tell abstract stories that encapsulate not only history, but the story of mankind.
"I think it's important to tell queer stories because in particular, within the Latino community, there's a lot of machismo and a lot of homophobia. And so it's important to tell stories that normalize and contextualize a queer experience," said Amatlapalli on the importance of voicing concerns on important issues through art.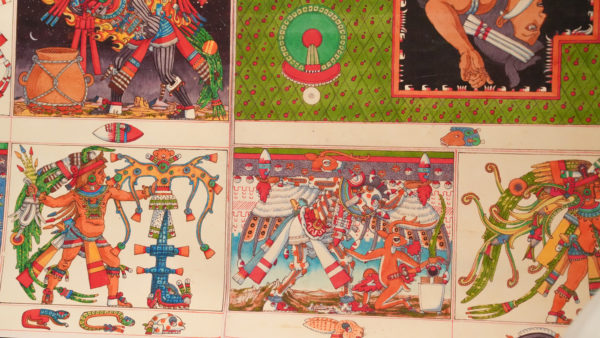 Amatlapalli lives with tribes and cultures in Mexico and learns a different outlook that our current civilization has recently lost. He has recently lived with an Indigenous community called the Zapotecs, who live in Juchitán and recognize a third gender called Muxe. He also has recently reconnected with his heritage in Mexico City where he collaborated with a Wixárika family also known as Huichol. Amatlapalli's grandmother was Wixárika.
President Cynthia Olivo explains that Fullerton College is a Hispanic serving institution and how it can be inspiring for students to see cultural artwork. She also explains why it's important for them to reconnect with their ancestral past.
"In my twenties, when I was an undergraduate student, when I learned about this, it really helped to empower me and kind of unlock potential within me that I didn't know existed," said Olivo.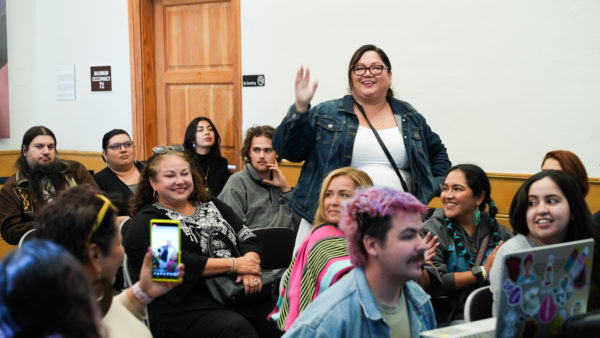 "It's a real luxury to have a fully fledged art gallery that has living artists and living activities as well as bringing this culture to students and allowing them opportunities," said Exhibition Specialist and Senior Museum Studies student Joey Fenwick. He also explained that The Fullerton Museum affords students a paid internship which helps to better prepare students for their future careers.
Paint and Art Professor Vonn Sumner was also there in support.
"Here's an example of someone doing this. You know, that's the difference between a dream, staying a dream, and then a dream feeling like it's something that a student can actually pursue," said Sumner.