With a little more than two minutes left in the CCCAA state title game, Fullerton guard Kobe Newton nailed a 3-pointer that put the Hornets up 79-73. On the next offensive possession, guard Shaquil Bender completed a put-back bucket, securing Fullerton's second state title in four years.
More than a half year after winning that CCCAA state title, the Hornets begin their title defense at home on Nov. 1. at 6 p.m. against the MiraCosta College Spartans. Will there be any resemblance of a championship hangover? Head Coach Perry Webster sure doesn't think so.
"[We] got 14 active guys, so 11 of those guys don't have a state championship ring. 11 of those guys haven't accomplished anything yet here," said Webster.
Last year's team was star-studded, as the Hornets dominated the Orange Empire Conference awards. They swept the top OEC awards, and five players earned spots on the OEC's All-First and All-Second Teams. Six of those eight award winners transferred to four-year universities, leaving a mostly new team for this season.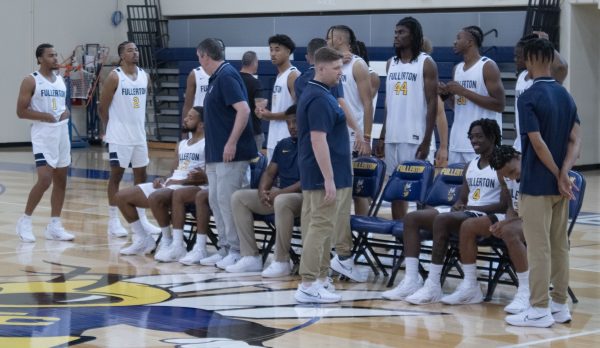 Jeremiah Davis, last year's OEC Defensive Player of the Year, is returning and will be a crucial piece the team looks to rely upon for not only his play, but his leadership as well. Southern Utah transfer Amond Anderson is another name to look out for, as he is expected to shoulder some of the scoring load.
Webster also highlighted a very talented group of freshmen that included two standout High School players: guard Christian Watson, younger brother of former UCLA standout and NBA player Peyton Watson, as well as forward Mike Davis Jr.
Watson comes to Fullerton by way of the legendary Long Beach Poly High School. The former First Team All-CIF guard has the important skill set of being able to create opportunities for teammates to score in the half court or push the ball up the floor with pace depending on what is best in any given situation. Those two traits can be something that benefits a Hornets team full of attacking wings who can also shoot and post players who run the floor hard.
Davis Jr. hails from one of the perennial powerhouses in Central California, San Joaquin Memorial. He is the school's all-time leading scorer, which is impressive considering six NBA players have come out of San Joaquin Memorial. He will be looked to as a force on the offensive end and to be a physical presence in the middle for the Hornets.
Assistant Coach Marshall Johnson spoke very highly of the Davis Jr.
"We have a freshman, Mike Davis Jr., who I feel is one of the most skilled big players in the state," said Johnson. "He's young, he's definitely still got to grow in his game, [but] we are pleased with where he's at right now," said Johnson.
The goal is to win the state championship and Webster does not shy away from that goal.
"We're trying to win a state championship. That is the goal. It's the goal every year here. I don't want to shy away from that," said Webster. "But also understand that it's a long season and it's a long process to get to being able to have a team of that level that can be up there."
Webster has installed a winning culture at Fullerton College. His record at Fullerton sits at an impressive 172-37, which comes out to an .822 winning percentage. This program prides itself on hard work and the daily process of improving.
Returning players, such as sophomore and 2023 OEC All-First Team player RJ Banks, understands how hard it is to repeat as champions, stressing the need to be intentional and focused with the right steps that set up a title run.
"I learned a lot last year over the course of the season; what it takes to obviously make it to the championship and win the championship," said Banks.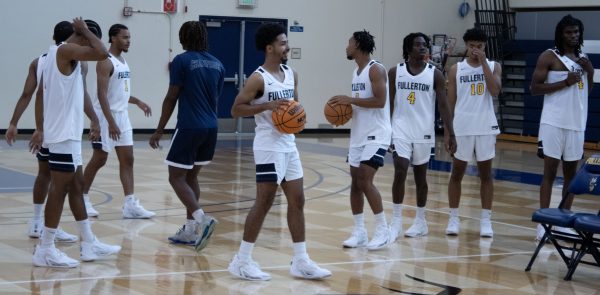 The mentality of toughness is what fans have now come to expect from a Hornet squad run by Webester. The team's approach and identity continue to be one that is intense and competitive, and those traits this year more than ever are being hammered home.
"We try to bring as much pressure and as much scrutiny on [the players] as we can daily in practice, so that when they do get in games and those high leverage situations come up, they feel comfortable in those situations to go out and be successful," said Webster.
You can expect a grit and grind identity from this team, according to Banks. The players are aligned with their coaches in the belief that it takes going the extra mile to win. He had a similar mindset as Newton did at this time last season.
"We're going to show a willingness to do whatever it takes to win any type of game. However, you have to do it, whatever it takes," said Banks.
"That foundation is set. The mentality here is definitely built on, you know, championship or nothing," said Johnson. "But again, it just goes back to the work that we have to put in this year."
The reigning 2023 CCCAA championship banner hangs on the walls of the Fullerton College basketball gym. Not only does it serve as inspiration, but it is a constant reminder for the coaches and players.
"You know, it's actually a message that we send our guys. We actually point up there and say, 'hey, you know, that's last year. This is us now,'" said Johnson.
As the Hornets prepare to try and make another four-month run to a state title, they can lean on the mentality of the late, great, Kobe Bryant simple quote when he had to dig deep. "Ok, lace 'em up. Let's go."