Fullerton College's Cadena Cultural Center held a public discussion with students and staff in room 526 to kick off Hispanic-Serving Institutions Week on Monday, Sept. 11 with the intention to learn how to better support the Latinx community on campus.
The event announcement was posted on the Cadena Center's Instagram account and outside of building 500, inviting anyone from the college to attend and bring their ideas for new projects they could do as a support organization in a hispanic-serving institution such as Fullerton College.
Cadena Center Coordinator Gilberto Valencia and program assistants welcomed and checked in attendees to the room which had Spanish music playing and posters with written questions up on the walls. Free nachos and drinks were offered at the event.
The program began with the hosts introducing themselves, explaining what the Cadena Center is, asking participants to share their ethnic identity and to answer what culture meant to them.
Valencia, alongside the other Cadena Center assistants, proceeded to present topics of discussion to the public gathering and frequently asked them to share any opinion they had, focusing more on new ways they could promote themselves and their events.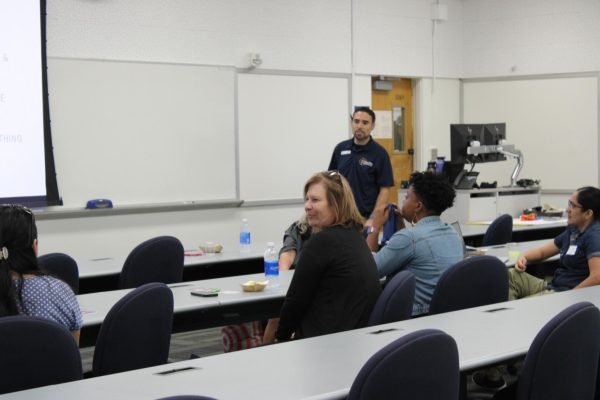 After the Cadena Center returned in-person last year, many of the members said to be concerned about finding ways for more student engagement with their program, considering they had been fully remote for two years and being relocated to room 512.
Cadena Center program and office assistant, Samantha Cruz said she hopes for an increase in student and staff attendance at their public conversation meetings. "We really are doing our best and greeting the students when they come in, making sure that we let them know that it's a safe space, a brave space for them to be able to be who they are, without feeling judged," said Cruz.
Program assistant Itzel Marin said they aim to maintain the student-staff relationships to encourage student use of the Cadena Center facility. She expressed that although there were not many students present, Cadena Conversations was an opportunity to hear from FC staff who work directly with the students.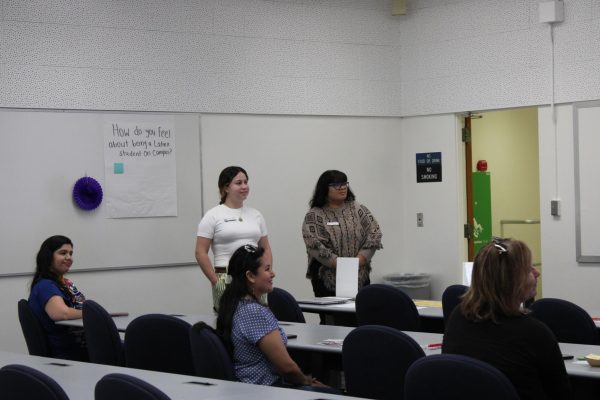 Valencia said he is optimistic on how the organization is growing, and encourages any students to feel supported by them, regardless of their ethnicity. "The Cadena Cultural Center is growing, it's evolving," said Valencia. "It's here to support our students and we're looking to better reach, not only Latinx identifying students, but our other communities and demographics."
Cadena Conversations concluded with hosts presenting some of the Cadena Center events, including Fullerton College's annual Dia de los Muertos and the annual Kinder Caminata.
Hispanic-Serving Institutions Week which will run through Sept. 17, still has various upcoming events at the Cadena Center along with the celebration of renaming Building 200 to Cruz Reynoso Hall on Thursday, Sept. 14 afternoon, leading into the start of Hispanic Heritage Month at Fullerton College.