Fullerton College is preparing to host its very first "Cruisin' to College" car show on Saturday, Sept. 30, continuing the college's Hispanic Heritage Month celebrations.
The show will have food trucks, entertainment, and a resource fair for Fullerton College programs.
There will also be approximately seven awards given to participating cars including a "Buzzy" award for most creative car. The winner of "Best Car in Show" will be featured in next year's "Cruisin' to College" car show flyer. Other awards are "Best Motorcycle", "Best Lowrider", "Best Classic", and "Best Paint Job". The President's Award will also be given to a car of the Fullerton College president Cynthia Olivo's choice.
FC groups as well as the President's Office are offering support for the car show, sponsoring a DJ. The awards were donated by the Career and Technical Education program with the Cadena Cultural Center sponsoring a performance by CSUF's ballet folklorico group.
A break-dance group consisting of children and adults will also be performing.
Rolando Sanabria, Fullerton College Faculty Coordinator for the High School Outreach Office, first started bringing car shows to Fullerton's community at Fullerton High School as a fundraiser. He hopes that Fullerton College's car show becomes an annual celebration for the community.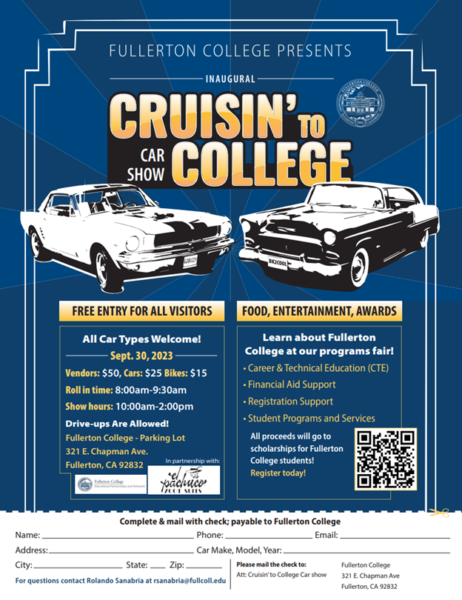 "It's all about displaying cars and culture at the same time," said Sanabria, coordinator and creator of the Cruisin' to College Car Show. "It's a community event, it is an outreach event, and it's also a celebration of Hispanic Heritage Month."
Approximately 50 cars have registered to feature their cars at the show, but drive-ups the day of the event are welcomed.
All Cruisin' to College Car Show proceeds will be donated to the Friends of Fullerton College Foundation for student scholarships.
The car show will be held at FC's staff and student parking lot four, near Sherbeck Field, from 10 a.m. to 2 p.m..