In 1942, Pavel Friedmann wrote a poem entitled "The Butterfly." Through his poem, which tells about the last butterfly he saw before he was forced into a ghetto, butterflies became a symbol of freedom in the Jewish community.
The Butterfly Project is an international project with a mission to educate society about the Holocaust and to show the dangers of racism and hate tied to the creation and history of it. They do this through the painting of ceramic butterflies. Through The Butterfly Project, the congregation of Temple Beth Tikvah has installed butterflies on their Holocaust memorial in honor of the children who lost their lives during that time period.
"It really kind of started about a year ago when I went to see a show called 'Witnesses.' There was a Butterfly Project display and my wife Layla said she had seen it before," said congregation member and Troy High School teacher Will Fritz. "I said 'This would be a neat thing to bring to the clubs or a project for school and maybe the synagogue' and it just snowballed from there."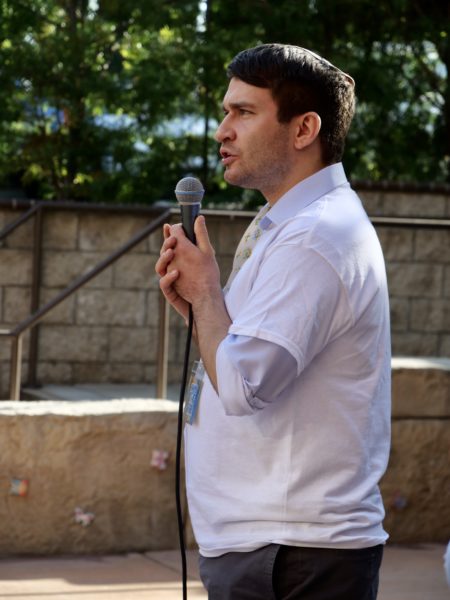 Fritz is the advisor of three clubs at Troy High which includes Best Buddies, Creatives for Social Change, and L'Chaim. Through his clubs, he heard anti-Semitic comments were increasing and floating around campus.
"During club rush last year, people were saying anti-semetic slurs. L'Chaim President Genevieve Paden mentioned that she had overheard this," said Fritz. "We figured that there was enough of that stuff going around on campus and that it needed to stop. With this project, we would be able to start talking about it and having open discussions about it that leaned towards kindness and remembrance."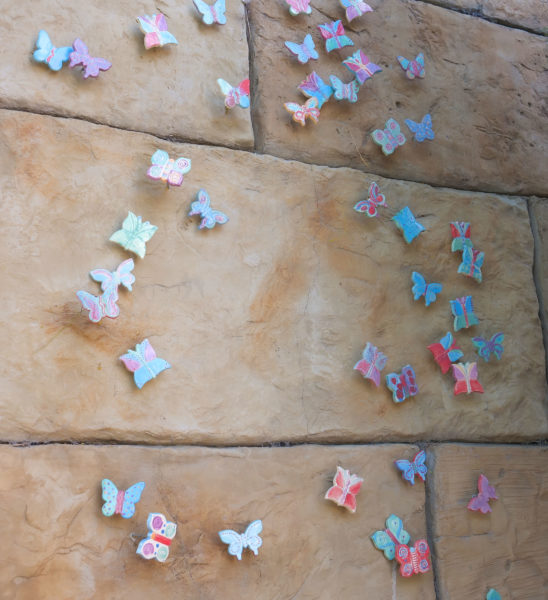 With all three clubs sharing a social aspect between them, Fritz volunteered all three of his clubs to get the ball rolling on the project. "We all painted butterflies together."
The Executive Director of Temple Beth Tikvah Sue Penn explains that partnering with Troy High School meant that the congregation could help build community awareness and break down societal barriers surrounding the Holocaust.
"Building community awareness and community partnerships, learning about tolerance, and participating in programs together as a community is important in breaking down barriers," said Penn.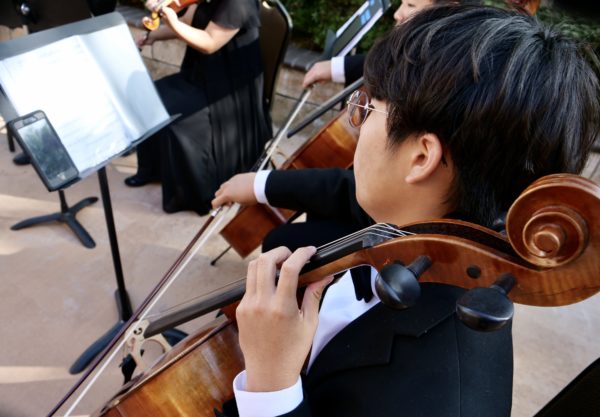 During the ceremony, members of the Troy High School Advanced String Orchestra played a rendition of Ani Ma'amin, a Holocaust melody that translates to "I Believe." A song encapsulating the faith of the Jewish community during this period and the essence of what the installation is about.
Two congregation members, one being Fritz's son, read poems in honor of the mission of the event. The first being Friedmann's "The Butterfly" and the other being "Birdsong,"  which is about the hope of one day being able to simply enjoy the beauty of the world.
"This is a call for all of us here today in Orange County, California, and the United States to see beauty, to seek justice, and to look for ways to build a better society together," said Congregation Rabbi Mati Kirschenbaum during the ceremonial part of the event.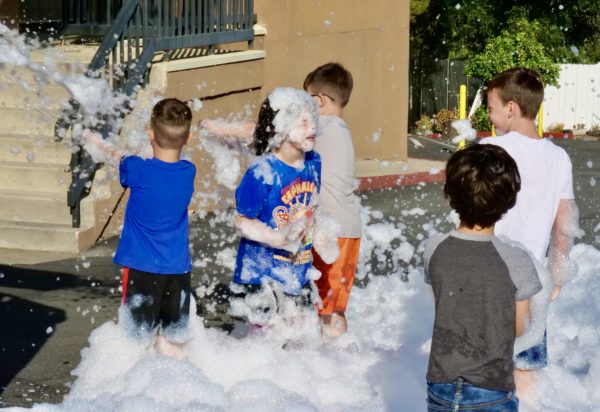 During the rest of the open house, a sense of community was felt all around Temple Beth Tikvah not just with the congregation, but with non-congregational attendees as well. With open discussion, laughter, and the sound of kids playing in a bed of soap bubbles, Temple Beth Tikvah accomplished its mission of peace on a Sunday.
Kirschenbaum describes how he hopes that the installation helps to build a better future for the Jewish community in Orange County.
"We are a community that cherishes our roots. Many of our members are children and grandchildren of Holocaust survivors," said Kirschenbaum. "Holocaust commemoration is a big part of who we are. So, our members and the high schoolers made these butterflies and we decided to have an open house to show that we are not just perpetuating the memory of that time but that we are building a Jewish future in Orange County."