Student Art Exhibition Showcase Art Students
Opening Night of the Fullerton College Student Art Exhibition buzzed with an atmosphere of excitement and activity. The line of people crowding the hallways and door to the gallery included current and future art students and their families.
The room filled with curiosity for all who were there, with people standing at every piece trying to interpret and appreciate them in all their glory.
The gallery offered lots of paintings and posters available for purchase. Artist Getzemany Bayardeo Sandoval was selling their work in the gallery. They said that being at the event meant a lot because, "It feels very good because the energy is vibrant and there is a lot of great art around."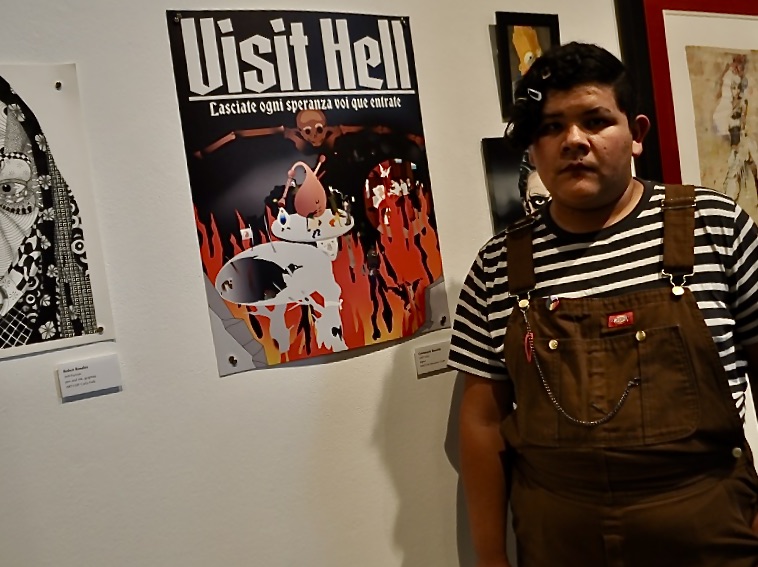 An hour into the event, the organizers asked everyone to go to the patio area of the building for the awards ceremony.
The exhibit presented the best student artwork created in the past year in all art mediums including oil, acrylic, sculpture, pencil and mixed media. There were displays for Art History in a written report, and another in a digital display called "The Life of an Art Queen" of famous African American artist Edmonia Lewis by Lavanya Garg. They were awarded a special prize package by a museum gallery for this piece.
All the artwork submitted by students was eligible for awards, which consisted of certificates. Some certificates even include scholarship money for the lucky artists who get them.
A big winner that evening was Vanessa Franchi, a sophomore who won Best of Show for her piece "Desire to Improve." She was awarded the John E. Parker scholarship.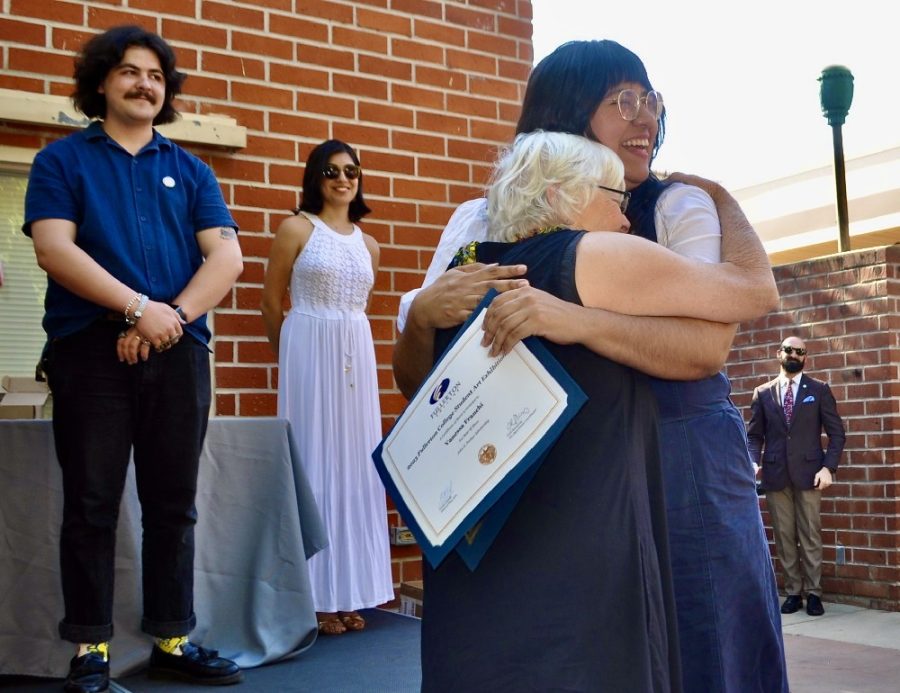 When asked how she felt about the award she said "I didn't even know we were going to get scholarships." Franchi also mentioned wanting to be a part of the art program here at Fullerton College. "You can't get this anywhere else. I've looked at name-brand colleges but they don't compare to classes like this." She hopes to continue in the art program and also pursue 3D design.
The Fullerton College Art Gallery, located on the ground floor of the 1000 building in room 1004 is open Monday through Thursday 10 a.m. to 12 p.m. and 2 p.m. to 4 p.m., with free admission.
The exhibit will be displayed until May 17.